baptism
By
Kathy G.

(Wauconda, IL) - September 26, 2014 (
See all reviews by this customer
)
This is the second time UI have used this site for my grandchild's baptisms. Its always been great service an d products. Have been happy and will continue to use.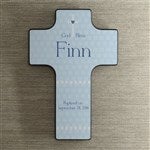 Love them
By
Shopper

(North Las Vegas, NV) - September 2, 2014
I got one as a baptism gift for my first baby and purchased this one for my second, I absolutely love them just as much as all their other products!

My purchase exceeded my expectations!
By
Bette B.

(Bluffton, SC) - August 5, 2014 (
See all reviews by this customer
)
This is the very first time I have ordered a product from Personalization Mall.com. As a result, I was a bit anxious when I opened the package to see what I ordered. Voila'...what a beautiful wall cross! The quality of work was stunningly creative. So professionally complete. I can't wait to give it to my grandson and his parents! I will be so proud to present this lasting gift to them. Thank you for the perfect baptismal cross. I will look forward to my next purchase with confidence!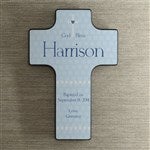 Better than expected
By
Shopper

(Bordentown, NJ) - July 26, 2014
Purchased this for a christening that I was unable to attend. I received so many compliments on what a beautiful gift. The parents just loved it. Very well made.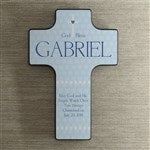 Baptism Gift
By
Karen C.

(Keithville, LA) - July 1, 2014 (
See all reviews by this customer
)
Perfect Baptism gift! Arrived as promised and looked great.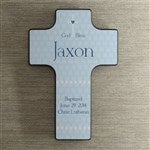 Perfect Baptism Gift!
By
Janet G.

(San Leandro, CA) - June 30, 2014 (
See all reviews by this customer
)
Purchased this cross for my Grandsons Baptism. Was able to put his birthdate on it as well as his Baptism date and church. Wonderful gift that will hang in his room for many years.

Beautiful Personalized Cross
By
DENNIS F.

(PLAINFIELD, IL) - June 8, 2014 (
See all reviews by this customer
)
Mine turned out perfect! Little bit bigger than my hand, great gift!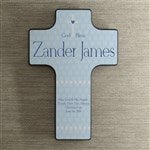 Granddaughter's Baptism
By
brenda T.

(jacksonville, FL) - May 5, 2014 (
See all reviews by this customer
)
This was a beautiful gift to give ----the delivery was prompt, the wording positioned just right---the parents were thrilled to have this to put in child's nursery!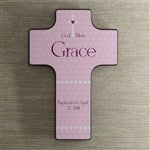 Perfect
By
Shopper

(Hollidaysburg , PA) - May 4, 2014
Bought two of these for my children's rooms. They are adorable and high quality.

gift
By
Shopper

(northlake, IL) - April 12, 2014
It was beautiful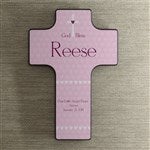 Just perfect!
By
Karen R.

(Grand Island, NY) - March 18, 2014 (
See all reviews by this customer
)
Just perfect for our nephew's baptism. Beautifully crafted. Perfect size and colors. Would buy again!!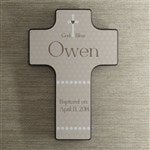 Tulsa Mom
By
Shopper

(Tulsa, OK) - March 10, 2014
Personalization Mall has never disappointed me and I have ordered many items! This item was just beautiful! I ordered three, one for each child.

Wall Cross
By
Morgan B.

(Surprise, AZ) - February 17, 2014 (
See all reviews by this customer
)
This personalized wall cross is the perfect gift for a baptism, christening or dedication. I have now ordered this cross 3 times for family and friends. Everyone loves it! I would highly recommend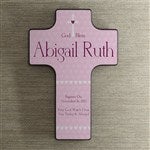 great purchase
By
Joan T.

(Valley Streeam, NY) - January 19, 2014 (
See all reviews by this customer
)
I was pleasantly surprised how nice this cross looks. I recommend this unique gift to those looking for something a little different for a baptismal gift and meaningful.
The price was great, and I like that you can add your own phrase.

Looks Beautiful!
By
Shopper

(Oregon, OH) - December 23, 2013
I love that this cross allows full personalization and up to 5 lines of text! I was able to add my own family prayer to make it extra special! It looked absolutely beautiful when I received it.

Beautiful!
By
Shopper

(Wilbraham, MA) - November 18, 2013
All 4 of my children received these for their baptisms, so now it's my "go-to gift" for other baptisms. They are so adorable and being able to give a personalized cross is very special to me.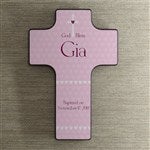 Nice Cross
By
Shopper

(Taylorsville, NC) - October 7, 2013
This cross is beautiful and I love the fact that I was able to totally personalize the name and the message. Wish it were a little larger though.

Quality product
By
Kara N.

(Cowlesville, NY) - September 9, 2013 (
See all reviews by this customer
)
I ordered these crosses and they were very nice quality and very quick shipping! Highly recommend!

Beautiful!
By
Shopper

(Mora, MN) - August 30, 2013
Very happy with product! Beautifully made and such a neat way to personalize! Excellent customer service! Perfect gift for our new Goddaughter to welcome her into God's family and ours!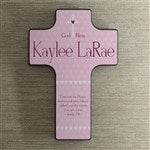 Awesome
By
Shopper

(Newburgh, IN) - August 27, 2013
The cross turned out amazing! My niece just loved it, I would order it again.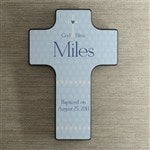 Crosses for my godsons
By
Shopper

(Silver Spring, MD) - June 28, 2013
These were easy to order, you could preview how they look, etc. Delivered quickly and they are beautiful. Good price too!

Prompt and professional
By
Shopper

(Shakopee, MN) - June 16, 2013
Couldn't be happier with the product and whole process. It was exactly what was shown in the picture online, no misleading photos or expectations. Also, the way in which the customer was included in shipping/tracking was very reassuring. Excellent experience.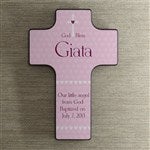 Baptism plaque
By
Shopper

(Pearland, TX) - April 27, 2013
A beautiful little plaque!!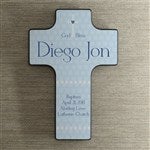 Nice for baptism gift
By
Shopper

(De Pere, WI) - April 25, 2013
I bought two of these for my neice and nephew. One in pink and one in blue. I like the quality of the item and think they make great gifts. I just wish it was slightly bigger.

Perfect Gift
By
Teresa V.

(Armour, SD) - April 17, 2013 (
See all reviews by this customer
)
I loved how this turned out, looks very well done. My sister-in-law loved it too!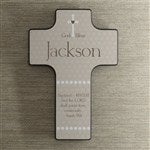 Baptism Cross
By
Shopper

(Anchorage, AK) - March 26, 2013
Thank you so much for making sure that my wife and I got this beautiful item in time for our Grandson's Baptism. It is exactly what I wanted for him and will look awesome on his bedroom wall. It was a rather short notice Baptism and my wife and I were afraid that the cross would not get here in time. Now this Easter Sunday will be a prefect time for his Baptism,as well as getting the cross blessed by the Priest. You all are great!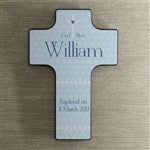 wonderful!!!
By
Rebecca M.

(Omaha , NE) - December 26, 2012 (
See all reviews by this customer
)
Ordered as a new baby gift, and it's adorable!!! I love that I could put my own quote. It's perfect!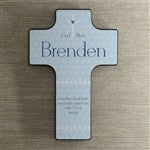 Excellant Value
By
Shopper

(Prospect Heights, IL) - December 1, 2012
I bought this for a gift for a baptism and this cross turned out beautiful and it's not cheapy looking at all. I thought it might not look that great in person but it does! Its a glossy finish and the perfect size. What a great Value! Super fast shipping and comes in a nice box that is ready to wrap!

Personalized Cross
By
Shopper

(Albert Lea, MN) - November 24, 2012
I ordered two of these for baby gifts, one pink and one blue and they are both great!! I am very happy with them

great for baptism
By
Jill T.

(Omaha, NE) - November 18, 2012 (
See all reviews by this customer
)
Such a great piece. Perfect for my son's baptism! I love it!

Ordered all three colors
By
Diane P.

(San Antonio, TX) - November 15, 2012 (
See all reviews by this customer
)
I purchased all three colors for my children. I collect crosses and these three made a beautiful addition.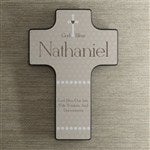 love it!
By
Shopper

(Midlothian, IL) - November 6, 2012
Second time purchasing this as a baptism gift and just love how it turned out both times! Fast shipping!!

LOVE IT!
By
Shopper

(Independence, IA) - September 15, 2012
As always your products exceed my expectations, are reasonably priced, and ship fast! Thanks again for making great gifts that will last a lifetime!

Love it
By
Shopper

(tucson, AZ) - July 26, 2014
I bought this for my daughter, and it look so nice and pretty when I hang it in her bedroom

Small but satisfied
By
Vanessa N.

(Albuquerque, NM) - September 17, 2013 (
See all reviews by this customer
)
Although this is cross is slightly smaller than expected, I am extremely satisfied. It is beautiful.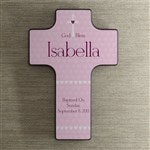 Perfect gift for child!
By
Vanessa J.

(Santa Ana, CA) - August 11, 2013 (
See all reviews by this customer
)
I bought 2 of these for my 2 godsons on their baptism day. Since they share a room I thought it would be nice as a keepsake to have on their bedroom wall personalized. Their mom loved it! I ended up giving it 4 stars because I wish it gave a little more room to have printed on the cross, other than that it's really a 5. I took a child's scripture and added it to the first cross of the older one and the second half of the prayer to the younger. people asked about this site at the baptism party because they thought this gift was creative and thoughtful! I'm very happy with my purchase.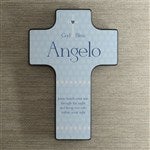 Small but beautiful
By
Shopper

(orlando, FL) - August 1, 2013
Cross is a little bit smaller than expected. But material and printing quality are good. I wish they would allow more space (lines) on the custom paragraph. I had a hard time trying to compress my verse in the very little space given. In general, I was happy with the product, the packing and the shipping.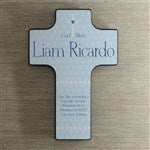 As Expected
By
Shopper

(Sewickley, PA) - May 20, 2013
If you are looking for a small gift to help recognize a child's baptism, I would highly recommend this item as it can be personalized with the date and a special message can be included. I also like that you can hang this one up.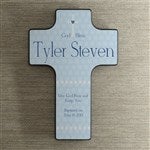 Beautiful Cross
By
Kimberly L.

(Pennsauken, NJ) - November 17, 2012 (
See all reviews by this customer
)
This was the perfect long distance gift for a new addition to my family. I enjoy giving something that is so personal.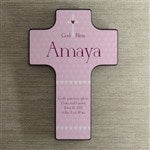 Nice Cross
By
Shopper

(Norwood, NY) - August 27, 2012
I received the cross quickly. It was exactly as I ordered. The print was a little fuzzy and could have been more crisp, but it was acceptable. I would definitely order from Personalization Mall again!