beautiful
By
Rachel H.

(Mandan, ND) - December 16, 2013 (
See all reviews by this customer
)
It is a beautiful frame!

Great gift!
By
Shopper

(Charlotte, NC) - October 17, 2013
This frame is high quality and beautiful. I would highly recommend it to anyone.

Baby gift
By
Shopper

(Canada) - September 22, 2013
Loved this item

baby gift
By
Shopper

(festus, MO) - August 16, 2013
Perfect gift in place of flowers. Made my sister in law cry. She absolutely loved both of them. Plus they match the colors of the twins bedroom.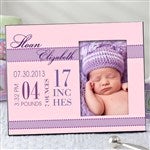 A must have for your newborn
By
Shopper

(Murfreesboro, TN) - August 9, 2013
This frame is very beautiful in person. You're child will cherish this frame when they are older!! You will not be dissatisfied! !!

Baby Frame
By
Shopper

(Langhorne, PA) - August 3, 2013
The frame is lovely and much more interesting than the typical baby frame. I bought it for new grandparents and they loved it.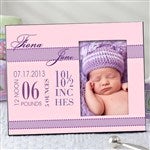 Bailee's Fram
By
Penelope S.

(Attica, NY) - July 16, 2013 (
See all reviews by this customer
)
This was a great hit with my granddaughter she put it on facebook an got a bunch of likes. But of course with my great-granddaughter picture in it, it had to be beautiful. I didn't get to actually see the frame because I was able to send it right to my granddaughters so she could have it as soon as possible. But I have used this site before and was very pleased with the product so I know this would be great too.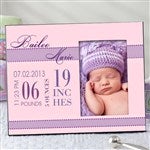 AMAZING!!!
By
Shopper

(Rio Rancho, NM) - June 24, 2013
Frame is absolutely beautiful. Very clear info. Love it!!!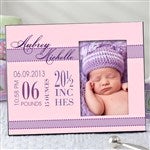 beautiful quality-fast shipping
By
Shopper

(WOODBRIDGE, NJ) - June 15, 2013
The person I bought it for just had her baby...it came just days after I ordered it! She LOVED it...well worth the price!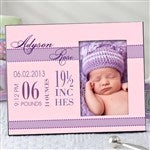 Great gift for new baby
By
Shopper

(TROY, MI) - June 2, 2013
Purchased this as a gift for a new baby girl that was recently welcomed into our family and the parents loved it! Would definitely purchase this again in the future, or anything else from Personalization Mall, for that matter. Haven't had a chance to see the frame in person yet, but fell in love with it just from the preview photo!

Excellent picture frame!
By
Shopper

(Canada) - May 28, 2013
The item that I ordered was great! I really love the design. I am so happy that I ordered from your company. Look forward to future purchases with you. Thank you!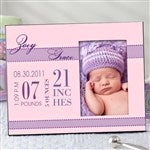 Unique
By
Julie Q.

(Grand Blanc, MI) - May 16, 2013 (
See all reviews by this customer
)
Great personalized frame for the brand new baby!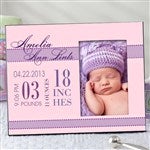 Gift for my newborn great-granddaughter.
By
Vera C.

(DAVENPORT, IA) - April 19, 2013 (
See all reviews by this customer
)
The frame was beautiful, I was so happy with it and my grand-daughter was thrilled. The colors were so pretty also. I will order again for another grandchild. Very pleased.

So Pleased!
By
Christine T.

(Fort Wayne, IN) - March 10, 2013 (
See all reviews by this customer
)
The frame was so nice and came so quickly. I ordered it for my grandaughter and my daughter-in-law loved it! The quality was very nice and I plan to order a boy's frame as soon as my grandson is born in May!!!!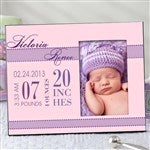 AWESOME!!
By
Roxie T.

(Fairbury, IL) - February 25, 2013 (
See all reviews by this customer
)
Thia frame was for my new grandaughter and it is just perfect! My son and his wife were so surprised and thought it was just the nicest gift ever! I love your company and have purchased several things from you lately and so impressed with the quality of your merchandise and how fast your deliveries are! I will spread the word.

Love it!
By
Shopper

(Gary, IN) - January 18, 2013
Bought Baby's Big Day Personalized Frame For Girls, the Embroidered Bottle Bag & Burp Cloth Set in Pink, the Set of 3 Pacifier Clips for Girls, and the keepsake "God Danced the Day You Were Born" to give to my niece for the birth of her daughter born in November 2012. She loved them. When her sister saw the items I had bought, she told me she wanted them as well even though she doesn't have any children. I told her that when she has a baby that I would do the same for her. This is my second time ordering from Personalization Mall and everything I have ordered I have loved. I will definitely purchase from them again.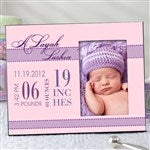 perfect - worth the $$
By
Shopper

(Munich, ND) - January 17, 2013
Excellent & adorable frame we gave our parents as Christmas gifts. great quality. Perfect personalization. Exact to preview picture before purchase. Would buy again!!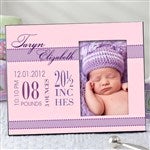 SUPER CUTE
By
Theresa B.

(Lisle, IL) - January 14, 2013 (
See all reviews by this customer
)
This frame is great! I got these for my niece and nephew for their 1st birthdays. I hope their parents love them. I had ordered something similar to this for my triplets when they were born and they had mentioned they loved them. Came in great time and look wonderful. I have never had an issue with personalizationmall.

Great
By
Shopper

(Richmond Hill, GA) - December 16, 2012
This gift was for a friend, she absolutely loved it. She loved how personal the picture frame was!!


Special
By
Shopper

(Commerce City, CO) - December 7, 2012
I received 1 of these frames as a gift after each one of my children were born and they are very special to me so I bought a couple of them for my friends that have had babies. They are a nice keepsake. Better than an outfit they will grow out of next week.

Frames
By
Kindra P.

(Thornton, CO) - December 3, 2012 (
See all reviews by this customer
)
These are the cutest, just wish they had clips to hang them on the wall.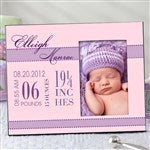 Picture frames
By
Kindra P.

(Thornton, CO) - December 1, 2012 (
See all reviews by this customer
)
Cutest thing... I love em!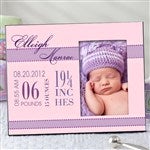 Personalized Frame
By
Gloria F.

(Norman , OK) - April 15, 2014 (
See all reviews by this customer
)
It is a beautiful frame, but I didn't realize you have to put a.m. after the time. I ended up with a frame that said 9:46

There was no way to fix that problem. On the personalization, there should be a separate box for a.m. or p.m. so that the information will be correct.



Very nice
By
Shopper

(Hudson, IA) - June 10, 2013
We ordered this for our newborn daughter. It is very nice and we have it displayed on her dresser. I did think that it was supposed to come ready to hang on the wall as well as stand on something and it does not come with the capability to hang. We would order this again.