Treasured Gift
By
Melissa Y.

(Tampa, FL) - November 11, 2013 (
See all reviews by this customer
)
This was purchased for a family member who had to put their dog down after many wonderful years. She cried upon receiving it, and truly loved it. It looks beautiful in the garden as a burial marker for her pet.

Memorial Stake
By
Shopper

(East Patchogue, NY) - November 9, 2013
I did not realize when I first ordered that the magnet and the stake are separate items. I'm sure my son will like the finished product to mark the spot of his loved pets. The magnet can be replaced if it gets weather worn. Vey pleased when I finally got it right.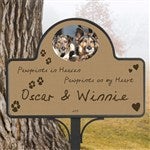 memorial stake
By
Shopper

(Amarillo, TX) - October 4, 2013
Beautiful work on this piece. We absolutely love it. Heavy duty metal and great craftsmanship. It's exactly what we wanted to celebrate our furry friend. You will not be disappointed.

Extremely Happy!
By
Lori M.

(Chicago, IL) - September 17, 2013 (
See all reviews by this customer
)
I loved the Memorial Stake for our dog. It came out beautiful and better than I expected. Thank you for giving me something to remember our loving pet. I ordered an ornament too, that came out awesome as well. I will definetly order ALL my personalized items/gifts from Personalizationmall!!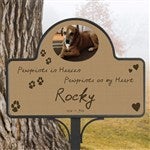 Pawprints in Heaven Memorial Stake with Photo
By
Sherry W.

(Toledo, OH) - August 13, 2013 (
See all reviews by this customer
)
You may think its a bit pricey, but it is well worth it. Excellent quality. Arrived quickly and packaged so not to damage. The thin magnet the photo is on comes off easily for the winter months if need be. The photo of my dear sweet Petey is just beautiful. Easy to place in ground; took about 10 seconds. Seem durable. I'm just really pleased with this photo memorial, can ya tell?! Our dog was 15 years old, so my expectations were high for a permanent memorial for his burial site on our backyard hill. Well worth every penny!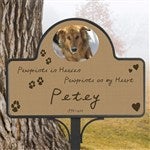 Memorial Stake
By
Shopper

(Waltham, MA) - July 2, 2013
This is a great gift to give someone who has lossed a pet, looks great just like they show you online.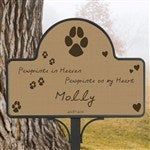 Pawprints
By
Deborah H.

(Marion, IN) - May 25, 2013 (
See all reviews by this customer
)
I LOVE IT!! Have referred several friends to your website. I'll be back!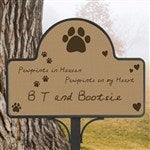 Love it
By
Jordyn H.

(Stockton, MD) - May 14, 2013 (
See all reviews by this customer
)
I wanted to get my mother a nice affordable memorial for our dog and this product was a great buy. Very impressed by the looks of it and the fact that the magnet can be removed or replaced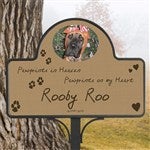 Fast and Reliable
By
Michael H.

(Cornelius, NC) - May 8, 2013 (
See all reviews by this customer
)
I originally purchased this sign 1 year ago following the passing of our dog of 16 years. Having faded a bit from the North Carolina heat and sun, I wanted to update the sign. I was happy to find that I could simply purchase a new magnetic sign, without having to repurchase the metal holder. It also allowed us the opportunity to change the design. Within a week, we had our new sign looking over her memorial garden.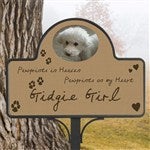 A little short
By
Shopper

(Jackson, TN) - May 6, 2013
This will be perfect for a small garden or walkway due to the height. It was very well received as a gift for a co-worker.

Great Idea
By
Diana K.

(Scottsburg, IN) - May 3, 2013 (
See all reviews by this customer
)
We were looking for something special to remember our wonderful dog by and this was a great idea. We received it fast and it is made well. I loved all of the other ideas on this website. I will be back to shop again soon.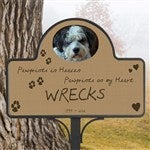 Love it!
By
Lisa P.

(Delevan, NY) - April 30, 2013 (
See all reviews by this customer
)
It is just what I wanted . I plan to order more in the future .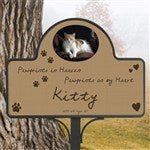 pet memorial
By
Neva C.

(Tyler, TX) - April 14, 2013 (
See all reviews by this customer
)
Found this item very satisfactory and it was all that the description implied.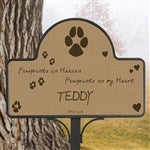 A Way to Remember
By
Connie E.

(Exira, IA) - April 12, 2013 (
See all reviews by this customer
)
I was so pleased with the first "Paw Prints in Heaven" that I ordered for our little dog "Max" that I ordered one for Snickers, our dog that lived for 17 years. The memorial stake is very durable, attractive, and reasonably priced. Having a picture on a marker is a wonderful way to remember a special pet. The service is fantastic as well. In just a matter of a few days from the time I ordered the marker, I received it in the mail.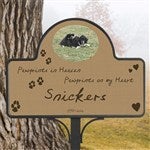 Withstand harsh weather
By
Jenny L.

(Pahrump, NV) - April 8, 2013 (
See all reviews by this customer
)
I bought this yard stake for my beloved cat Beau, who passed away on March 25th 2013. I buried him in our front yard together with all our other pets, and I stuck this yard stake on the ground with rocks around it, which makes a nice grave. Today's weather has been one of the worst wind/ dust storms we have in the Mojave desert,50/60 mph winds and rainstorm, I checked on the yard stake just now, it's still standing straight and steady. I am happy with this product, good way too honour my cat.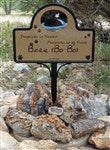 Features
By
Beverly S.

(Halethorpe, MD) - April 6, 2013 (
See all reviews by this customer
)
I very much like your preview of the finished product prior to ordering it. I chose the black and white picture. I am so happy with it. I see her beautiful face every morning in the yard. I definitely am very happy with the stake. I recommend it.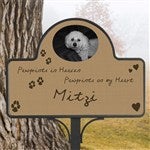 Pawprints in Heaven--A Memorial for Max
By
Connie E.

(Exira, IA) - March 8, 2013 (
See all reviews by this customer
)
I was devistated when our 9 month old puppy, Max, was hit and killed. I ordered the Pawprints in Heaven Memorial Stake in memory of him and was more than pleased with the results when it arrived. It serves as a reminder of what he looked like and is truly a wonderful tribute to a young dog that we loved and lost. Thank you for making such an excellent product.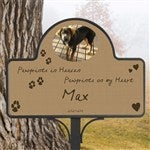 Such a wonderful way to remember a wonderful friend
By
Danielle B.

(Yuba City, CA) - February 15, 2013 (
See all reviews by this customer
)
I got this to remember my amazing dog AJ. It's great quality. I was brought to tears when I got it in the mail. It's perfect in the garden where my AJ loved to play. Truly a great way to remember a wonderful friend.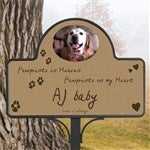 Simply Perfect
By
Shopper

(Framingham, MA) - December 26, 2012
This was a gift to my parents who recently lost their beloved dog. I found the website and liked the look of the item. Once I received it in the mail (very fast shipping, by the way) I was so impressed. It was exactly what I had hoped for. My parents loved it. It made a perfect gift and will be part of a memorail set up outside in remembrance of our lost friend, Thank you.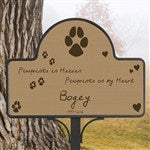 surpassed my expectations!
By
Shopper

(nashua, NH) - December 18, 2012
I am so very pleased with my purchase. It is exactly what I was expecting! Given that it is a memorial for a friend's beloved pet, I was expecting a lot! I could not be happier!!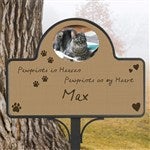 Peace of Heart
By
Bonnie J.

(Golden Valley, AZ) - December 7, 2012 (
See all reviews by this customer
)
Great quality for the price. Great service. The perfect mememorial for a much loved pet.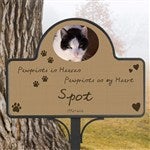 Great purchase.
By
LeNora A.

(Medina, OH) - October 29, 2012 (
See all reviews by this customer
)
I purchased this stake to mark the grave of a beloved pet. The stake is heavy duty and good quality. The magnet with the personalization is quite nice. I think the print quality of the picture was excellent. I do wish that the quote/saying could also be personalization; and that there was a choice of font. It is a nice item though and I would recommend it.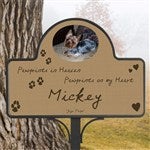 Dexter's Memorial Marker
By
Karen G.

(Nash, TX) - October 15, 2012 (
See all reviews by this customer
)
My husband was so happy and surprised to receive this awesome marker for Dexter's grave because he was his loving master for 12 years. He said this was the best gift he ever received. There was a picture of both of them on the marker which made it so much more special to him. It is well made and I believe it will withstand the elements for many years to come. A fitting tribute for such a special companion in our lives.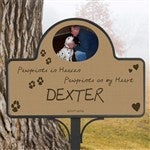 Pickles
By
Linda C.

(Bath, PA) - September 24, 2012 (
See all reviews by this customer
)
My husband and I were very pleased with the memorial stake with magnet product for our beloved dog, Pickles. It was well made and it was just what we wanted to honor our little Pickles.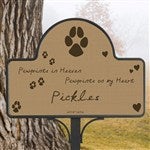 Turned out perfect!!
By
Shopper

(Federal Heights, CO) - August 28, 2012
Customer service is incredible...and the item turned out exactly how I wanted it!

Wonderful gift
By
Deanna C.

(Eaton, OH) - December 18, 2012 (
See all reviews by this customer
)
This item arrived very quickly. I was pleasantly surprised at the quality. Sometimes you order online and don't get what you expect, this time I got better than expected. This is a relatively heavy, well made item. The photo came out perfect. My husband will have tears when I present it to him on Christmas morning. What a wonderful way to honor our pet who we lost over summer.

Heavy duty design
By
Shopper

(Waterloo, IN) - November 19, 2012
This product is great! The picture on it is exactly like it looks in the preview. It was the perfect size for a memorial site. I'm always looking at through my window. Eventhough it's not a happy occasion Personalization Mall delivered a great memorial product. I always go to this website anytime I want to order something personally unique. I hope it can withstand the harsh weather so I can have it for many years to come.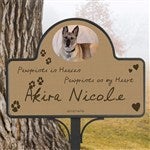 Very Nice
By
Shopper

(ANNAPOLIS, MD) - September 15, 2012
Purchased this to put in our garden where we will be putting our cat that has passed away. Seems sturdy and well made, however I don't know yet how the magnet will hold up in the weather

Beautiful, Convenient Memorial Marker
By
Daniel P.

(Powell, TN) - August 16, 2012 (
See all reviews by this customer
)
This Memorial Stake was intended to honor a family dog who passed far too soon. It arrived extremely quickly and is of good quality, but I admittedly was disappointed that it was slightly dented at the top/center. Packaging definitely could use some upgrading. The picture was crystal-clear, and it serves as a perfect tribute as intended, but after taking into consideration the harsh environmental factors it will face, especially damaging UV rays, the jury is out on the durability of the magnetic picture. I believe that it's a wonderful short-term Memorial Marker, and for that alone, I have no regrets on the purchase, but we shall see how it looks after a year or two.