Great Gift
By
Shopper

(Salem, OH) - December 22, 2012
No complaints whatsoever on this product. They were delivered in a timely manner, image turned out great and they were great quality. Very great services, I was completely satisfied.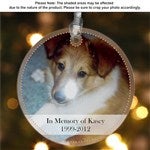 Heartwarmingly Beautiful
By
Shopper

(Berlin, WI) - December 21, 2012
Words cannot express how beautiful these ornaments are and how amazing they look on the Christmas tree. Our family pet will always be a part of us and we can honor him with this tribute. Thanks again for your top quality products and super fast delivery, you are the best!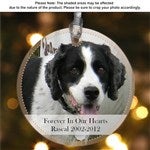 picture perfect
By
Anastasia H.

(San Antonio, TX) - December 17, 2012 (
See all reviews by this customer
)
the only downside was that there was no border around the whole picture and it was a black dog and make it a little dark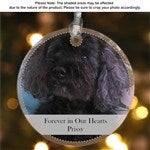 Perfect for Santa Photos
By
Emily G.

(Dixon, CA) - December 16, 2012 (
See all reviews by this customer
)
This ornament turned out beautifully and was perfect for showcasing my daughter's photo with Santa. I was able to make one for each year since 2010 because the text can be customized. Because the price was affordable, I also had one made for my mother for Christmas. I absolutely recommend the photo ornaments because the quality is outstanding.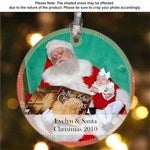 wonderful memorial to our boy!
By
Patti P.

(Aliquippa, PA) - December 12, 2012 (
See all reviews by this customer
)
a perfect addition to our tree this year! we just lost our amazing boy and every single memory means so much! thanks, to personalizationmall.com for this item!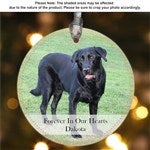 memory
By
Leslie B.

(greensboro, NC) - December 10, 2012 (
See all reviews by this customer
)
Great product. Gave it to my sister for Christmas and she loved it. Her dog's memory will live on always. Everyone she showed it to also loved it! This ornament really touches the heart!! I am going to get my brother one for his dog. :)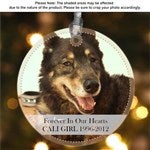 Memory keeper
By
Andrea S.

(Live Oak, TX) - December 9, 2012 (
See all reviews by this customer
)
This ornament came out better than I imagined. It was good quality and the picture image was great as well. It's nice to have something like this made after losing a beloved pet!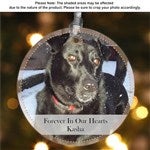 puppy power
By
donna D.

(colonia, NJ) - December 7, 2012 (
See all reviews by this customer
)
Came out better then I thought it was going to look ..giving it to a friend this weekend when she puts up her tree..she lost her Matty this past summer..and i thought she would love to see him on her tree..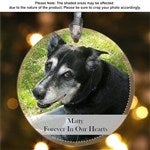 Photo Ornaments
By
Brooke W.

(Johnson City, TN) - December 7, 2012 (
See all reviews by this customer
)
My Family and I LOVE these ornaments! We have ordered one every years since we got married. It started with wedding photo, then a house, and now two kiddos. Grandparents also love getting them as gifts!!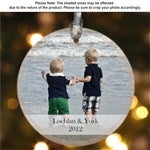 Exceeded standards
By
Amy S.

(Oregon, WI) - December 5, 2012 (
See all reviews by this customer
)
It was easy to put together and navigate the website. The quality of the product was incredible, picture very clear.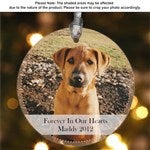 Wonderful keepsake.
By
Shopper

(Springfield, CO) - December 4, 2012
I love the ornament!! Picture and letters/wording on it is EXACTLY how the preview depicted it as. A wonderfully beautiful addition to my Christmas tree this year, since my Tuffy can't be. I appreciate the care taken in wrapping and protecting this during shipping. Have recommended this site to everyone I've spoken to!! Will definitely purchase items from PMall again!!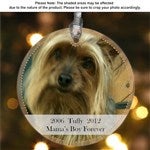 Very Pleased
By
Rhonda D.

(Mishawaka, IN) - November 27, 2012 (
See all reviews by this customer
)
Never had used this store and being the first time I was very pleased with the over all shopping experience and service from this store. This item is going to be a cherished addition to our Christmas Tree every Christmas. I Love the beautiful keepsake bag it came in as well.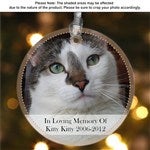 Perfect memory - Christmas ornament!
By
Vincent C.

(Brooklyn, NY) - November 21, 2012 (
See all reviews by this customer
)
We were looking for a way to commemorate our "kid" - our 14 year old Rotty-Shepherd mix who passed away last year. We exchange ornaments every year, and when I found this one, it proved to be perfect! Our little girl can now be a part of all our future Christmases!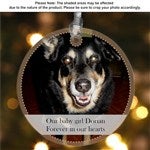 Ornament
By
Shopper

(Crookston, MN) - November 13, 2012
Have ordered several times from Personalization Mall and have never been disappointed!!!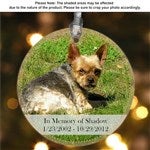 excellent quality and time it was delivered
By
Sue B.

(Bourbonnais, IL) - November 11, 2012 (
See all reviews by this customer
)
It was the perfect gift for a sad occasion. It arrived in 3 days of my order. The quality is excellent. I am very very satisfied.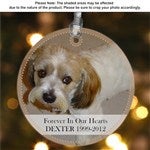 Exactly what we were looking for
By
Jennifer Y.

(Jefferson, WI) - November 9, 2012 (
See all reviews by this customer
)
This is a wonderful product - it turned out exactly how I expected and is a great tribute to our beloved dog who we miss very much!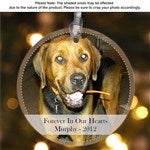 Perfect way to remember my girls
By
Jessica D.

(LaFayette, NY) - November 8, 2012 (
See all reviews by this customer
)
I love these ornaments. The clarity is perfect. It is the perfect way to remember my dogs around the holidays.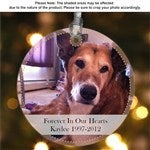 Touching tribute
By
Shopper

(dillwyn, VA) - November 6, 2012
I was so pleased with this item. It is a christmas gift for my now grown daughter. I put a pic of her as a child with our shephard that she grew up with who passed a few years ago. The picture, which was an old photo came out really nice. I know she is going to love it.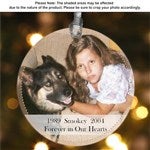 He's ALIVE!
By
Kathy T.

(Pleasant Valley, NY) - November 1, 2012 (
See all reviews by this customer
)
This turned out great! Perfect ornament for the picture.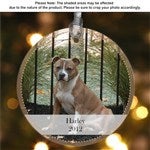 very nice
By
Betty D.

(Crowley, TX) - October 15, 2012 (
See all reviews by this customer
)
We were saddened to suddenly lose our dog and I wanted to have an ornament to remember him by. The quality is very nice and they did a great job with the picture.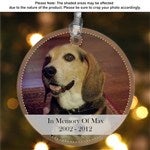 Forever in our hearts at Christmas time
By
Twila C.

(Helotes, TX) - October 9, 2012 (
See all reviews by this customer
)
I ordered four of these ornaments, two in memory of our dog and two in memory of our cat who died this year. They're beautiful, with a very professional look, and the picture is identical to the picture sent. Excellent way to keep your pet forever with you at Christmas time.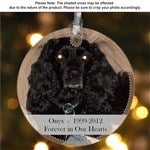 Good Quality
By
Shopper

(Dousman, WI) - October 8, 2012
I figured this was going to be a cheap plastic...it's ceramic and the picture came out beautifully! We will be able to remember our dog every Chrismas when we look at this wonderful ornament!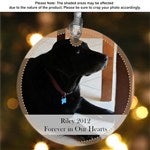 Pet Memories Ornament
By
sharon M.

(denville, NJ) - October 5, 2012 (
See all reviews by this customer
)
Ornament was nicer than shown in the picture. Fast shipping. Pleasure to do business with. I'll be sure to order again as I have never been disappointed with the quality or service.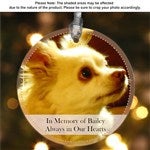 Beautiful Personalized Ornament
By
Michelle M.

(Vallejo, CA) - September 24, 2012 (
See all reviews by this customer
)
I am so happy with my purchase of this ornament. The photo I sent came out beautiful and the inscription was exactly what I ordered. The ornament arrived smaller than I expected but it still is beautiful in every way. It is perfect for a holiday tree, however I choose to hang it up year round to remember our doggy. The ornament is ceramic glass which looks nice. I would definitly order from this website again.

Beautiful!
By
Shopper

(hatfield, PA) - November 16, 2012
Used the "pet" ornament to make a beautiful ornament to memorialize my grandparents who passed. Turned out beautiful! Will definitely do again!

Perfect gift for Pet memorial
By
Shopper

(Lake Charles, LA) - November 25, 2012
I bought this ornament as a gift for a couple that recently lost their family pet. It turned out beautiful and they can't wait to put it on their christmas tree.

Photo Ornament
By
Amber P.

(Carrollton, KY) - October 14, 2012 (
See all reviews by this customer
)
Love this ornament! I only wish it wasn't labled specificly for pets. I actually used it for a picture of my baby niece that pasted away last year. I liked this photo ornament best for the picture I used, I actually ordered 3 of them, and they all turned out amazing.

Want more flexibility with fonts and designs
By
Shopper

(Cincinnati, OH) - December 13, 2012
I ordered this not as a pet photo memories ornament, but as an ornament for my son. I wanted to upload a photo of a logo and add text, but didn't like the other options you had. This is the only ornament where I could upload a photo, and add simple text, that didn't include a holiday reference in the design. It would be nice to have a few more font options and a blank ornament option like this for folks who want to make an ornament where the photo itself has nothing to do with Christmas, but you want to make it a keepsake as a Christmas ornament that includes text. You should offer block lettering, script lettering, and a couple of different fonts that give you design choices that are more interesting than just block and script. It would also be nice to have editing options to move your photo around. The hole in the ornament itself kept interfering with my designs and there were not any options to reposition the image around the hole. To get around this I had to resize my pic.

Photo from high quality camera looked very poor on this ornament
By
Shopper

(Savage, MN) - January 1, 2013
I ordered a photo ornament and am very disappointed. The ornament itself is a nice quality, although a bit smaller than I was expecting. The photo I chose for this ornament was taken by a high quality, new SLR camera. I've had the photo printed and it looked fine. However, on this ornament, the picture looks very poor... I'm very disappointed. The picture of the ornament even looks nicer than the actual ornament.

Good product, but ........
By
Shopper

(Milford, NJ) - July 22, 2013
I ordered two of these for Christmas Tree ornaments for recently passed pets. The product is nice however, I found it difficult to place my pictures on the ornaments. The process to crop the pictures is quite a hassle, and the finished result on one of my ornaments I am not satisfied with. The "window" given to crop your picture is not consistent with what I actually got. So the settings for cropping should be easier. If you get the cropping correct, the product is very nice overall.

Good Value!
By
Shopper

(Wichita, KS) - December 19, 2013
The ornament was great for it's value!!
Pros- high quality, photo turned out great, very easy to create, looks great on any size tree
Cons- There is minimal adjustments that can be made as far as making the picture bigger/smaller, moving it to the left/right, up/down. Also the name portion at the bottom is pretty large and takes up a lot of space.

High Quality
By
Shopper

(Dallas, OR) - October 5, 2012
This was a high quality product, with vibrant colors. I loved it! It is a great product. You will not be disappointed.

Looks great!
By
Shopper

(Pittsford, NY) - December 15, 2012
The ornament turned out great. This is my second one and I think I'll keep making them every year.

Great Product!
By
Ann S.

(Gray, ME) - December 21, 2012 (
See all reviews by this customer
)
This is a great product. High quality, just what I ordered, very efficient in production and shipping. This is the second year that I've ordered ornaments from Personalization Mall and both times, the ornaments arrived exactly like I ordered them and delivered to me surprisingly fast for something that has been personalized.

The only thing slightly negative comment I have is that I wish they had more selection on photo ornaments from year to year as I would like to give the same people different types of ornaments.

Great Gift
By
Shopper

(Minnetonka, MN) - December 26, 2013
This was a great gift for my family members to remember our dog we lost this year. It will be something we can remember her each year at Christmas time.

Memorable Photo Ornament!
By
Shopper

(Scotts Valley, CA) - January 24, 2014
High quality photo ornament!

Pet Photo ornament
By
Shopper

(Rochester, MI) - July 25, 2014
Very Cute, great gift. I love the ornament. It's heavier than you think!

Buddy Ornament
By
Debbie M.

(Northbrook, IL) - January 9, 2014 (
See all reviews by this customer
)
The ornament is beautiful. It came in a nice fabric bag for safekeeping.
The photo turned out excellent.

Wonderful Product
By
Shopper

(Alameda, CA) - March 7, 2014
This was the 5th pet ornament I have ordered from Personalization.com and their products are the best. The photo comes out so clear and the ornament is beautifully made. I gave this one as a gift in memory of a friend's dog and they loved it. I would most certainly buy this product again!

beautiful
By
Shopper

(Macon, GA) - February 21, 2014
The quality of both the picture and the ornament is great! Will buy again!