Photo Ornaments
By
Brooke W.

(Johnson City, TN) - December 7, 2012 (
See all reviews by this customer
)
My Family and I LOVE these ornaments! We have ordered one every years since we got married. It started with wedding photo, then a house, and now two kiddos. Grandparents also love getting them as gifts!!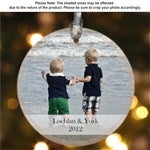 Great for anything - not just pets!
By
Shopper

(Canada) - December 6, 2012
I used this ornament for a person actually. It came out beautifully - used a full colour memorial photo - made a lovely gift. Thanks

Exceeded standards
By
Amy S.

(Oregon, WI) - December 5, 2012 (
See all reviews by this customer
)
It was easy to put together and navigate the website. The quality of the product was incredible, picture very clear.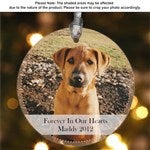 Perfect Present
By
Shopper

(Ocean Springs, MS) - December 4, 2012
I was very happy with this ornament. The material the ornament is made of is quality and feels really nice. The picture and design came out perfectly - just like it showed in the preview. I was very concerned that the picture would be blurry or off-center, but it came out beautifully.

Wonderful keepsake.
By
Shopper

(Springfield, CO) - December 4, 2012
I love the ornament!! Picture and letters/wording on it is EXACTLY how the preview depicted it as. A wonderfully beautiful addition to my Christmas tree this year, since my Tuffy can't be. I appreciate the care taken in wrapping and protecting this during shipping. Have recommended this site to everyone I've spoken to!! Will definitely purchase items from PMall again!!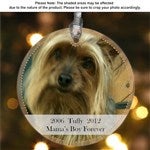 Very Pleased
By
Rhonda D.

(Mishawaka, IN) - November 27, 2012 (
See all reviews by this customer
)
Never had used this store and being the first time I was very pleased with the over all shopping experience and service from this store. This item is going to be a cherished addition to our Christmas Tree every Christmas. I Love the beautiful keepsake bag it came in as well.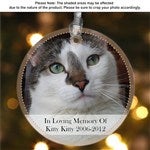 Perfect gift for Pet memorial
By
Shopper

(Lake Charles, LA) - November 25, 2012
I bought this ornament as a gift for a couple that recently lost their family pet. It turned out beautiful and they can't wait to put it on their christmas tree.

Perfect memory - Christmas ornament!
By
Vincent C.

(Brooklyn, NY) - November 21, 2012 (
See all reviews by this customer
)
We were looking for a way to commemorate our "kid" - our 14 year old Rotty-Shepherd mix who passed away last year. We exchange ornaments every year, and when I found this one, it proved to be perfect! Our little girl can now be a part of all our future Christmases!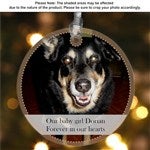 Beautiful!
By
Shopper

(hatfield, PA) - November 16, 2012
Used the "pet" ornament to make a beautiful ornament to memorialize my grandparents who passed. Turned out beautiful! Will definitely do again!

Ornament
By
Shopper

(Crookston, MN) - November 13, 2012
Have ordered several times from Personalization Mall and have never been disappointed!!!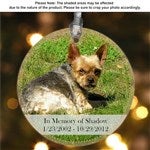 excellent quality and time it was delivered
By
Sue B.

(Bourbonnais, IL) - November 11, 2012 (
See all reviews by this customer
)
It was the perfect gift for a sad occasion. It arrived in 3 days of my order. The quality is excellent. I am very very satisfied.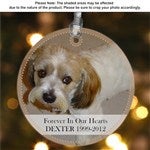 Exactly what we were looking for
By
Jennifer Y.

(Jefferson, WI) - November 9, 2012 (
See all reviews by this customer
)
This is a wonderful product - it turned out exactly how I expected and is a great tribute to our beloved dog who we miss very much!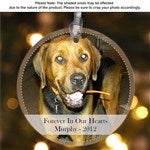 Perfect way to remember my girls
By
Jessica D.

(LaFayette, NY) - November 8, 2012 (
See all reviews by this customer
)
I love these ornaments. The clarity is perfect. It is the perfect way to remember my dogs around the holidays.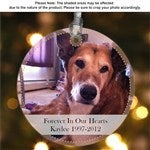 Touching tribute
By
Shopper

(dillwyn, VA) - November 6, 2012
I was so pleased with this item. It is a christmas gift for my now grown daughter. I put a pic of her as a child with our shephard that she grew up with who passed a few years ago. The picture, which was an old photo came out really nice. I know she is going to love it.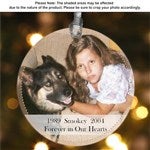 He's ALIVE!
By
Kathy T.

(Pleasant Valley, NY) - November 1, 2012 (
See all reviews by this customer
)
This turned out great! Perfect ornament for the picture.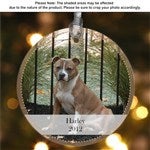 very nice
By
Betty D.

(Crowley, TX) - October 15, 2012 (
See all reviews by this customer
)
We were saddened to suddenly lose our dog and I wanted to have an ornament to remember him by. The quality is very nice and they did a great job with the picture.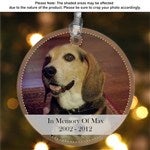 Photo Ornament
By
Amber P.

(Carrollton, KY) - October 14, 2012 (
See all reviews by this customer
)
Love this ornament! I only wish it wasn't labled specificly for pets. I actually used it for a picture of my baby niece that pasted away last year. I liked this photo ornament best for the picture I used, I actually ordered 3 of them, and they all turned out amazing.

Forever in our hearts at Christmas time
By
Twila C.

(Helotes, TX) - October 9, 2012 (
See all reviews by this customer
)
I ordered four of these ornaments, two in memory of our dog and two in memory of our cat who died this year. They're beautiful, with a very professional look, and the picture is identical to the picture sent. Excellent way to keep your pet forever with you at Christmas time.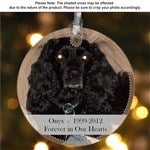 Good Quality
By
Shopper

(Dousman, WI) - October 8, 2012
I figured this was going to be a cheap plastic...it's ceramic and the picture came out beautifully! We will be able to remember our dog every Chrismas when we look at this wonderful ornament!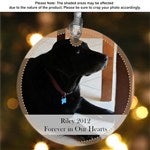 Pet Memories Ornament
By
sharon M.

(denville, NJ) - October 5, 2012 (
See all reviews by this customer
)
Ornament was nicer than shown in the picture. Fast shipping. Pleasure to do business with. I'll be sure to order again as I have never been disappointed with the quality or service.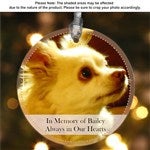 High Quality
By
Shopper

(Dallas, OR) - October 5, 2012
This was a high quality product, with vibrant colors. I loved it! It is a great product. You will not be disappointed.

Beautiful Personalized Ornament
By
Michelle M.

(Vallejo, CA) - September 24, 2012 (
See all reviews by this customer
)
I am so happy with my purchase of this ornament. The photo I sent came out beautiful and the inscription was exactly what I ordered. The ornament arrived smaller than I expected but it still is beautiful in every way. It is perfect for a holiday tree, however I choose to hang it up year round to remember our doggy. The ornament is ceramic glass which looks nice. I would definitly order from this website again.