Doggie treats!
By
Terry H.

(Clarinda, IA) - December 21, 2013 (
See all reviews by this customer
)
Love the jars! Look exactly like it was pictured. Got as Christmas presents for my girls. One is using as a treat jar as she has a big dog and the other one is using it for dog food as she has a little dog. They came in a timely manner also. Will most definetly order from this site when I am needing that special gift!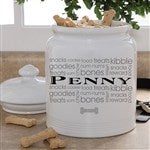 PERFECT!
By
Andrea V.

(Phenix City, AL) - December 13, 2013 (
See all reviews by this customer
)
OHMYGOSH!!! I LOVE IT!!!! Seriously, it's PERFECT! I hadn't been searching too long for a treat container when I found this one....the search was over!! Perfect size! It is a Christmas present for Max, but I've already tested it on the counter and I love it. Very nice weight. Lid fits nicely, but not too snug that you can't open it with one hand.
Order it, you will NOT be disappointed!!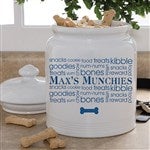 so nice
By
Shopper

(Newark, OH) - December 11, 2013
I bought one for me and my dog and one for my son and his dog
Little pricey but looks so good!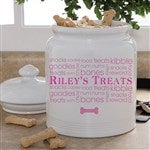 Lovely!
By
Shopper

(Pinecrest, FL) - August 27, 2013
The quality is great! And is a great way to keep the treats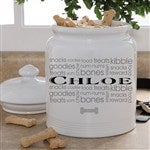 Excellent
By
J Scott M.

(Napoleon, MO) - May 15, 2013 (
See all reviews by this customer
)
Great product. Shipped fast. Like it so much we got one for our sons pet.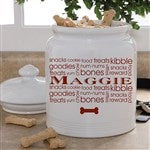 very nice
By
Carol K.

(Evansville, IN) - February 28, 2013 (
See all reviews by this customer
)
Bought this item for a gift to a special dog and his owner. I love it, though it is a little bigger than I expected. It is very nice and they love it too.
Thank you for a quality product. I would not hesitate to purchase from you again.

Just what I wanted
By
Shopper

(Ketchikan, AK) - January 29, 2013
I love this treat jar. It is perfect size and it's very well made. It came quickly and was well packaged.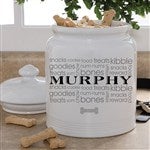 Perfect Dog Treat Jar
By
Shopper

(Concord, NC) - January 6, 2013
I have three dogs and was looking for a replacement jar for their dog treats. This personalized dog treat jar allowed me to put all three names on it with a space between their names. It is the perfect size and the top fits snuggly to keep the treats fresh plus I don't have to worry about the top slipping off onto the floor and breaking which is what happened with the last two jars. Not only does it serve the purpose I was looking for but the quality is excellent and it looks much more expensive - almost matches my more expensive canister set that sits on the same cabinet. Definitely worth the money!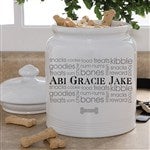 Got Treats?
By
Shopper

(Omaha, NE) - December 29, 2012
I bought this for my "girls" for Christmas and LOVE it. Very nice quality and I especially appreciate that the lid is sealed--keeps everything fresh! I opted not to put the dogs' name on it so that I could use it forever. Mine is personalized with "Got Treats?"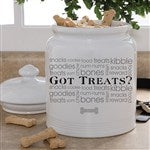 Doggie Delite Treat Jar
By
Shopper

(Holland, MI) - December 17, 2012
Great quality, easy to order and very prompt service. I will use them again without a doubt.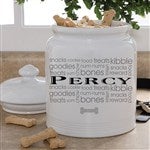 Awesome!
By
Ann L.

(South Hadley, MA) - December 12, 2012 (
See all reviews by this customer
)
Very pleased with the treat jar - it's beautiful!

Love it!!!
By
Shopper

(Wagram, NC) - December 4, 2012
We absolutely love this treat jar. The lid seems to be fit well and it's so nice. Seems to be of high quality and adds a little to the decor.

Sassy Treat Jar
By
Brian A.

(Cazenovia, NY) - November 30, 2012 (
See all reviews by this customer
)
A very ample treat jar with great graphics. Tight fitting lid to keep treats fresh. Looks great on the counter and holds plenty of cookies for our little girl Sassy. I would highly recommend this jar for anyone with the need for mega storage!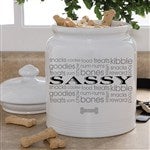 Great Treat Jar!
By
Amanda M.

(Rutledge, TN) - November 9, 2012 (
See all reviews by this customer
)
This treat jar is extremely sturdy, nice weight and great lid closure. I was thrown back by the price of the jar, but once I received the item; I was satisfied and the purchase was worth it. Very high quality item, and Macy loves that her treats are kept fresh!!!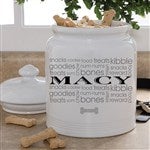 Great purchase.
By
LeNora A.

(Medina, OH) - October 29, 2012 (
See all reviews by this customer
)
I was extremely impressed with this treat/cookie jar. It is a generous size to hold a lot of goodies. I have 6 Yorkies so I personalized it with the word "Yorkie" instead of a name. I love it and they love the treats that come out of it! It is attractive enough to leave on my kitchen island which is a very handy place to have it. I chose the black color lettering for the personalization which I think looks great.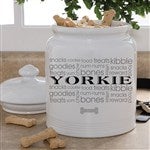 So nice for my furry friend
By
Shopper

(Cambridge , NY) - October 7, 2012
The initial investment of this was a little high, but it is a quality item! I got this as a thank you for a friend and their dog after puppy sitting for me. They loved it! I filled it with puppy treats and wrapped it up! I love this company they make it so easy to find just the right "thing" for even the hardest to shop for person or pup on your list!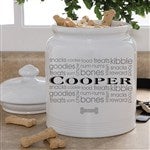 Perfect
By
Jeffrey P.

(Mesa, AZ) - May 11, 2012 (
See all reviews by this customer
)
The jar shipped very fast and was exactly what I wanted.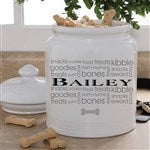 nice counter item
By
Thomas D.

(fishkill, NY) - March 31, 2012 (
See all reviews by this customer
)
This dog treat jar is just great looking,not cheap, but worth it. Louie, thats my dog, loves it .Everyone that see it always ask where we got it ,and how adorable it looks.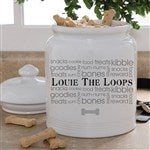 LOVE this!
By
Shopper

(MONROE, NJ) - March 28, 2012
I have never put the time in to review items before, but this was such a great purchase that I had to share. I was intially looking for a large jar I could put my new puppy's food in. I was unsure when I purchased this if it would be large enough for it. Although it is slightly too small to hold over a weeks worth of food (small kibble), I decided to use it for larger treats. I absolutely love it! It is well made and the writing on it is beautifully done! I spent all day looking for this type of jar, and am glad I went with this one!!! A must buy!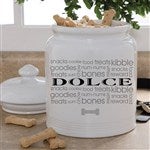 Beautiful!
By
Jeannine D.

(Stow, OH) - March 15, 2012 (
See all reviews by this customer
)
The quality of this dog treat jar is fantastic. It looks fantastic, nice and solid, and what I love most (besides how it looks!) is that the lid has a solid seal, but not too tight - and you can still lift it off with just 1 hand. I think I am going to get this as a gift for my friend!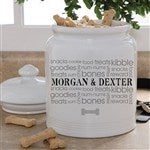 Doggie Delights Personalized Dog Treat Jar
By
Shopper

(Lakewood, OH) - March 4, 2012
This jar looks amazing, the dogs name looks like it was manufactured on the original jar. It's a great size and fits lots of treats. It was a present for my daughter and her husbands new puppy, and they love it. It was a speedy delivery also.

Not sorry
By
Cynthia E.

(Meraux, LA) - February 19, 2012 (
See all reviews by this customer
)
I debated to spend $40.00 on this doggie treat jar but it is worth every penny!
I love it and I'm sure TEBOW our new addition will love it too.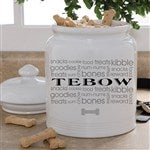 Loved It!!!!
By
Kimberly S.

(Deer Park, IL) - February 11, 2012 (
See all reviews by this customer
)
This turned out so great, I had to order another one for my daughters dogs! We have 2 dogs and I put both of their names on the Jar. It looks so awsome! The jar is also a really good size. My dogs are little and my daughters are big! The jar holds both sizes perfectly! You will love this for your own dog or dogs!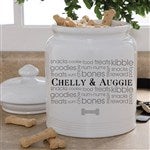 High Quality
By
Janet C.

(Chicago, IL) - February 6, 2012 (
See all reviews by this customer
)
It is a high quality jar of substantial weight with a tight fitting seal to keep treats fresh. It's always a challenge to find unique personalized dog items. This jar was a gift and a big hit.

Great gift for dog lover
By
Shopper

(Del Mar, CA) - February 1, 2012
Sent the personalized dog treat jar as a gift. The recipients and their two dogs loved it. Posted a photo on FB that got many "likes".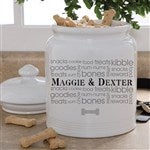 Excellent product
By
Shopper

(Marathon, FL) - December 28, 2011
Nice large treat jar with lid that had a seal. Very good quality and the personalization made it a great gift. My daughter loved it for her great Dane.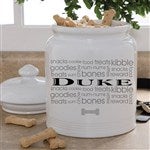 Very Cool
By
Mike D.

(Bloomington, IL) - November 5, 2011 (
See all reviews by this customer
)
Delivered very quickly, good quality, & size is perfect.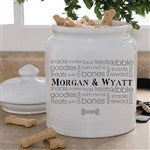 Very Cute but WAY Small
I ordered this for my dog, Fiona. It's way cute, but also much smaller than I anticipated. It fit half of her food her other tin fit and then I couldn't fit her cup in it, so I'm using it for biscuits instead.