Adorable
By
Carmen F.

(Palm Coast, FL) - November 24, 2013 (
See all reviews by this customer
)
I absolutely love my pet basket. It looks so good with my two dogs names on it. Have received so many compliments on it. Looks great in the living room.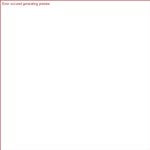 Beautiful Basket
By
Cindy B.

(Destrehan, LA) - October 28, 2013 (
See all reviews by this customer
)
This is a beautiful addition to my dining room to hold my pet's toys. Nice quality as always. Very satisfied!!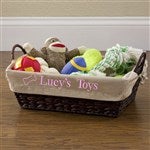 Adorable
By
Jennifer E.

(Oklahoma City, OK) - August 26, 2013 (
See all reviews by this customer
)
Just the right size for my Morky's toys! Looks lovely in the living room! Highly recommend it!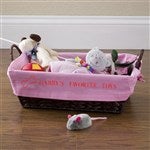 Adorable
By
Patricia A.

(Newburgh, NY) - August 3, 2013 (
See all reviews by this customer
)
This is just what I needed to keep my dogs toys in, she loves it! It's a small basket, which is perfect for me because my dog is tiny.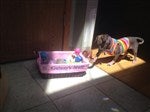 Great gift for pet lovers
By
Deanne M.

(Spring, TX) - July 30, 2013 (
See all reviews by this customer
)
I ordered this as a closing gift for customers who were buying a new house and I knew how much they loved their little dog. They were SO surprised and 6 months later are still telling all their friends and neighbors about the great, personalized gift they rec'd from their loan officer. I have since continued to order all closing gifts from personalizationmall.com and have been 110% satisfied with everyhing!!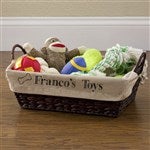 Excellent quality - perfect for my kitty!
By
Shopper

(Iowa City, IA) - July 22, 2013
I have been looking for a basket for my kitty's toys and this is perfect size (those of you complaining about the size, should have looked at the measurements beforehand because they are stated right on the website). It fits in with our decor in our home and I loved that I could put her name on it. The ball of yarn graphic is adorable! I have been searching high and low for a kitty toy basket and this is JUST what I needed. Great quality and excellent addition to our home. You can't go wrong with this!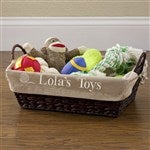 The Perfect Gift
By
Shopper

(Sterling, VA) - June 17, 2013
This basket is high quality and truly well done. I love the number of options you get to customize it. What I recieved was exactly what was depicted on the website.

WOW!!!!!!!!!!!!
By
Donna Rae T.

(Pleasant Valley, NY) - March 31, 2013 (
See all reviews by this customer
)
Wow this was a really good surprise. The basket is made really well and the liner is very rich feeling. Almost to good for the dogs : ) Their toys look really good in the basket, now if I could get only get them to put their toys
away on their own. Thankyou for the surprise!!!!!!!!!!!

Cat toy basket
By
Shopper

(CYPRESS, CA) - January 22, 2013
This is excatly what we were looking for to keep all the cats toys in one place and doesn't look out of place with the decor of the livingroom.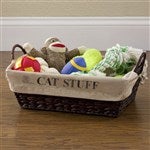 Awesome!!
By
Noha H.

(Springfield Gardens, NY) - January 2, 2013 (
See all reviews by this customer
)
great quality. loved it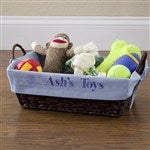 Great!
By
Kelly T.

(McDonald, PA) - December 13, 2012 (
See all reviews by this customer
)
Looks fantastic and good quality! My dog loves her new toy bin and It looks just like the preview picture!

Great with one minor flaw
By
Shopper

(Columbus, OH) - November 14, 2013
I love the basket it will be great for our new Corgi puppy. When I took it out of the box the liner was crooked so I untied it to fix it. When I was tying it back on I pulled gently on one of the strings and it came completely off the liner and the seam came loose on that corner as well. It was easily fixed with a needle and thread but I took a star off because I shouldn't have to fix part of a brand new straight out of the box product.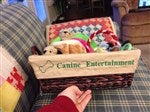 Great quality, not so great size
By
Kimberley K.

(Little Egg Harbor, NJ) - December 20, 2012 (
See all reviews by this customer
)
This item was absolutely adorable and was really well made for such a short delivery time. The only problem I have with it is the small size, which is my own fault for not reading the specifications. More size options would be a wonderful addition. I have a large dog and most of her toys are bigger than the basket.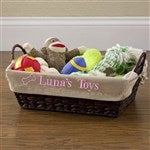 CUTE
By
Shopper

(Noxapater , MS) - December 14, 2012
THIS IS A VERY NICE TOY BASKET; HOWEVER IT IS SMALL THAN I THOUGHT IT WOULD BE. I STILL LIKE IT AND OAKLEY LOVES CHEWING ON THE HANDLES.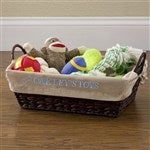 Disappointed - My Own Fault
By
Shopper

(Southaven, MS) - February 11, 2013
I have already submitted a review, but will write another...
While, I LOVE the basket & monograming - I was disappointed at the size of the basket. I should have read the actual dimensions, instead - I just looked at the picture. The basket is way too small for my dogs toys. The next purchse, I will do the proper research before ordering. Thank You.