Clock
By
Shopper

(clovis, CA) - November 18, 2011
It's beautiful, but the clock isn't set.. I would think you guys would set the clock.. It's not like I can do it.. It's glued in.. That irritates me.. It's little things like that which will cause me to not shop here again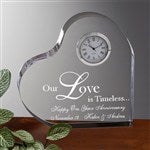 what i like
By
kevin B.

(inwood, WV) - October 28, 2011 (
See all reviews by this customer
)
this company and it's items have yet to let me down, i will continue to order products from them as long as they keep sending out quality items, the fact that you can personalize the items just makes every gift that much more special to those who receive them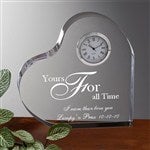 Wonderful gift
By
Shopper

(Churchville, NY) - October 17, 2011
I bought this engraved heart clock as an engagement gift for a friend. This was my first purchase from Personalization Mall so was not too sure what it would look like. Well, it arrived within just a few days and it is just lovely!! I am proud to give this item to our friends and know they will treasurer it for many, many years. I will definitely recommend this product and company to all my friends. It is very tasteful and just the right size--not too large and "showy".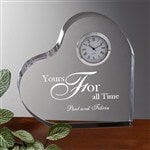 The Prefect Gift
By
Mary D.

(Safety Harbor, FL) - October 14, 2011 (
See all reviews by this customer
)
I ordered this beautiful clock for my favorite cousin and her husband, for their 50th wedding anniversy. When they received their gift, my cousin cried. She said it was the most beautiful clock she has ever seen. Her husband loved it too. I am so happy with the order. I am starting to do my Christmas shopping and certainly will be looking at Personalization's array of different gifts. Thanks again for the great service.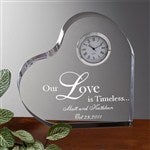 A PERFECT HEART
By
mary S.

(Wilmington, DE) - September 12, 2011 (
See all reviews by this customer
)
I needed a gift for my god daughter and soon realized that I had only 3 days until the wedding. Well Personalization Mall to the rescue. I ordered on Thursday - the heart arrived on Friday and everything about it was perfect. The bride and groom have very unique names and voila they were spelled correctly. The heart is so beautiful I am sure they will love it too!. THANK YOU for saving the day.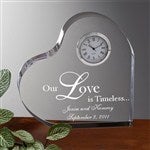 wedding gift
By
Susan T.

(Temple, TX) - July 10, 2011 (
See all reviews by this customer
)
This gift was a wedding gift to our neighbor's daughter. At the last minute -- not wanting to get the expected place mats listed on the gift register -- as I was looking at your website, I decided to get something unique for the couple to have as a lasting reminder of their day. I was not sure if I would receive it in time since I had procrastinated. To my surprise, I received this in amazinginly fast time(ordered at the beginning of the week and had it for a Saturday wedding)!!!! I opened it to wrap it and wished I had ordered the same thing for my daughter's wedding a month earlier!!! It was a treasure!!! I have not received a thank you note from the couple as of yet, but I suspect the couple will be as pleased as I would be to receive such a wonderful keepsake!!!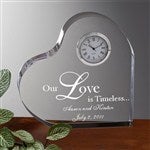 25th Anniversary
By
Kathleen F.

(Kissimmee, FL) - July 8, 2011 (
See all reviews by this customer
)
We recently celebrated our 25th Anniversary in Feb. Was looking for something different than an engraved plate. Then found the PersonalizationMall site. Saw a review for this clock and I was sold! The glass product is silver and a perfect saying engraved on it, with a little clock on top. Our perfect 25th anniversary memory for us to last a lifetime. Thank You!!!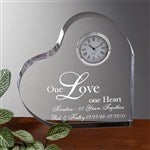 Loving the Engraved Heart Clock
By
Joanne B.

(Carnegie, PA) - May 21, 2011 (
See all reviews by this customer
)
This is not the first time I have ordered this beautiful clock. The recipients were absolutely thrilled at the personal touch with the wording AND the clock which daily reminds them of their special "time." I am personally pleased with the delivery time--usually within a few days of my ordering. The gifts, such as this one, are beautifully made and well-made as well. I highly recommend anyone considering this clock to purchase it as well. Thank you.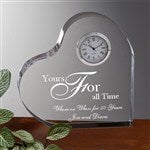 Perfect 50th anniversary gift
By
Judi M.

(Huntington Beach, CA) - April 29, 2011 (
See all reviews by this customer
)
I have purchased this gift twice for 50th wedding anniversary gifts. The recipients were absolutely thrilled with this very classy and "timeless" gift. I would recommend it for other special anniversary occasions.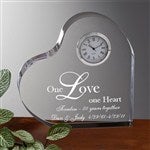 Great gift.
By
Teresa M.

(Clarks Summit, PA) - April 10, 2011 (
See all reviews by this customer
)
I think my husband will love it. Very nice gift for an anniversary. Great quality and fast delivery. Always pleased with the merchandice i receive from your company.