ingraving
By
Shopper

(Sacramento, CA) - December 24, 2011
ingraving was hardy visible. not as bright as on the picture... very dissapointed...

Too small
By
Shopper

(Moss Point, MS) - December 21, 2011
This was very cute but it was not at all what I expected it to be. It was very small, I have never seen an apple (edible) this small before.

Not a red apple
By
Shopper

(Green Brook, NJ) - December 17, 2011
This apple is okay. I expected it to be small as several people said in their reviews, but I was surprised that it wasn't really a red apple. It's more of a brownish maroon. I have to say I was very disappointed. The picture shows a nice gold to red contrast, but in reality it is not as pretty as it is shown. If I had seen the sample in person, I wouldn't have ordered it. Sorry!

Much too small
By
Shopper

(Allendale, NJ) - April 30, 2011
I was disappointed with this item....For the cost, I was expecting it to me bigger and more substantial.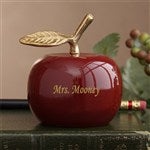 Apple Brass Teacher's Bell
By
Iliana M.

(Miramar, FL) - December 14, 2010 (
See all reviews by this customer
)
It is very small. It should be bigger. I was very dissappointed on the size.


Teacher's Apple bell
By
Marlene S.

(El Monte, CA) - December 14, 2009 (
See all reviews by this customer
)
This was much smaller than anticipated and the red color was not as deep as expected. It appears somewhat washed out. For the first time, I was disappointed in a Personalization product.

Too small
By
Brenda L.

(Jacksonville , FL) - May 12, 2013 (
See all reviews by this customer
)
Think crabapple and this is the size of this bell

Too small; Picture is deceiving
By
Amber T.

(Jackson, MS) - November 24, 2012 (
See all reviews by this customer
)
The brass bell was cute, but it was way too small. I was disappointed because I purchased it for my best friend who has recently gotten his first teaching job. I guess it will be cute on his desk, but I expected so much more. The personalization was dull. Blah...

very disappointed
By
Shopper

(Niceville, FL) - December 21, 2011
I am very disappointed in this gift. I ordered it for my daughter and when it came I could not believe it. It is about half the size of the apple pictured and the color is not a bright apple red. it is a dark more maroon color. The engraving is so small you have to hold it in your hand and close up to see it. I expected you to be able to read the writing from a distance. Thus, it would identify her desk.

the smallest apple i have ever seen
By
emily L.

(morristown, NJ) - December 13, 2011 (
See all reviews by this customer
)
As another reviewer said, this is my fault for not looking at the dimensions, but the picture is COMPLETELY misleading. The apple is barely bigger than a golf ball and will not suffice as a gift on its own for my student teacher; I will now have to augment it with something else.

NOT THE SAME COLOR
By
Shopper

(Grand Rapids, MI) - November 21, 2011
I ORDERED THIS APPLE THINKING IT WILL BE THE COLOR LIKE THE PICTURE BUT ITS NOT IT LOOKED LIKE A OLD BROWN RUSTY APPLE I CALLED BUT WHAT DID THAY DO NOTHING
$26.00 WHAT A WAST.

apple teacher bell
By
Shopper

(Newington, CT) - August 28, 2011
I thought this looked like a great gift for my son, who is a new teacher, but was very disappointed to see how small the apple was. I guess i should have looked at the description/dimensions closer as it is clearly specified online so totally my fault. Also, the color is not red like I expected, but more of a maroon color. I do think the color online is misleading so this one is not my fault. All in all, a disappointment.

Not a good item to purchase as a gift.
By
Monica R.

(Converse, TX) - December 11, 2009 (
See all reviews by this customer
)
I did not expect for this item to have been so small! I would not have ordered it had I know it was going to be very miniature. It's cute but almost serves no purpose. I probably should have looked at the details of the product closer. Otherwise, i would not have bought this thing.