Love it!
By
Shopper

(fort wayne, IN) - February 20, 2013
Looks great, and protects the phone. I love it!

Great picture quality.
By
Shopper

(Los Angeles, CA) - January 22, 2013
I ordered replacement inserts as a gift for my sister and i was pleasantly surprised as to how great the picture quality is on the inserts.

Great gift idea!!
By
Shopper

(Los Angeles, CA) - January 22, 2013
I ordered the Iphone 4 case as a gift for my sister and she absolutely adored them. She loved the fact that you can order replacement plates to update photos of her kids.

FABULOUS!!!
By
Kelsey B.

(Romney, IN) - January 22, 2013 (
See all reviews by this customer
)
It came in and it's fabulous! It came so fast and just what I was looking for! The case is protective and fun! Can't wait to order more backs to interchange my pictures!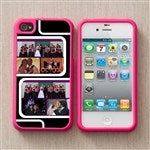 So happy with this purchase!
By
Shopper

(Las Vegas, NV) - January 12, 2013
I got this for Christmas and thought it would be kind of cute. When it arrived I was amazed. The pictures were clear and crisp and it looked great. I would definitely recommend this case!!

Love it!
By
Shopper

(Shawnee, KS) - January 1, 2013
It was a gift for my mom, and she loves it!

Awesome!
By
Michelle C.

(Littleton, CO) - December 17, 2012 (
See all reviews by this customer
)
Awesome Phone cover, can't wait for my husband to open it Christmas Morning!

Great quality picture iPhone shell insert
By
Shopper

(Cincinnati, OH) - December 14, 2012
The pictures are in great quality and the design looks really good. Could not have hoped for a better result.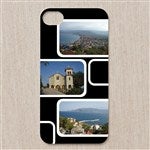 Excellent personalized iphone cover
By
Shopper

(Noblesville, IN) - December 1, 2012
Love this iphone cover. bought as a gift and really want to keep for myself!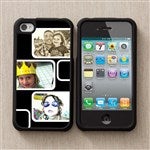 Great product, but....
By
Carol G.

(Lyons, OR) - March 12, 2013 (
See all reviews by this customer
)
This photo phone cover is really terrific. It has my photos, the colors are great and it is very unique. It also arrived very quickly. The only problem I had was, when it arrived, it was not the right size for my phone. It looked right, matched the camera lens location and either I missed the specifications or they weren't there. Great product, just be sure you know exactly what you are buying.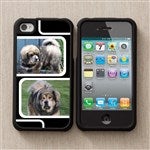 Love it.
By
Amber K.

(huntington beach, CA) - January 6, 2013 (
See all reviews by this customer
)
Bought this for my sister who wanted a new case & is the proudest aunt ever & she absolutely loves it. Only problem is that I put it on my phone to see how it looked & had a hard time getting it off. I did then when she put it on her phone one corner wouldn't click closed completely, so I think it got damaged when I was trying to get it off my phone. It still stays on fine though & the pictures look great.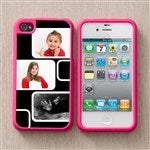 A little blurry but not bad!
By
Heather C.

(Phoenix, AZ) - December 27, 2012 (
See all reviews by this customer
)
Got this as a Christmas gift for my mom and she loved it! It's cool that you can switch out the plates so that you never get bored with your cell phone case. The only issue I had with it was that the background and photos were a little blurry but nothing too bad, oh and the berry color is more pinkish than it appears in the preview.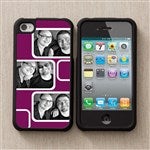 Wow!
By
Sheryl L.

(Buffalo, NY) - December 20, 2012 (
See all reviews by this customer
)
This item was beautiful, well made very colorful and the pictures were amazing very nice and made from thin metal, I was however disappointed as I didn't buy the actual case too because I had one from my phone carrier, the pictures fit into my case however none of the buttons lined up and it wouldnt work so I had to remove it!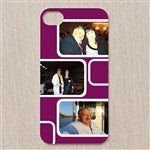 NEED THE CASE
By
Shopper

(Addison, IL) - November 30, 2012
I bought this item by mistake, so make sure you choose the item that comes with the case. The cases are NOT sold by themselves.

iPhone case with pictures
By
Shopper

(Cincinnati, OH) - December 14, 2012
The picture quality of my pictures is disappointing - the pictures are reddish and not quite sharp, however the case in itself looks good.

Disappointed
By
Shopper

(Hollywood, FL) - December 7, 2012
I'm actually really disappointed with this item. I've ordered from personalization mall in the past and been pleased. This item took FOREVER to come and when it came it was a thin peice of metal that I had nothing to do with. I don't think they should have a separate listing of just the insert because its very misleading. Really annoyed.

:(
By
Shopper

(Rego Park, NY) - May 13, 2013
I thought it was a phone case cover. It was just a back cover for the phone. Very disappointed!

Not as expected.
By
Shopper

(Pikeville, KY) - December 25, 2012
Have never had a problem with quality from personalization mall, until now. This case is horrible! I should have took advice from previous negative reviews. The case does not protect the phone at all, and is not worth the price. Very disappointed, as this was a gift.