Just what we wanted
By
Erin J.

(Suwanee, GA) - September 9, 2014 (
See all reviews by this customer
)
Love our stamp. It looks perfect from the first use. The size is exactly right for all kinds of envelopes, and the price was half that of similar websites.

Easy
By
Shopper

(Lincoln, NE) - July 27, 2014
Works great, easy to make. Fun wedding gift!

Great experience
By
Jessica F.

(Lebanon, ME) - June 20, 2014 (
See all reviews by this customer
)
Product exactly as ordered. Fast delivery. Really appreciated exact details while designing the stamp to see exactly how it was going to look.

Great
By
Karen C.

(Midlothian, IL) - April 15, 2014 (
See all reviews by this customer
)
This stamp works perfectly. So glad I bought it :)

It's perfect!
By
Jennifer J.

(Detroit Lakes, MN) - April 8, 2014 (
See all reviews by this customer
)
This stamper is exactly what I was looking for! So happy I bought this. The ink is stamped on smoothly and without blemishes. It's perfect!

Awesome
By
Shopper

(Chesterfield, MO) - January 24, 2014
Great Delivery Speed, awesome product, works great!

Iam very pleased
By
Shopper

(Red Bluff, CA) - January 12, 2014
I ordered this for my job, & I am so pleased

Great stamper
By
Shopper

(Fort Worth, TX) - December 19, 2013
Really cute! Works great, really stamps easily. I'm happy with the look of the font and the ease of use.

great item for cheap
By
Shopper

(scott afb , IL) - December 14, 2013
nothing real fancy but for the price i think that this is perfect

Super Fast Shipping! Impressed!
By
Shopper

(Michigan City, IN) - November 25, 2013
I waited til the last minute to order this stamp as a bridal shower gift... I was crossing my fingers when I ordered it Wednesday evening and needed it Sunday afternoon. However, to my surprise, I received an email Thursday saying that my item had shipped and would be delivered Friday! I couldn't believe it! The stamp showed up just has I had ordered it and I had one very happy bride! Highly recommend this company & this product!

Fun design, works well
By
Shopper

(LOS ANGELES, CA) - June 21, 2013
The stamper came perfectly the second time. The original I ordered had little problem with one line off - and when I called the company, they immediately shipped me a new corrected version which came perfectly. I like the modern design to a simple address stamp - and how this company takes care of a customer, even for a small inexpensive item such as this.

Awesome time-saver
By
Kim E.

(Monmouth, IL) - June 1, 2013 (
See all reviews by this customer
)
I purchased this stamp on the recommendation of a friend who had made a recent purchase from this site. I am very glad I took her suggestion!! The stamp came quickly and is very well made. It stamps clearly and cleanly onto paper. I used it on the envelopes for our rsvp cards and it gave them a very professional look! As a DIY bride on a very small budget this stamp is worth every penny and looks much better than printed labels. I highly recommend this product!!

Awesome product.
By
Shopper

(Langdon, ND) - May 20, 2013
This self-inking address stamper is wonderful and it is so classy. The product turned out perfect, the address was correct and it was so cute! I just kind of wish there were more colors available.

great stamp!
By
Katherine B.

(Ponte Vedra, FL) - March 18, 2013 (
See all reviews by this customer
)
came just as i expected, and shipped relatively quickly. love it!

Love it!!
By
Amanda W.

(Lake Orion, MI) - March 16, 2013 (
See all reviews by this customer
)
Just received this is the mail. I absolutely love it. It's perfect for our wedding thank yous. I can't wait to use it.

business
By
Shopper

(Etna Green, IN) - March 3, 2013
i love this item as a business owner

Execellent Order!
By
Sara S.

(Hummelstown, PA) - January 29, 2013 (
See all reviews by this customer
)
The stamp arrived quickly and was exactly what I hoped for. So excited to have this for my wedding thank-yous!

Super cute!
By
Shopper

(Backus, MN) - January 14, 2013
I am in love with this stamp! It works amazing and can't wait to use it on wedding stuff! It was also shipped way sooner that I expected. This was my first time ordering through this company and would use them for sure!

Great gift for new home owners
By
Shopper

(Cranford, NJ) - January 13, 2013
Added this item to a gift basket for new home owners. They loved it.
As always, service was great, quick delivery even with personalization. I've never been dissappointed.

Great product!
By
Shopper

(Waseca, MN) - January 13, 2013
I ordered 2 of these for christmas presents and they turned out perfect, as everything else I've ever ordered from here does. Never had a problem and the products are always perfect!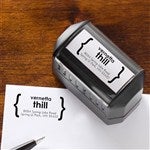 Stamp
By
Shopper

(Kansas City, KS, KS) - January 11, 2013
Perfect replacement for writing out your address or using return address stickers! I love it and can't wait to send some mail!!

Unique stamp, great price!
By
Shopper

(Morris, IL) - December 6, 2012
We'd been looking for a return address stamper and were tired of all the designs looking the same. This one is so different, and not too overwhelming on smaller envelopes. SO PLEASED!

Nice to have
By
Shopper

(Tampa, FL) - October 7, 2013
I like this stamper. Much easier than having to write my info over and over when sending cards.

Self-Inking Stamp
By
Julie N.

(Rosharon, TX) - August 25, 2013 (
See all reviews by this customer
)
This is the second stamp I have purchased for home. The color is vibrant and it is a great size. The only criticism I have is that the thickness of the stamp for the actual address is a little thin. If you don't press down just right, your address is a little hard to read. Other than that, it's awesome!

Address stamper
By
Shopper

(Hays, KS) - August 12, 2013
Looks exactly like the picture. the ink went through my envelopes and if you don't press it just right or on a flat surface, part of the stamp doesn't hit the paper. Wasn't exactly what I was expecting, but still nice.

Mostly a good product
By
Lauren D.

(Pekin, IL) - June 18, 2013 (
See all reviews by this customer
)
The quality of the stamp and ink has been great so far. The alignment of the wording and the outer brackets wasn't quite accurate, but I needed to use it right away for my wedding invitation envelopes so I used it anyway. The words were a tiny bit higher than the brackets. Otherwise it worked perfect for what I needed it for and it shipped very quickly.

Great stamper
By
Shopper

(Charlottesville, VA) - June 14, 2013
Giving this as a gift for a bridal shower! Super cute, modern, and useful! I have one of my own too.

Bracket Position
By
Kelsey S.

(West Olive, MI) - June 13, 2013 (
See all reviews by this customer
)
The brackets were not lined up with the words, they were lower. It looks a little awkward but still better than writing it all out!

Looks good is good
By
Shopper

(Baltimore, MD) - April 29, 2013
The only reason it didn't get a 5-star is 'cause I'm not crazy about the stamping mechanism. It doesn't feel like it'll last a long time and I don't know how to change it. But that is my own issue....AND I've never lived in a place long enough to find out!

beautiful design but...
By
Victoria E.

(Clarksburg, WV) - December 31, 2012 (
See all reviews by this customer
)
The ink is a little faint, which is disapointing... I have to press down really hard to get it to work, and it doesn't always work... then I have a ruined envelope that I have to replace. A little disapointing.

Not as good as I'd hoped
By
Shopper

(Macomb, MI) - January 24, 2014
It works okay. If I hold solid pressure on it for a few seconds, it mostly comes out nice. But, for the most part, I don't expect to get a fully-inked image. For $20, it'll do the job for my everyday mail, but I'll find something better for special correspondences like Christmas and birthday cards.

An Okay product
By
Sara H.

(Spokane, WA) - January 1, 2014 (
See all reviews by this customer
)
You have to press really hard to get a solid inking of this stamp, which is a little annoying. But it is exactly as I saw pictured online, so that part is nice. Its not a 'flipping" kind of stamp, it has a physically cover on the inking side that you have to remove in order to use it. Not what I was expecting, just one more step.

Suitable STamp
By
Shopper

(North Las Vegas, NV) - December 19, 2013
Item delivered on time, well-packaged. The stamp doesn't work very well...the bottom lines are faint even after several test stamps. Since font is so small, it makes the address stamp ineffective.

not the best
By
Shopper

(las vegas, NV) - December 7, 2012
the letters are too small and difficult to read.

Unclear info
By
Suzanne D.

(Nanuet, NY) - August 2, 2014 (
See all reviews by this customer
)
Package arrived quickly and was excited to stamp on my shower thanks yous. Proper force and distribution must be applied in order for all info to appear. Perhaps because the streets address size is so small. I would not repurchase this product

Not what I expected
By
Shopper

(College Point, NY) - December 1, 2013
The last 2 lines which is the most important the address does not come out..it is very very light. was not impressed and sorry I bought it.