Perfect!!
By
Suzanne G.

(Morrisonville, IL) - July 25, 2014 (
See all reviews by this customer
)
I can never find return address stamps/labels that have enough room for all 5 of our names. This one is perfect and the names are not all scrunched together, you can actually read them!!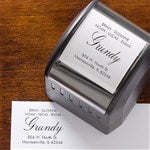 Happy
By
Jillian B.

(Tiffin, OH) - January 17, 2014 (
See all reviews by this customer
)
I am pleased with the products I purchased. I will buy from PersonalizationMall again in the future! I bought these for two other family members and they loved them as well. These are so much easier to use and better than wasting paper and stickers for return address labels.

perfect family stamp
By
Shopper

(Chaska, MN) - August 18, 2013
I've ordered two of these stamps and both times the stamps have looked and worked great. It's a great value and I have received many compliments on the wonderful stamp.

Nice Stamp
By
Shopper

(Middlebourne, WV) - July 17, 2013
Excellent idea for a person who does a lot of custom invitations or for your christmas envelopes.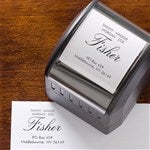 great
By
Shopper

(ackley, IA) - July 12, 2013
great product, just what i was looking for. Good price.

Exactly what I was hoping for!
By
Michelle D.

(Garrett, IN) - May 20, 2013 (
See all reviews by this customer
)
This stamper looks AMAZING. It is modern with a classy twist to the last name. I would highly recommend it to anyone.

Family Self-Stamp
By
Alise B.

(Plaquemine, LA) - May 14, 2013 (
See all reviews by this customer
)
Love this stamp, can't wait to use it!

Very cute stamper, reasonably priced
By
Shopper

(Deerfield, IL) - February 16, 2013
I really like this product, and would reorder!

family self-inking stamper
By
Shopper

(south san francisco, CA) - January 22, 2013
This stamper is really nice and I can't wait to use it. I like that it's bold and personalized!

LOVE my stamper!
By
Jenny R.

(Prosper, TX) - January 19, 2013 (
See all reviews by this customer
)
I've always wanted to get a cute return address stamper for our family, but never wanted to shell out the 50+ dollars for it. I was so pleased to find several choices at such reasonable prices!! I love the one I ended up choosing and it works wonderfully!

Love it!
By
Laura M.

(Baton Rouge, LA) - January 16, 2013 (
See all reviews by this customer
)
Always wanted a stamp like this, it's the perfect size for stationary envelopes and invitations. Really liked the last name in script and the family names in print above...very cute. It stamps easily and neatly.

Beautiful Gift
By
Christie G.

(Jonesboro, AR 72404, AR) - January 13, 2013 (
See all reviews by this customer
)
This is a great gift at a great price. It is the gift the gift that keeps on giving! It was easy to order and arrived beautifully!

Representante de Avon
Llamame Para Comprar o Vender,
Esmeralda 978-390-3025

Love the style
By
Shopper

(Goshen, IN) - November 14, 2013
My husband agreed with me that we liked this layout the best. I love the stamp overall, the only thing I would warn is that it's a very large stamp - takes up a lot of room on the envelope, and you have to be careful that you're stamping on a hard, flat surface, or else it doesn't transfer as well! But in the end, I'm very happy with how it turned out!

Awesome
By
Shopper

(Keaau, HI) - April 23, 2013
I was really impressed with this stamp. It's everything I imagined. Unfortunately it was cracked but still love it.

Not Bad
By
Shopper

(Sumrall, MS) - September 4, 2013
It does not print on the envelopes as well as I would like it to.

Huge
By
Shopper

(Chino, CA) - February 27, 2014
This stamp was huge. I read the dimensions beforehand but it's really too big for most envelopes. I felt that the name in the center was too big in relationship to the individual names on the top of the stamp.