Great Gift
By
Shopper

(Brooklyn, NY) - February 18, 2014
I personally didn't see this item but I had it sent to a friend as a gift. She said it was nice quality and her daughter loved it!

Great blanket
By
Melissa B.

(Londonderry, NH) - February 16, 2014 (
See all reviews by this customer
)
My daughter loved this. Sweatshirt material and soft on the other side. Big enough (she is 5 ft tall).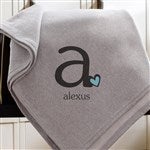 Best gift!
By
Shopper

(Nanuet, NY) - February 14, 2014
These blanket are perfect! They are great looking, personalization looks exactly as pictured and the blankets are big and cozy! My kids LOVE them!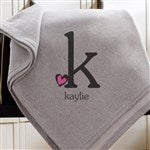 Sweatshirt blanket
By
Almida Z.

(Allendale, NJ) - February 11, 2014 (
See all reviews by this customer
)
Gift for 9 year old girl. Nice quality and size.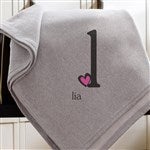 Fun gift!
By
Sonia C.

(Olathe, KS) - November 18, 2013 (
See all reviews by this customer
)
Pre-teen granddaughter will love this!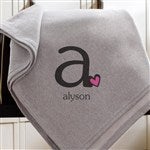 Mommyoffive
By
Shopper

(Platte city, MO) - September 30, 2013
This blanket is very large, and very soft. The only negative thing about this product is the horrible smell. When we took it out of the plastic, there was a strong vinegar smell, however, after it is washed, it will be fine. So far, seems like a good, quality product.

Graduation Gift
By
Shopper

(Fort Dodge, IA) - April 22, 2013
Graduate loved the personalized stadium blanket. Nice size too.

So soft & snuggley
By
Rita T.

(Jacksonville, FL) - March 8, 2013 (
See all reviews by this customer
)
Had shipped to my Granddaughter for my Great Grandson, but my Granddaughter said she liked it so much she was using it. Oh well he is only 2 months old so he probably doesn't care just yet.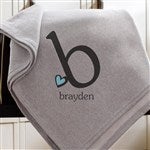 Gift for grandma
By
Shopper

(Sugar Land, TX) - December 30, 2012
Loved the blanket. Unique gift for grandma. Would buy again.

Great gift
By
Shopper

(Stone Mountain, GA) - December 29, 2012
My friend loved this gift. The blanket is long enough, has a nice fleece texture for adequate warmth, and a cute design.

really cute and soft
By
Shopper

(Jonesboro, AR) - December 23, 2012
I ordered this for my 4 year old niece. She hasn't seen it yet, but my 6 year old loved it. It is really soft, and the personalization is cute and different.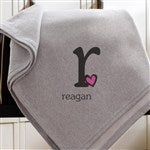 Sweatshirt blanket
By
Shopper

(Hitchcock, TX) - December 21, 2012
Beautiful monogram and oh so soft !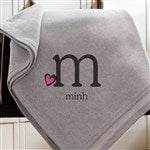 Substantial
By
Lori N.

(Dunmore, PA) - December 16, 2012 (
See all reviews by this customer
)
This blanket is really nice, it's not thin or cheap. It's for a 12 yo and I think she'll like it a lot!

soft, warm, adorable
By
Shopper

(South Lebanon, OH) - December 13, 2012
I bought this blanket for a gift for my mom for Christmas, and it surpassed my expectations. It is a great size, pretty large, and the name, heart and initial are great. The blanket isn't too heavy, a nice thickness

So cute!
By
Gail W.

(Chesterton, IN) - July 26, 2014 (
See all reviews by this customer
)
Blanket was softer than expected. Arrived on time and just like the proof. Bought this as a gift for a couples second wedding anniversary (cotton)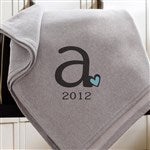 This blown away my 6 yrs old
By
Shahidur R.

(Roswell, GA) - February 11, 2013 (
See all reviews by this customer
)
Very unique for six years old to see her name and a heart for valentine's day gift from dad.

Nice Blanket
By
Shopper

(Willard, MO) - December 21, 2012
Received blanket on third day following order. Speedy delivery!
This blanket is well made. It is lightweight yet warm and comfortable with the fleece. I wish it would have been larger. It barely fits a twin size bed. I also thought the black personalization would be darker. The ink used is dull, as if it has been washed several times and faded. It is because of this that I give a 4 rating.

She said she loved it!
By
Heather S.

(Lufkin, TX) - December 11, 2012 (
See all reviews by this customer
)
I bought this for a teenage friend of mine. We live in different states so I had it shipped to her. She says she loves it! Great price and fast shipping I LOVE PERSONALIZATIONMALL.COM!!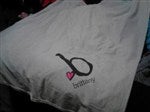 Warm and Cozy
By
Shopper

(Metairie, LA) - October 29, 2012
The blanket was a gift for a long distance friend. She loves it and it's a great reminder of our friendship. When she cuddles up, she thinks of me hugging her.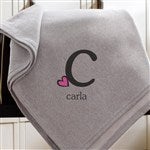 NOT AS EXPECTED
By
Shopper

(Loganville, GA) - September 23, 2014
Upon receiving one of the sellers personalized sweatshirt blankets I was very disappointed in the "weight" of the product. I know sweatshirts come in "oz" or "weight" which would describe the warmth or thickness of the product. I ordered this as a replacement for another sweatshirt blanket my daughter had and there is no comparison. I have contacted customer service three different times and was basically told "too bad". I suggested that they add the thickness or weight if the blanket in their online description.

Basically I was told that if I had not personalized the blanket I could return it but since I did, no such luck! Was offered nothing!