Great buy!
By
Shopper

(Elmira, NY) - January 26, 2013
Good quality throw, personalization precise and speedy delivery. What more could you ask for?

truly special
By
Julia B.

(los angeles, CA) - January 22, 2013 (
See all reviews by this customer
)
I ordered a few of these, and held my breath hoping the quality would be as good as it seemed on the website. The beautiful blankets exceeded my expectations. They are soft and luxurious, and the personal embroidery really made these special gifts. I know some of my friends who saw them are already ordering the same thing!

Great
By
Shopper

(odessa, FL) - January 20, 2013
My husband loved his early valentine gift. He says it is so warm and soft. The quality is perfect.

The Perfect Gift
By
Helaine G.

(San Jose, CA) - January 14, 2013 (
See all reviews by this customer
)
A couple friends and I gave this embroidered sherpa blanket to a friend for her birthday. She was THRILLED with the gift. It was so beautifully done, so soft and so warm. She raved about it, as did the friends who shared in giving it to her with me.
Your company runs a first class business. I've ordered many items from your website as gifts and have always been delighted with them. All of your products are finely crafted, beautifully embroidered or monogrammed, and they arrive on time. I've told many friends about your company and hope that they too will order items from you. I sure will continue to do so!

Blankets always a good choice
By
LAUREN T.

(PITTSBURGH, PA) - January 14, 2013 (
See all reviews by this customer
)
Product arrived as expected with excellent product quality and persoalization done well. I always challenge the "personalization" and for this quilt chose to use the couples first names with last name initial. Beautiful!

Sherpa Blanket
By
Shopper

(Carmel, IN) - January 8, 2013
The blankets are lovely, thick and soft. The embroidered monograms and names are of the highest quality. I would highly recommend this item.( I chose ivory for the initals and chocolate brown for the names...great color combination.)

Wonderful Gift
By
Diane M.

(Loganville, GA) - January 7, 2013 (
See all reviews by this customer
)
I purchased two of these as gifts for family members. One of the recipients called to as me where I got his because he was telling a friend about it and that it is really warm and larger than a regular throw. His friend wants to purchase one for his wife. My brother and sister-in-law "fight" over theirs! My daughter loved the ones I gave on Christmas Day and asked for one for her birthday, so I have ordered another one for her. So far...nothing but positive feedback.

Very Nice!
By
Shopper

(South Jordan, UT) - December 31, 2012
Bought this for the in-laws and they loved it! I love it too. The material is so soft makes you want to wrap yourself in it the whole day (especially when its cold out there). Also to consider- this blanket it is not too tall enough for tall (in size) recipients/ people.

Beautifully Soft Blanket
By
Shopper

(Odessa, TX) - December 30, 2012
The blanket was luxuriously soft and I am sure it will keep the recipient toasty warm during the winter. In addition, the embroidery was fantastic. It did look like some of the letters were VERY SLIGHTLY tilted towards the left, but the 'imperfection' was negligible and not really noticeable. I would absolutely purchase another blanket for a gift!!!

A Perfect and Practical Gift Idea...
By
Michele A.

(Oklahoma City, OK) - December 23, 2012 (
See all reviews by this customer
)
I ordered the Sherpa Blanket as a gift for my son and his wife. They absolutely loved the blanket! The personalization was classy and well-done, the weight of the blanket was perfect, and the neutral color compliments just about any decor. I will definitely order again...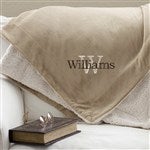 So soft!!
By
agnes R.

(Wilmingon, DE) - December 6, 2012 (
See all reviews by this customer
)
I have ordered 2 of these blankets for my father in law and step father in law for Christmas. It arrived fast, was well presented in blanket bag with the monogram presented first which is going to make wrapping super easy. It is very thin but so beautiful and the monograming came out impeccable. The blankets read Pop-Pop with thir last name initial. I am very happy with this purchase.

Beautiful!
By
Melodie P.

(San Rafael, CA) - December 5, 2012 (
See all reviews by this customer
)
I bought this blanket for my son and his fiancé' for Christmas. It got delivered in less than a week and is gorgeous. The quality of the blanket is great and the monogram is stunning. I am now going to get a few more for other family members. Best idea for a Christmas gift!

Great Gift
By
MJ R.

(Austin, TX) - November 19, 2012 (
See all reviews by this customer
)
I gave these as gifts to three close friends and they all loved them. Very soft, warm and pretty!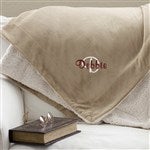 Exactly what I was looking for.
By
Marie R.

(Hebron, NE) - November 19, 2012 (
See all reviews by this customer
)
I was impressed with the service and the product.

I would order this again
By
Shopper

(Newnan, GA) - November 19, 2012
This blanket is top quality and definitely worth the spend.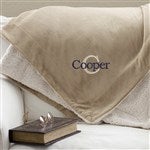 Wonderful Blanket
By
Darla S.

(ODonnell, TX) - October 28, 2012 (
See all reviews by this customer
)
I love this blanket. Very good quality and so soft.

So soft....teens will try to keep it for themselves!
By
Shopper

(Nashville, TN) - June 1, 2013
I gave this blanket to my brother-in-law who likes to take naps on the sofa. He will probably never get to use it because the second he unwrapped it, his teenage daughter grabbed it, wrapped herself in it and didn't give it back. Very soft and cuddly. My brother-in-law liked it but his teen REALLY liked it....perhaps better for that semi-adult for a gift.

Very Pleased With Final Result
By
Shopper

(Silver Spring, MD) - February 18, 2013
I bought is as a Valentine gift for my boyfriend who absolutely loved it. It feels great & keeps you warm. Great blanket for winter night watching TV.

Great!
By
Shopper

(New York, NY) - December 10, 2012
Great blanket. It was soft and the personalization was well done. I highly recommend this

SHERPA BLANKET
By
Phillip M.

(San Diego, CA) - November 19, 2013 (
See all reviews by this customer
)
It arrived on time and in good condition...nice looking blanket..but was surprised
by how REALLY THIN this blanket was. Some of the reviews described it as warm..and one even said "thick"..This is the third time a brought something from this site..they were great...this one...?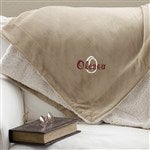 Looks nice
By
Laurie P.

(Carroll, IA) - January 21, 2013 (
See all reviews by this customer
)
Nice looking but much thinner then I expected even with the sherpa
Laurie

Do not buy this Item
By
Peter B.

(Glassboro, NJ) - November 22, 2013 (
See all reviews by this customer
)
I just purchased this blanket and it did not look like the picture the quality of the material is poor. I would not recommend it to anyone.