Comfy
By
Shopper

(Hamilton, OH) - June 23, 2014
A gift for Grandpa! It is always great to get a gift that has a personal touch to it and this has it. It arrived here really fast and is done perfectly. So glad I got it!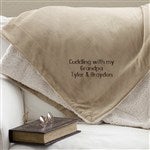 Moms blanket
By
Lynda S.

(Santa Rosa, CA) - June 21, 2014 (
See all reviews by this customer
)
My Mom loved her Mother's Day gift. She says it's comfortable and loves the color of the threading. Perfect for watching TV and needing a cozy blanket. Said gift wrapping was great as I had it sent directly to her.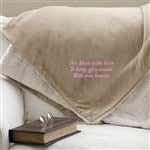 Client is Very Satisfied
By
Tabitha R.

(Owings Mills, MD) - April 28, 2014 (
See all reviews by this customer
)
As a Realtor, I try to find personalized and affordable gifts to give to my clients. This one was definitely a winner. My client loved it and said the blanket was very warm!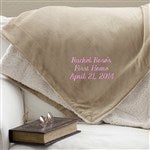 You'll Be So Satisfied!
By
Shopper

(Houston, TX) - March 18, 2014
I was looking for a bday gift for my best friend, who loves to get cozy while watching tv. My search for a Sherpa throw bought me to PM. I have purchased before & been quite satisfied, but wasn't sure about a throw. After reading the reviews, I was less apprehensive. The shipping was fast. The first plus is the protective/storage bag it comes in. Next I noticed how true the color was, and how well done the engraving was. I was then delightfully surprised at how soft! I know my BFF will love it!

You will be Shocked!
By
Wanda L.

(Wethersfield, CT) - January 28, 2014 (
See all reviews by this customer
)
I have never ordered from Personalization before. 1st time and now it won't be my last. When I opened it, I was completely shocked by the softness of the blanket. The quality of the embroidery is what shocked me the most. It was large and beautiful! Guess What? I'm ordering another one - this time for my daughter. 1st one was for my sister-in-law's birthday. I can't wait for her to open her gift. Thank you!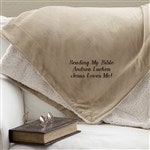 Product features I like best
By
Shopper

(San Carlos, CA) - November 29, 2013
The blanket arrived encased in a good quality zippered clear plastic case. But what pleases me even more is the excellence of the blanket itself as well as the lettering. The blanket is lush and beautiful on both sides and larger than I imagined it would be. And the lettering threads are much more solid and beautifully sewn than shown in the photo on the website. As an avid online shopper this blanket went straight to the top of the list. I ordered another soon after, as well as other products from PersonalizationMall.com because I've learned I can depend on them for careful craftsmanship and high quality all around. Delivery time was surprisingly exceptional as well. I already know the blankets are going to be huge successes as gifts, which also makes me happy as the gift giver. Satisfaction with the product exceeds 100%!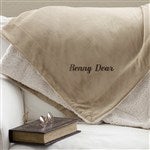 Very Soft- Embroidered perfectly
By
Nicole B.

(Plymouth, MN) - November 3, 2013 (
See all reviews by this customer
)
I was extremely happy with my order. My blanket came in less time than expected, it was extremely soft just like I wanted and embroidered exactly how I envisioned it. I have ordered from here before and I continue to be impressed.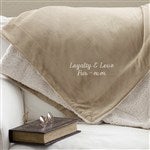 Fun to personalize!
By
Dee H.

(McKinney, TX) - September 30, 2013 (
See all reviews by this customer
)
I ordered this blanket (and few other items) for my nephew, who loves to camp, for his birthday. He really likes it and I had fun coming up with a silly personalization, too! Here's what he wrote when he first opened his box: Aunt Dee! I got your gift! The blanket is great, and the knife is totally awesome! I'll try to send a few letters so I can use those notecards! Thank you so much

I've also ordered various items for my son, daughter, sister and myself. We've all been very satisfied and I'm grateful for the excellent quality of your products. Thank you!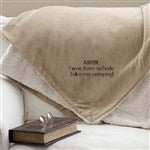 Wonderful!
By
Melissa G.

(Uniontown, PA) - September 12, 2013 (
See all reviews by this customer
)
I was delighted, as ALWAYS, with this purchase from Personalization Mall! You never fail to provide great quality & beautiful personalization, as well as lightening fast service! Don't know how you do it! I purchased this blanket as a wedding gift, and I was so happy when it arrived! The embroidered wording looks even more fantastic than it did online. I will definitely be back to purchase more of these as gifts!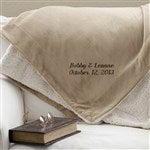 So Soft & Snuggly!
By
Shopper

(Lansing, MI) - July 6, 2013
My mom just loved this and my husband liked it so much, he wants me to get one for him too. Wonderful embroidery and just such a warm, soft blanket!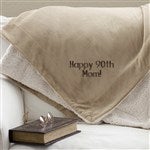 Bridal Mom
By
Charlotte M.

(Alderson, WV) - June 15, 2013 (
See all reviews by this customer
)
This is one of the nicest blankets I have seen. It is SOOOOO soft on both sides. I was very surprised at the quality for the cost. I purchased this for my daughter and new son-in-law to be. They loved it and everyone at the shower thought it was great. I had their farm's name and then their names put on it. This is a great choice for a gift for any event or just to give.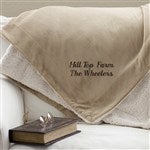 Kristie K
By
Kristie K.

(Kannapolis, NC) - June 11, 2013 (
See all reviews by this customer
)
VERY soft and beautiful embroidering. I would recommend this blanket to anyone.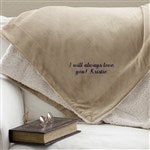 So soft and perfect for a housewarming gift
By
Sandie G.

(Orem, UT) - April 21, 2013 (
See all reviews by this customer
)
I bought this for my son and his wife for the purchase of their first home and was so delighted at how fast it arrived and how soft the blanket was..They loved the imprint on it and the color was perfect...It was a home run..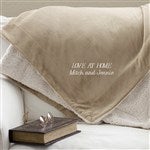 Personalized Sherpa Valentine's Blanket
By
Linda C.

(Ormond Beach, FL) - February 20, 2013 (
See all reviews by this customer
)
This blanket was a real hit with my husband. It was his Valentine's Day present--and was a complete surprise. I didn't have to ask if he liked it because he uses it every night while watching tv in his recliner.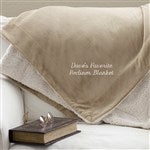 Great gift for the person who has everything.
By
Shopper

(Redmond, OR) - January 13, 2013
It is often hard to find something for an elderly person whose mobility is limited. My very dear friend loved the blanket! She can use it as a lap blanket at home or when she's out in her wheelchair. She said it is so soft and loved that her name was so beautifully embroidered on it. She was in tears when she called to thank us for the gift. This item is a real winner.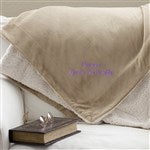 Great!
By
Shopper

(Montgomery, WV) - December 26, 2012
Great quality blanket! And the personalization come out just as shown online. The giftee was super happy with it!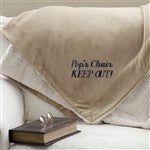 beautiful!
By
Evelyn A.

(hialeah, FL) - November 27, 2012 (
See all reviews by this customer
)
Beautiful! Will definitely keep my dad warm as he's always cold, even in Florida. The embroidery was bigger than expected and looks great!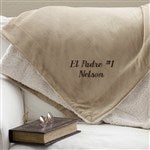 Sherpa Blanket/Fabulous Gift!
By
Deanna J.

(Rancho Murieta, CA) - November 18, 2012 (
See all reviews by this customer
)
I ordered the Embroidered Sherpa Blanket for my sister-in-law and it arrived much faster than expected, the quality of the blanket and embroidery was really beautiful! The embroidery on the blanket turned out better than I ever expected! Great Job!

It will be a Christmas gift for her and I'm sure she will really love it!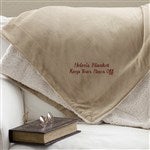 Soft surface
By
Shopper

(Salt Lake City, UT) - December 8, 2012
I like its soft and warm feel and I bought it for my parents. They have time to sleep at noon. I send them for their warmth.Good quality.

Great product!
By
Veronica G.

(Purvis, MS) - December 26, 2012 (
See all reviews by this customer
)
I got this blanket for mother for Christmas. She absolutely loves it. I love it and the quality exceeded my expectations. The color is absolutely gorgeous. Great gift idea. I was so excited to find it with personalizationmall.com.

BETTER IN PERSON
By
Shopper

(Neptune City, NJ) - December 7, 2012
Love the quality of the blanket. But the wording on the blanket was so much nicer than the photo. I know whoever orders this blanket, they will NOT be disappointed! Great gift!

Fathers Day Present
By
Sharon S.

(Wilmington, DE) - June 8, 2014 (
See all reviews by this customer
)
My son loved it!

Perfect
By
Shopper

(Haverhill, MA) - February 13, 2013
Exactly what I was looking for! It's perfect for anyone

Sherpa Blanket
By
Shopper

(Oxford, GA) - December 27, 2012
Purchased for my boss who really appreciated this gift.

Great Blanket
By
Shopper

(West Chester, PA) - January 1, 2014
I would definitely order another blanket. It's warm and looks great.

Great graduation gift for boy or girl
By
Carol H.

(Eden Prairie, MN) - May 30, 2013 (
See all reviews by this customer
)
Super soft, looks nice, wish they offered in larger blanket size vs throw-size

Cozy and comfortable blanket
By
Shopper

(Naperville, IL) - March 4, 2014
We purchased this gift for a retiree at my company. She loves the blanket and uses it every single day. The quality is outstanding, so is the stitching for the engraving on the blanket. We were extremely pleased with our purchase.

Bee-u-tee-ful!!!
By
Melanie R.

(Ithaca, NY) - July 30, 2013 (
See all reviews by this customer
)
I have been ordering through Personalization for many years. I have never been disappointed. And the customer service is the best. The Serpa Blanket is always a hit with everyone I have given it to.

Beautiful Blanket!
By
Jeffrey B.

(Middletown, DE) - February 19, 2013 (
See all reviews by this customer
)
I purchased this blanket for my mom as a Valentine's gift. She sleeps on the couch and sometimes forgets to cover herself with a blanket for warmth. She loves the feeling of the blanket - even I thought it was incredibly soft and comfortable! The embroidery also had a nice touch to it, which my mom was amused by. The blanket will NOT disappoint! Beautiful gift!

Super soft and comfy!
By
Shopper

(Las Vegas, NV) - July 26, 2013
This is such a soft blanket with a perfect weight - not too heavy, not too light. The personalization in cream turned out beautifully. It was purchased as a gift and the recipent was thrilled! She loves its silky, soft comfort and keeps it within easy reach on her couch for when she curls up with a good book or to watch a movie. Very pleased with the quality of this lovely blanket.

Great Purchase!
By
Shopper

(Uniontown, PA) - October 15, 2013
I bought this as a wedding gift. I had the couple's first names put on the first line & their wedding date put on the second line. They LOVED it! It is super soft and the personalization looks better in person than online. I would definitely purchase this again!


Great for Nap Time
By
Shopper

(Richmond, VA) - October 5, 2013
Okay this blanket it very soft and I do mean soft. It is on the large side which I wouldn't use for school or daycare right now my son is only two and it to big for him, but we do use it on him at home, plus his mom and dad love it as well. Just because I don't let him take it to school it still didn't lose any credit at all. WE LOVE THIS BLANKET. Oh we have use the blanket on a road trip which it kept us warm as we all use in the back side of the car ride.