What Are The Odds ??
By
Cindy K.

(Waukesha, WI) - November 8, 2009 (
See all reviews by this customer
)
Your product always arrives faster than expected. That's a good thing. The shirt lettering and figure looked great but I had concerns about the size. That was my own fault, I chose the 6-8 and when I saw it, I realized it ran small. No problem, because the first time my great-nephew wore the shirt, he threw up all over it. His Mom had to use bleach to try to clean it and she shrunk it. She did get it clean and is now going to frame it in a window box frame instead. WHAT ARE THE ODDS !!!

very cute gift for grandsons-
By
Jannette A.

(Orlando, FL) - October 17, 2009 (
See all reviews by this customer
)
We were very pleased with these shirts for our grandsons and they
both liked wearing them. A nice gift for a reasonable
price and great to have the figures look similar to the
boys.

really cute
By
Thomas C.

(Tinley Park, IL) - October 15, 2009 (
See all reviews by this customer
)
This sweatshirt was really cute and good quality.
We are sending it over the pond to our grandson in
England. We are sure he w/love it.

Too small for a 31/2year old
By
Kristine B.

(Rogers, AR) - June 29, 2013 (
See all reviews by this customer
)
I find the sizing on this shirt strange. To have the same size for 2-4 is not realistic. I was afraid the next size up would be much too large for him.
The shirt is very cute; well made and good print job, but he will only be able to wear it NOW and not 3 months from now.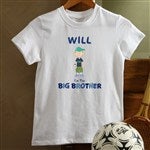 Run small
By
Jackay M.

(Taft, TN) - August 18, 2012 (
See all reviews by this customer
)
The design is great and we love it! But the shirt runs really small my son wears 18 months so we got 24 months so it would last longer. The shirt barely fits him he might get to wear it once and that's if we don't wash it.

features that I like/dislike
By
Shopper

(Chicago, IL) - March 31, 2012
The personalized romper is as cute as can be - I bought it for my grandson - even though it is so cute, I feel almost $30.00 (price/shipping) is a little expensive for a 'one-sy."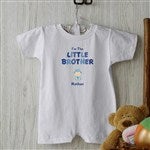 Big brother shirt
By
Danielle F.

(Roseville, CA) - July 29, 2011 (
See all reviews by this customer
)
Love the design but shirt runs small and is very thin. Not a good quality cotton shirt. Can see through the shirt, also I would buy larger.

Big brother/sister shirt - Order BIG
By
Shopper

(Toledo, OH) - June 17, 2011
This is the first time I've ever been disappointed in anything from PersonalizationMall.com and I order frequently. The sizes for these shirts run extremely small. In my estimation, the 24 month is equivalent to more like a 9-12 months, and the item was not proportioned well. It appears to run very short and is boxy looking. I have to say that Customer Service was very helpful and I will continue to order from this site.

Nice but either too small or too big
By
Ludivine R.

(Overland Park, KS) - December 23, 2010 (
See all reviews by this customer
)
Got the t-shirt personalized as shown but I was not happy with the size. I ordered a toddler t-shirt size 2-4 that was way too big and the 24 months was small. Overall nice product but double check the sizing chart.

Not Exactly What I Ordered
By
Sharon L.

(Chicago, IL) - October 2, 2009 (
See all reviews by this customer
)
I ordered a t-shirt for my 3-year old grandson to wear when his new little sister was born. The shirt read I'm the Big Brother with a character to look like my grandson and his name. When I ordered it I picked a picture that closely resembled my grandson but when the t-shirt arrived, the picture showed the little boy wearing a baseball cap. That wasn't what I ordered. My grandson does not wear ball caps and our family and friends know that. For $18, I would have liked getting exactly what I picked out. Plus, the shirt was a size 2 to 4 and it is very, very big. So, I was not 100% satisfied. I also ordered a personalized baby blanket. I'll wait till after it's been laundered to see how that almost-$50 purchase holds up after washing.

Size
By
cathy P.

(morganfield, KY) - September 20, 2011 (
See all reviews by this customer
)
This shirt is very small to be an 18 months. very disappointed in the sizing


WAY TOO SMALL
By
Jenny G.

(Raleigh, NC) - April 23, 2011 (
See all reviews by this customer
)
I ordered the 24 months size for my very small 2 year old. It was too small, even for him in both length and width. They also do not carry toddler sizes (2T, 3T, etc...), so the next size up is a kids XS, which is way too big. With so many kids becoming big brothers and sisters between the ages of 2 and 4, there is not a good shirt option in these sizes. Disappointed, as the layout and printing of the shirts are very cute.