Beautiful
By
Myra H.

(Bridgeport, OH) - December 17, 2012 (
See all reviews by this customer
)
Much better than pictured. I ordered one for each of my brothers families and they loved them. Especially that the pets were included. Great quality!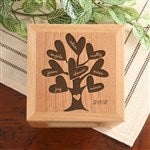 Leaves of Love Photo Cube
By
Shopper

(White Plains, NY) - December 11, 2012
Purchased for a gift. Craftsmanship is excellent. Looks better than picture shows. It is special to be able to personalize gifts.

Amazing!
By
Caitln A.

(La Mesa, CA) - December 11, 2012 (
See all reviews by this customer
)
These are perfectly what I wanted. I ordered them as Christmas presents for my family members after we just got married the month before, and instead of putting names all over it I used words about our marriage. The quality is amazing and it looks exactly the way I pictured it to. The laser etching makes the letters just so perfect and it even smells good :)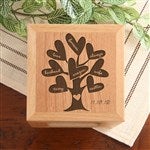 Everybody Loved It
By
Shopper

(Loma Linda, CA) - December 10, 2012
A great present that was placed on the center of the table right away

Beautiful gift for 50th Anniversary
By
Sandra S.

(Florence, SC) - November 18, 2012 (
See all reviews by this customer
)
I love this item. It was perfect for my in-laws 50th wedding anniversary. The item is of high quality and beautifully personalized. Since they have two children and four grandchildren, the number of hearts on the tree was perfect to add the names of all the family members. I added photos of their wedding, their two children and another of the grandkids. I added the personalized 4x6 photo frame, the personalized photo album and some other items to the wicker basket personalized with the family name and it made a beautiful presentation. I am sure they will cherish this thoughtful gift for years to come.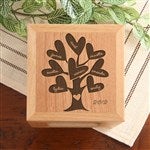 Awesome gift
By
Tiffany S.

(Lauderhill, FL) - October 28, 2012 (
See all reviews by this customer
)
Shipped fast as always. The engraving was just like the picture. Going to be a wonderful gift for Christmas this year. Highly recommend to anyone.

A Tribute to Those Who Love
By
Shopper

(NEW ROCHELLE, NY) - October 19, 2012
The cube is very well made and the leaves are well defined. A great help would be to show the position of the names when we are personalizing the tree (ie: where is name # 1 located?; name # 2, and so on. Is name # 1 on the middle leaf, bottom right leaf or top left leaf ??? I wanted certain names in particular positions on the tree; this placement took a long time. I had to go back and forth reviewing the preview in order to see the placement of the names on the leaves.

Great item
By
Shopper

(Port Jefferson , NY) - May 17, 2014
Finding presents for "nanny" are next to impossible. This item was perfect for that. I only wish we had a choice of 4x6 as well as 3x3 pictures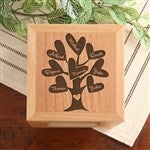 Very nice!
By
Kacie M.

(Moorhead, MN) - December 20, 2012 (
See all reviews by this customer
)
I got this from my sister and my bro-in-law as godparents for my son. The only reason for 4 stars vs 5 is that the print is a little small. Would have liked it to be bigger or more clear as in the picture.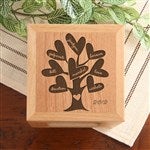 Pretty but a little boring.
By
shelby W.

(manlius, NY) - December 12, 2012 (
See all reviews by this customer
)
This is a pretty, very nicely made product. The names and leaves on the top are great. However, this product would be SO much nicer if it was able to rotate. Being a square, you can only see two of the pictures when it is sitting stationary. If it spun slowly, you'd be able to see all the photos, not just two of them. My Grandma used to have a larger version of a photo cube similar to this one, but you would wind up the rotating mechanism on the bottom and it would rotate and play music box music. So this one is a let down compared to the one I grew up around. I'm hoping to find a small rotating stand to give along with this gift. It IS very pretty and cute though for sure.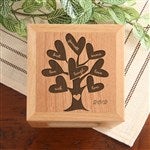 well made, bigger than it looks, very nice
By
Amy S.

(Castle Rock, CO) - December 7, 2012 (
See all reviews by this customer
)
I bought one of these for a family member and one for my husband's desk. It is well-made, a nice size (a bit bigger than it appears in the picture, actually) and the engraving looks good. The reason I gave it 4 stars instead of 5 is because part of one heart in the tree was not smoothly etched, so it looks a tad unfinished. And I wish I could decide exactly where to put each name (for example, you can only use certain hearts if you have 5+ family members). So I added the cat's name so it wouldn't look unbalanced.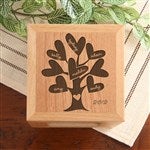 Leaves of Love Personalized Photo Cube
By
Shopper

(Tampa, FL) - November 10, 2012
Beautifully done! I gave four stars because one of the names was a little long (had 11 letters), and it looked a little squished. But I'm very happy with the final result!

Just what I wanted
By
Shopper

(Union, NJ) - October 23, 2012
The leaves of Love Photo Cube was exactly as pictured and just what I was looking for as a gift for a particular couple for Christmas. The quality is very good, the engraving very well done and the finish just as I had pictured it. The only thing I would wish to change is to make the opening for the pictures just slightly larger.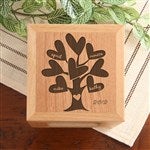 Definitely NOT a sale price!
By
Shopper

(Anaheim, CA) - December 13, 2013
I bought this for my aunt last year for like 17 bucks last year which was the sale price from like $25 or something. I thought I'd get another one this year for Christmas for someone else and I've been watching this item to see if it would go on sale again. The regular price for the past month was around $25-$26 not $32 like it says.The product itself is great and deserves 5 stars but not for the price listed here. I guess I got lucky last time but I will not be buying it again.....TOO EXPENSIVE