positive
By
Sharon R.

(Paragould, AR) - September 17, 2014 (
See all reviews by this customer
)
This is a cute big sister/brother Christmas ornament. Don't be surprised when you get it and the writing is all lower case.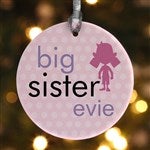 Unbelievably adorable!
By
Shopper

(Nottingham, MD) - December 21, 2013
I got both the big brother ornament and baby sister as a gift and the family loved them. They were perfect and adorable! Great item! :-)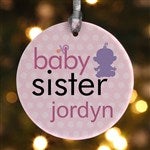 Wonderful ornaments
By
Desiree H.

(Muncie, IN) - December 20, 2013 (
See all reviews by this customer
)
The ornaments are cute and high quality. Just like everything I have purchased at personalizationmall.com!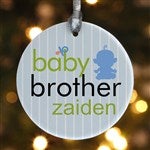 baby brother/sister ornaments
By
Bonita H.

(Charlotte, NC) - December 19, 2013 (
See all reviews by this customer
)
I am so pleased with my ornaments I looked at all the stores and then some to buy and my friend told me about your place.Thanks again and I will order from you again

Very Cute
By
Rebekah K.

(Hamburg, NY) - December 11, 2013 (
See all reviews by this customer
)
I got this ornament for my daughter the year she became a big sister. It is very cute, well made, looks just as pictured, shipped quickly, etc... The only thing I would change is that you would be able to add the year :)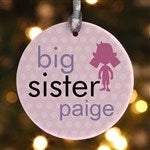 Great ornament!
By
Esther C.

(TEMECULA, CA) - September 10, 2013 (
See all reviews by this customer
)
Bought this for our granddaughter for her Christmas tree and to celebrate her being a big sister soon!! I'm sure she will love it as well as her mommy does!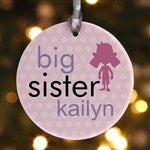 Baby shower gift tag
By
Shopper

(Fort Worth, TX) - August 25, 2013
I ordered this to use as a gift tag for a baby shower gift and then they would have a Christmas ornament to use for years to come. It is so cute! Exactly as pictured and great quality. I can't wait for the mother to be to see it. I'm so glad I found this site!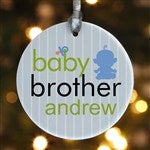 Wonderful!
By
Joyce B.

(Queensbury, NY) - July 14, 2013 (
See all reviews by this customer
)
Looking for a little something for the new big brother or sister, this is a perfect gift ! It is very nicely sized and clearly written. Can be hung on the Christmas tree or in their bedrooms or even in the kitchen if they need to be reminded of the special role they now hold in the family! Yoiur company never fails to have items that are special and different..and always arrive in a very special gift giving pouch and ever so quickly!! Love ordering form you!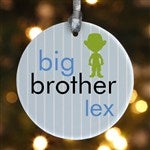 Perfect gift!
By
Danielle G.

(Charlotte, NC) - December 31, 2012 (
See all reviews by this customer
)
I loved the ornament! It came in a nice package and will bring memories for years to come!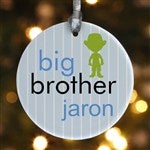 Cute.......
By
Shopper

(Streetsboro, OH) - December 21, 2012
I ordered these as stocking stuffers for my kids. They were delivered extremely fast. They both were very cute and well made. Definately going to order again and I highly would recommend this site to my friends and family.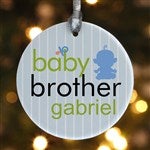 awesome
By
Paula F.

(Brentwood, CA) - December 20, 2012 (
See all reviews by this customer
)
Loved this ornament - very well made, just beautiful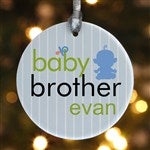 Wonderful quality and so cute!
By
Corinne G.

(FAIRBANKS, AK) - December 9, 2012 (
See all reviews by this customer
)
I purchased the Big Brother ornament and couldn't be happier! It is just as it looks in the picture and is so cute! Even though it is glass and I won't let him play with it...my two year old son still LOVES it and tries to snatch it off the tree any chance he gets. I am so glad that I purchased this product and would definitely recommend it to others. I plan to order more!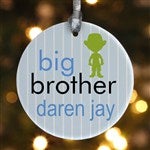 Big Brother/Little Brother Ornament
By
Shopper

(Easton, PA) - November 26, 2012
They looked exactly as they appeared online. Great color.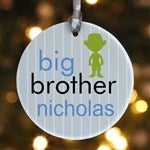 Big Sister Ornament
By
holly T.

(Smithfield, IL) - October 30, 2012 (
See all reviews by this customer
)
Great product. Loved it!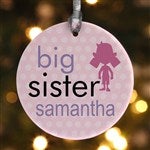 A special gift for a friend's kids
By
Tanya E.

(New Orleans, LA) - October 29, 2012 (
See all reviews by this customer
)
A beautiful ornament to hang on the Christmas tree.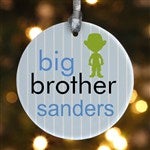 Sweet Ornament
By
Pamela C.

(Gloucester Point, VA) - July 14, 2014 (
See all reviews by this customer
)
I ordered this ahead of time for my great nephew. His baby brother was born yesterday. This is so cute and colorful.

Great ornaments!
By
Shopper

(Merrick, NY) - November 25, 2013
These are so adorable and the quality was great!! Shipping was so fast!! This is the first time ordering from personalization mall and I am very happy and am looking forward to future purchases!!

GREAT LOOKING ORNAMENTS
By
Shopper

(Edgewood, WA) - December 4, 2013
I'm looking forward to decorating my grandchildren's gifts with these ornaments - very good quality - Thank you!

Recognition of other siblings
By
Shopper

(Shelby Township, MI) - September 16, 2014
I like to send something personalized to the family when there is a new birth. Sometimes the other sibling isn't always recognized and this ornament helps. I think it is great as a Christmas ornament when this sibling becomes a "big" sister or brother. I tell the recipients to write the date on the back so that the year it happened can be remembered. After the holiday, it could be put in the room on a stand to celebrate the accomplishment.

things i liked about products
By
Shopper

(Santa Cruz, CA) - November 5, 2012
I had been looking for Xmas ornaments and I found Personalzation Mall. com. I was looking for a bigger brother ornament to give my older granson from his new brother. I searched other sites but couldn't find what I specifically wanted to say until I saw this multi-choice item. I ordered my "baby brother" ornament with his little brother's name. I received the ornament and was very pleased with the coloring,wording,and printing font. It's very well made and I know that this ornament can be used for many Christmas'.

Cute Big Brother Ornament
By
Renee B.

(Elkhorn, NE) - November 23, 2013 (
See all reviews by this customer
)
Very cute big brother ornament. Bought for my nephew who will soon be a big brother to a little sister.

Great personalization!
By
Shopper

(Belleville, IL) - December 21, 2012
Looks terrific and comes in a lovely black drawstring sack for giving!

cute keepsake
By
Shopper

(SLC, UT) - December 26, 2013
very cute ornament; would be even better if it had been stamped 2013

Special meaning / Turned out wonderful
By
Shopper

(Munhall, PA) - November 10, 2012
This ornament was bought for my niece! Her mother is expecting and my niece is having a little of a hard time with the transition! As soon as I saw this ornament I thought of her! I love that it is not the traditional Christmas colors because she can hang it in her room year round! She is going to love it! I did not buy it as a Christmas gift; I bought it as "thinking of you" gift!

Grans
By
Shopper

(Burr Ridge, IL) - October 28, 2013
Good quality and a clever design. Very pleased with this item.

Beautiful Ornment!
By
Mary Ellen H.

(Bayville, NJ) - November 23, 2013 (
See all reviews by this customer
)
This ornament is beautiful! It is exactly what I wanted and will make a wonderful gift.