Classy and Sophisticated
By
Lauren B.

(Covington, VA) - December 5, 2012 (
See all reviews by this customer
)
I ordered this frame for my sister and her family. It turned out excellent. Quality frame, amazing quality. Am very pleased! Classic for any home.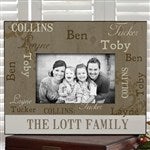 Awesome
By
Sydney W.

(Midland, TX) - November 29, 2012 (
See all reviews by this customer
)
I started using this website last year for Christmas and I have to say that this is one of the best places! The quality is ALWAYS good, the prices aren't bad, and it just makes it so special when you can personalize everything. I love this frame (so much I got 2), it was better than expected and I know my family will enjoy them when they receive them.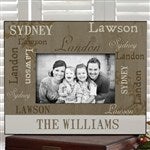 great deal
By
Shopper

(Willow Park , TX) - November 17, 2012
This is a great deal. Looks good, put everyones name on it. 4x6 picture...Don't have to put just The _____Family can add grandma's name with grandkids


Great Gift
By
Shopper

(Elida, OH) - December 27, 2012
Frame was a huge hit. I purchased 4 and each person loved it. Make sure you look at the preview as it prints exactly like it shows. (A few of my letters were cut off). It's a great gift and the frame was very much worth the price. Great quality.

Family picture frame
By
Shopper

(bronx, NY) - December 27, 2012
I bought this frame for my bf's family and they loved it :). I love how you could write each person's name on it. This makes a great gift.

Family Memories
By
Shopper

(Franklin Lakes, NJ) - August 10, 2014
This is a great gift for a family; the names are clearly written and I love that a different font is used for each one. It's something that will be on display for many years as the family grows and changes!

Beautiful Frame
By
Theresa S.

(Renton, WA) - December 26, 2012 (
See all reviews by this customer
)
Beautiful frame. My daughter and son-in-law loved it so much. Perfect. Prettier than expected.

Really nice gift
By
Shopper

(Mandeville, LA) - January 5, 2014
This frame is really nice for the price. The printing is not crystal clear but overall I am happy with the product.

Great Gift! Picture doesnt do it justice!
By
Shopper

(Hewitt, NJ) - December 27, 2012
My brother and his family loved this gift! It was even nicer in person! I would definitely purchase again!

Great Gift!
By
Shopper

(Barnesville, OH) - December 27, 2012
I was really pleased with this frame...its well-made, has a long lasting finish, and the names are printed in an attractive fashion. It was a gift and the recipient was thrilled!

Christmas gift
By
Shopper

(Valparaiso , IN) - December 28, 2012
I give family photos we take at Thanksgiving to everyone as part of Christmas gifts . Wish I ordered more than one of these personalized frames because everyone wanted one. I'm glad I found this website. More orders to come.

Beautiful!
By
Shopper

(Burbank, CA) - December 28, 2012
I cannot say enough good things about these frames. My husband and I ordered one for all our siblings. The frames are extremely well made and beautiful. Everyone loved their personalized frame. In the Extra spaces where a name would typically be written, I put words like peace,love, joy, happiness and family. It came out really nice. We could not be more satisfied.

great gift :)
By
Shopper

(McMinnville, TN) - November 14, 2012
This is a awesome website....they have wonderful items and very great quality. The gift I ordered looks so good and it was here in no time...fast easy and wonderful products....I will be ordering from here again no doubt....

Love it!
By
Kelly G.

(Austin, TX) - November 13, 2012 (
See all reviews by this customer
)
I bought several of these frames for Christmas gifts and they all turned out prefect. The quality is better than I expected. Liked them so much I am ordering a couple more. You will not be disappointed if you order this frame.

Love, love, love, love it!
By
Shopper

(Stansbury Park, UT) - November 9, 2012
I just received my frame I ordered as a gift and it is beautiful! Very solid and nice quality. I am going online right now to order more!

Soooooo Nice
By
Shopper

(Glendale, AZ) - November 16, 2012
Love this frame, better in person than looking at it on the site. My sister was over when I received it and she fell in love with it also. She & I absolutely love the colors. Thanks again will be purchasing one for my sister for xmas, hopefully she won't see this. lol

Personalized Photo Frame
By
Shopper

(Robbinsville, NC) - December 23, 2012
I ordered the personalized photo frame for my son and his family. I was very pleased with the purchase and this was a way of giving a gift that was just for them. The frame was a good quality and I am glad I found this site because I also ordered other personable things. I would definitely recommend this company to anyone. Also, they are very prompt in sending your purchase.

Great Gift
By
Shopper

(chelmsford, MA) - December 23, 2012
I was looking for something special for a close friend and this frame showed up on my search. The quality was really nice. I am very pleased. be sure to move around the names to find the configuration that you like the best. A great gift.

Lovely Family Photo Frame...
By
Michele A.

(Oklahoma City, OK) - December 23, 2012 (
See all reviews by this customer
)
My niece and her husband recently celebrated a new addition to their family. This photo frame was the perfect way to showcase their new family photos. And for added variety, the option to purchase the frame in both a "landscape" and "portrait" version is a huge plus!

I gave them to family members and they loved them.
By
Sue Y.

(Bardwell, KY) - December 25, 2012 (
See all reviews by this customer
)
I bought 2 of the personalized Photo Frames. The people i gave them to loved them and wanted to know where I got them. Thanks for the beautiful gifts.

Loved It
By
Shopper

(maple grove, MN) - December 25, 2012
This was a beautiful gift.. Rave Reviews !!!

Awesome experience
By
Shopper

(Virginia Beach, VA) - December 26, 2012
From creation to shipping, this was a great item to give for Christmas. The frame has some weight to it so it does not feel cheap at all.

Turned out great!
By
Kasey L.

(Gainesville, FL) - December 25, 2012 (
See all reviews by this customer
)
I ordered a personalized frame for a family member for Christmas and it was a hit! The frame turned out absolutely beautiful.

My go to gift
By
Shopper

(Woodville, AL) - August 5, 2014
I have ordered these repeatedly for gifts, 7 in fact, especially bridal showers and once for a 25th anniversary. They are, I believe, always a hit! I am glad to be able to get someone a gift they they really like.

Good gift
By
Shopper

(DAVIS, CA) - May 12, 2014
This is the second frame of this style that I've ordered in the last year. It is a great gift. My complaint is that I found it hard to tuck in the latch on the back of the frame that holds the picture in.

Recipant Loved it
By
Shopper

(Jupiter, FL) - December 25, 2012
Great frame perfect family gift

Excellent Quality!
By
Shopper

(Scottsdale, AZ) - August 16, 2014
This photo frame is really special! I ordered one for each of our son's families. I am so impressed with Personalizationmall.com...everything I have ordered from this company has been outstanding...high quality and very well done! My orders arrive super fast, as well! I would NOT hesitate to order from them in the future, and highly recommend them!

So special
By
Karen F.

(Heyburn, ID) - December 31, 2012 (
See all reviews by this customer
)
This picture frame is so unique. It is so personal and the names look great. It is a great idea for any family.


Product feature that I didn't like
By
Shopper

(Yonkers, NY) - December 10, 2012
Overall, the picture frame more than met my expectations but the family name was a little washed out but acceptable.

Not as pleased as with previous purchases.
By
Shopper

(Lilburn, GA) - April 11, 2013
The overall size of the frame was larger than I had pictured. There should be an option for both upper and lower case letters for the customized portion across the bottom of the frame. This item was a gift and was liked by the recipients however, it is unlikely that I would purchase this particular frame again.

Loved it!
By
Shopper

(Vienna, VA) - December 31, 2012
I bought this for my son's girlfriend for Christmas. She and my son are at 2 different universities. I included the names of their respective universities and the year. His girlfriend loved that it was so personalized and told their story. I was impressed with the quality. The only reason for 4 stars is I thought the design could have a bit more pop.

Nice Frame
By
Shopper

(Ellijay, GA) - December 23, 2012
This is actually nicer than it looks in the picture. I was ever so slightly disappointed with the imprint, but it is still a nice frame. I love all the names being all over the frame.

family name frame
By
Deborah C.

(Selden, NY) - December 31, 2012 (
See all reviews by this customer
)
I absolutely love this website. I have been buying here for about 5 years ever since I received a family ornament with all our names on it. I am never disappointed when I purchase. The personalization is of very high quality and so is the frame itself. I feel like these are very original gifts and you can play around with the personalization all you want. 5 stars as always.

disappointed this time
By
Shopper

(Schwenksville, PA) - March 15, 2014
Have been extremely pleased in the past with orders but this one not so much. Unfortunately had to accept as it was going with a friend to her daughter in a foreign country as an engagement gift. The picture frame's wording was not as crisp in printing as in the past and I felt not up to their usual standards.

Good Quality - Love It
By
Shopper

(Saint Peters, MO) - January 3, 2013
I purchased this frame as a Christmas gift for friends. I was very happy with the quality and look of the frame when I received it. My friends love it.

Beautiful and great quality
By
Cathryn O.

(Jupiter, FL) - January 6, 2013 (
See all reviews by this customer
)
While Looking for a Personalized Frame for my daughter and her family I found this one. The quality is very excellent, the colors are perfect, and the general format is great.
When choosing the name placement I thought it was great that you could see the frame before you purchased it. I played around with the order of the names so that the girls names would be in the fancy writing and the boys in the bold, it's all in the order of the names.
I would definitely highly recommend this product and Personalized Mall.com.
Everything I have purchased from here is awesome and great quality for a very fair price. Also The shipping was fast.
If I could give 10 Stars I would!!

Perfect gift!
By
Karen A.

(Youngstown, OH) - January 6, 2013 (
See all reviews by this customer
)
I LOVED the frame! Actually bought 2 of them for gifts and both recipients LOVED them thought they were so unique.

Not for me
By
Shopper

(Franklin, TN) - April 23, 2013
Did NOT like the frames after I got them. It looks nice while viewing online, but in person it looks cheap - shiny and plastic like. It is sturdy, but Not something I would use with nice decor in my home. Bought two as gifts and would not give them!

Great Quality
By
Shopper

(The Woodlands, TX) - December 14, 2012
I bought this frame for a Christmas gift and can't wait for my niece to open it! It is beautiful and well made. The colors are prettier in person than online. I think I will be ordering one for myself!

As nice as I had hoped!
By
Shopper

(Port Saint Lucie, FL) - January 2, 2013
Frame was just as nice as I had hoped. This was purchased for a gift and it was beautiful!