Christmasy Soccer Ball
By
Shopper

(Palm Desert, CA) - November 11, 2012
This soccer ball ornament looks very professionally made.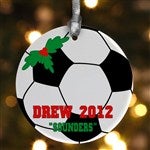 Fantastic Ornament!
By
Stephanie D.

(Miami, FL) - November 7, 2012 (
See all reviews by this customer
)
I got the hockey ornament for my kids and some of their friends. These ornaments are really cute and the names are very bright and stand out. The ornaments have a good weight to them (not too thin) and they come with a pretty silver hanger that is longer than the length of the ornament. I know the kids - and their parents - will love them!


Wonderful
By
Kena M.

(Kirbyville, TX) - October 30, 2012 (
See all reviews by this customer
)
I bought the basketball ornament for my daughter who plays basketball. She loves it! It is a beautiful ornament!

Adorable Ornament.
By
Janice B.

(Tampa, FL) - January 10, 2014 (
See all reviews by this customer
)
The golf ball ornament is adorable. We have a golf theme tree it will go on. Everything I have ever ordered is high quality and everyone loves their gifts. My only complaint about Personalization mall.com is that you can't use "two coupon codes" which I think is unfair. I like to wait for "free shipping" and sometimes have "reward money" because I purchase so much stuff....and I can't use my reward with the free shipping . I did write to customer service and they didn't respond. But other than that, Their products are high quality and well priced and always arrive as promised.

2012 Keepsakes
By
Shopper

(Park City, UT) - December 2, 2012
I have been purchasing annual ornaments as keepsakes for my children. The tree is getting pretty crowded, so these are great because they're small and light. My kids always love them.

Simple ornament...
By
Judith C.

(Tigard, OR) - December 26, 2013 (
See all reviews by this customer
)
My grandson shows tremendous promise as an 11 year-old pitcher so I wanted to acknowledge that through this gift. The quality is OK but certainly nothing special. I truly wish that there were more characters available on the baseball. It would have been wonderful to use a couple of adjectives to describe how great he is at this age and really make the ornament more unique. If you are expecting something terrific, then this isn't it. If you are expecting a simple personalized ornament, then this does just fine.

Darling ornament for grandson
By
Shopper

(Garland, TX) - July 5, 2014
My grandson took up soccer during the past year. Each year I try to get a new ornament that capitalizes on some new interest for each grandchild, so the soccer ball personalized was perfect. I know it will thrill him when I give it to him for the family tree this year.

Basketball
By
Shopper

(Hendersonville, TN) - November 6, 2012
The Ornament would not look so inexpensive if the back of the ornament was the same color and print as the front. (back is white - from is an orange basketball) It is for a child, but Im embarrassed to give it to her mother.

Personalized Ornament
By
Shopper

(Katy, TX) - January 11, 2014
Beautiful ornament. Thank you.

Limited space
By
Shopper

(Buxton, ME) - December 18, 2013
The ornament was great the only issue that I had was that there was not enough space to be able to list the name of the soccer team plus his name.

Sports Ornaments
By
Patricia W.

(Highland Park, IL) - November 13, 2012 (
See all reviews by this customer
)
Great idea for remembering someone special at Christmas time. Excellent that you had VOLLEYBALL as one of the choices...don't see that very often and there are many people involved with volleyball. Excellent quality and exactly what I wanted! Love it!

Great quality & color
By
Shopper

(Miller, SD) - December 27, 2013
This is a quality product. The color is bright. I ordered the baseball ornament and gave it to my child. I have ordered many ornaments from this company and have never been disappointed.

Hockey Ornament
By
Shopper

(Cottage Grove , MN) - December 30, 2013
Another great find on Personalization Mall. I order 4-8 personalized ornaments every year and I am never disappointed. This arrived looking just like the preview picture and exactly as described. Thank you for making this part of my Christmas shopping so easy.


Very cute!
By
Jennifer F.

(Austin, TX) - December 27, 2013 (
See all reviews by this customer
)
This is a great quality and adorable ornament. It is thick and sturdy, however will break if dropped on a hard floor, so secure it well. I would not consider it fragile (as in other glass ornaments). It is a perfect ornament to pass on with your kids when they grow up and have their own tree!

Great gifts
By
LAVERNE W.

(Denver, NC) - December 7, 2013 (
See all reviews by this customer
)
Every year my family looks forward to the "Special ornament" they receive from me.

Soccer Ornament
By
Shopper

(Whitehouse Station, NJ) - December 26, 2013
Very satisfied with quality of ornament. Put team info on front. Looks great!

Wonderful gifts to give
By
Shopper

(Kerman, CA) - January 1, 2014
We are so glad we ordered the personalized Christmas tree ornaments. They are made very well, and it is fun for the children to see their names on ornaments. Everyone really liked them. I want to do this every year for them.


nice ornaments
By
Sandra M.

(Glendale, AZ) - December 4, 2012 (
See all reviews by this customer
)
These were nice, quality looking ornaments

EXCELLENT
By
Marilyn F.

(Apopka, FL) - November 18, 2012 (
See all reviews by this customer
)
EXCELLENT!

Great sports ornament
By
Angie B.

(Houston, TX) - December 6, 2012 (
See all reviews by this customer
)
Wonderful quality of this soccer ornament. What a great keepsake.

very nice
By
Shopper

(Moores Hill, IN) - December 17, 2012
These ornaments were better quality than I expected. Items like this are usually plastic but these were very nice porcelain. Very pleased with them.

Great for a boy
By
Elisabeth N.

(Bettendorf, IA) - December 17, 2012 (
See all reviews by this customer
)
Got this for a young boy who played football for the first time this year. Lettering is clear and it came nicely packaged.