So Unique
By
Aeisha M.

(Owings Mills, MD) - December 10, 2012 (
See all reviews by this customer
)
I had a lot of fun creating this ornament for my daughter! This is such a great way to capture some of your child's favorite things and the memories will last a lifetime. Now when she gets older we can always go back remember all the things that made her smile! Great price for such a priceless treasure.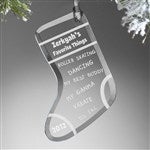 Beautiful ornament
By
Shopper

(Reading, PA) - December 9, 2012
Makes such a great gift and memory for a child. When this child grows up he will have all these ornaments and memories. Personilization is beautiful! I highly recommend this seller!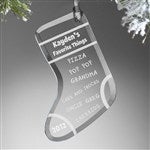 Sooo Very Cute!
By
Carole B.

(Fountain Valley, CA) - December 9, 2012 (
See all reviews by this customer
)
Well crafted and an excellent size (not too big or small.) I'm very pleased with this and everything I've ordered from Personalization Mall.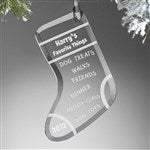 Cute
By
Shopper

(Findlay, OH) - December 9, 2012
Just as cute as it looks in the picture. The shipping was very prompt also. Will order again next year.

It will be a treasured memory.
By
Mary C.

(Las Vegas, NV) - December 9, 2012 (
See all reviews by this customer
)
I bought a similar Xmas keepsake for my grandson's 1st Xmas last year and loved it. This year's keepsake is another treasure. I will be buying his Xmas tree ornaments for all his future Xmas trees!
The quality is amazing!

Cute Stocking Ornament
By
Shopper

(Jacksonville, AR) - December 8, 2012
Item was what I expected. Cute gift for family and friends. I would recommended this item.

Nicely done
By
Diane R.

(Lawrenceburg, IN) - December 8, 2012 (
See all reviews by this customer
)
I purchase ornaments for my grown children every year in a theme that matches what was going on in their life at that time. It's fun to see all of the ornaments at Christmas and take a trip down memory lane. Many of these I have purchased from this website. They are always nicely done and the quality has been excellent. This purchase was no exception. With the favorite things ornament, I could list many hobbies & interests. I'm very pleased with how they turned out.

Perfect
By
lyndsay S.

(hendersonville, TN) - December 6, 2012 (
See all reviews by this customer
)
Ordered this for my one year old son and intend to do so each year. Very nice classy ornament of good size and quality.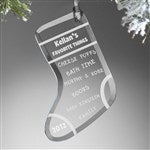 Favorites ornament
By
Shopper

(Aurora, IL) - December 6, 2012
This item is beautifully done and a great price. Shipment was really fast, I had my order in my mailbox 4 days after purchase.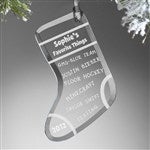 A Moment in Time
By
Kay S.

(Paducah, KY) - December 4, 2012 (
See all reviews by this customer
)
What a wonderful way to capture your child's year! This ornament is like a tree-hung time capsule. Soon I'll need to start keeping a mental list of the age-specific "likes" I'll want to place on the 2013 ornaments. Thanks for creating just a unique, one-of-a-kind gift.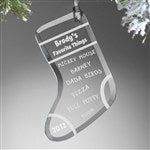 Fantastic
By
Shopper

(Fuquay Varina, NC) - November 28, 2012
I always get my family ornaments each year with thedate, so they can remember.
These ornaments are fantastic. I ordered the stockings of My Favorite Things for my grandsons. They are like timelines of their lives. In the future they will look at these, hanging on their trees and say , I remember those things. A perfect gift.

Great gift!
By
Shopper

(Frisco, TX) - November 27, 2012
Gave this to my twin sister who is celebrating as a first-time grandmother. Perfect gift to cherish for years to come!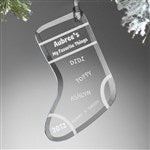 Excited for Christmas
By
Shopper

(Loveland, CO) - November 19, 2012
I ordered the Favorite Things personalized stocking ornament for my granddaughter for her 2nd Christmas. It is exactly what I wanted - it's high quality, neatly engraved and beautifully adorned with a silver ribbon! I'm using Personalization Mall every year for her Christmas ornament! What a wonderful keepsake for her - especially being engraved with her "favorite" things from this time in her life!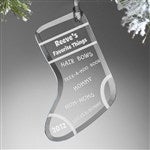 EXCELLENT
By
Marilyn F.

(Apopka, FL) - November 18, 2012 (
See all reviews by this customer
)
EXCELLENT!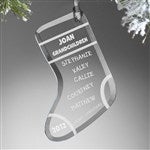 Service and product
By
Shopper

(Denver, CO) - November 14, 2012
The service from the company is truly exceptional, I have ordered at least five times, small orders but they are handled with outstanding service, I wouldn't dream of going anywhere else.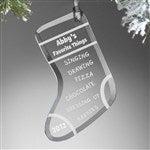 Unique decoration
By
Shopper

(Boise, ID) - November 10, 2012
Each year I give my granddaughters a Xmas decoration and like to find something that applies to where they are at this time of their lives. This decoration allowed me to do that for a very reasonable price. Came exactly as I ordered and in a very timely fashion. The little gift bag is a nice addition - something they will also enjoy.

Exactly as pictured
By
Breanna S.

(Modesto, CA) - January 19, 2013 (
See all reviews by this customer
)
This was a great gift that didn't cost a lot of money. It is exactly as pictured.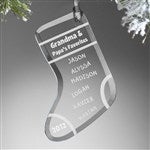 Very Pretty Ornament
By
Yvonne H.

(Henderson, NV) - December 28, 2012 (
See all reviews by this customer
)
I think these ornaments came out beautifully. They are so pretty and easy to read. I only gave it 4 stars because I think they are a bit too thin and may break easily.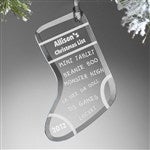 Versatile keepsake
By
Shopper

(Park City, UT) - December 2, 2012
I give my children a special ornament every year. Now that I have a college aged son, the traditional athletic ornaments don't suit him. This ornament allows for a good number of "associations" to consider all the things kids are involved in when in college.

Stocking Ornament
By
Mary S.

(Brentwood, TN) - December 22, 2012 (
See all reviews by this customer
)
I bought these for my 3 grandchildren and I love being able to record the things they are interested in this past year. The stockings came very quickly and are beautiful to look at. I was a little surprised and disappointed in how thin the glass is. I really wouldn't let the children handle the ornaments for fear they would break and maybe cut them. They would be great for older children (mine are 5, 3, and 1).

Good and Bad
By
Shopper

(Buena, NJ) - December 21, 2012
I like that I could use my own special wording, but I am not pleased with the clear glass. I would like to have had the opportunity to have this ornament done in enamel. This ornament doesn't show up very well.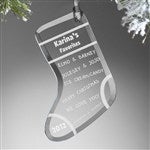 Hudson First Christmas
By
Shopper

(Bauxite, AR) - December 25, 2012
I did not like the way the names were put on, I was very dissapointed in the way it was done, could have been better. Thank you, Joann