For the guy who has everthing!
By
Shopper

(The Woodlands, TX) - December 14, 2012
I bought this as a gift for someone "who has everything". It is high quality and will certainly fit his professional lifestyle. It writes very smoothly and is comfortable to hold.

Very Professional
By
Dunia R.

(Miami, FL) - December 12, 2012 (
See all reviews by this customer
)
Love the Pen

A 'classy' gift
By
Shopper

(Menlo Park, CA) - December 10, 2012
I had ordered this personalized, stylish-ly engraved 'Stylus pen' for my family friend, who loves his 'tech-toys' (iPADs and iphones) AND loves explaining what he is doing. This gift was PERFECT for him and he LOVED it!! While he could explain on paper what he thinks, he can now easily 'play' on his multiple toys with the same pen! To top it, it has his name engraved in a very classy font! I was very happy with the personalization and the receiver was thrilled to see & use the gift!! I have already ordered for a second one! :-)

Great personal functional gift
By
Shopper

(Martinsville, NJ) - December 8, 2012
Love the look and feel of this pen and stylus. Love making things personal and this is perfect for someone on my staff that teaches the team. The stylus works beautifully on the iPad and the look is very masculine which is what I wanted. Nice weight and the personalization just topped the cake. He will love this along with the personalized mouse pad I got for him too.

INK PEN
By
Shopper

(Mesa, AZ) - December 4, 2012
It is awesome..I know my son will love it..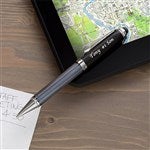 Stylus Pen
By
Shopper

(Arroyo Grande, CA) - November 28, 2012
It's beautiful! It makes a wonderful and personalized gift!

Review with feedback and suggestions
By
Veronique E.

(Boston, MA) - July 12, 2013 (
See all reviews by this customer
)
Dear Personalization Team, i like the Black Stylus ball-point pen but as a woman an visual artist i would like a pen that is slightly thinner which would make it lighter (less bulky and longer) to the eye, and a felt pouch slightly thicker or a bit more fancy because i find the one you have fragile. With that combination it think people would be enthusiastic to order the item for more occasions. In my case, it was twin boys graduating, so the pens'masculine look, the surprise because their names were engraved, just made my choice the perfect gift. I also found the price reasonable, and an encouragement, it's nice to want to treat someone to something unique and be able to afford it. Thank you.

Husband's gift
By
Shopper

(Bridgeport, CT) - March 4, 2013
I was very happy with the quality, price and delivery of this pen that I specially ordered for my husband for the second time. He lost the first one.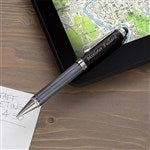 Nice quality.
By
Marna K.

(Medford, NY) - February 20, 2013 (
See all reviews by this customer
)
This pen has a substantial weight to it. It writes really nice. It was a gift for man. He loved it. The only thing I didn't love about it was the engraving looked stamped not engraved.

Great Pen!
By
Shelby I.

(BOISE, ID) - February 15, 2013 (
See all reviews by this customer
)
Was a very good purchase. It came with a felt case and the name inscribed was clearly written. Light weight and useful this is a perfect gift for men who are hard to shop for!

Nice pen/stylus!
By
DAWN B.

(Norman, OK) - December 31, 2012 (
See all reviews by this customer
)
These make great gifts. I ordered 3 of them.

Great pen!
By
Shopper

(Cedar Hill, TX) - December 27, 2012
Gift for my significant other. It has a luxury look and feel. Writes well. I plan to get one for myself soon.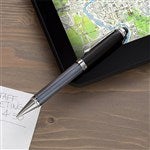 Very nice pen
By
Shopper

(Orlando, FL) - December 14, 2012
Heavier than I expected and a really nice gift.

new business gift
By
Shopper

(East Brunswick, NJ) - November 10, 2012
nice pen, personalization as ordered, i thought pen was a bit thinner from seeing the picture available, but overall very nice

Ehhh
By
Benjamin G.

(West Springfield, MA) - March 23, 2013 (
See all reviews by this customer
)
Was deceived by the colors in the add. The pen did not look the same as it did in the ad.