Quality gift
By
Shopper

(Fullerton, CA) - March 3, 2013
Excellent gift, quality pen & inscription.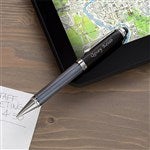 The Kings Pen
By
Linda S.

(forestville, MD) - February 20, 2013 (
See all reviews by this customer
)
I purchased this pen as part of my husbands Valintine gift and I is of great quality. The pen glows so smooth and looks beautiful. I'm jealous now so I'll order me one this week.

Very nice
By
Massiel Q.

(Santo Domingo, TX) - February 11, 2013 (
See all reviews by this customer
)
simply great, seems to be of good quality.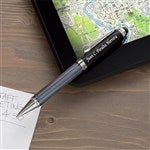 awesome deal
By
Shopper

(tracy, CA) - February 7, 2013
Bought this pen for my bf, he loved it. It's totally worth its money!
Great quality and the engraving loves really good.

Very Satisfied
By
Shopper

(Glendale, CA) - January 28, 2013
Looks very nice and writes nice.

Product Information
By
Shopper

(Graford, TX) - January 18, 2013
We bought these pens for our school board members for board appreciation month. They exceeded our expectations and the board members were very pleased with them. They were not cheap plastic pens they are made of very good quality and they are very nice looking for men or women. We are extremely happy with this product.

great christmas gift
By
Terry M.

(Madison, CT) - January 6, 2013 (
See all reviews by this customer
)
It is always hard to find gifts for that special someone This personalized pen was perfect. Very nice quality. Our brother in law loved it.

Great purchase!!!
By
Anesia C.

(Lancaster, TX) - December 31, 2012 (
See all reviews by this customer
)
We purchased this for our boss Christmas present and he just love it. Thanks for allow us to warm his heart.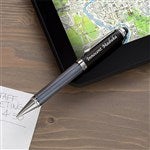 Great Christmas Gifts
By
Sheryl B.

(Los Angeles, CA) - December 31, 2012 (
See all reviews by this customer
)
I gave these pens to co-workers and they loved them. I was very satisfied with the quality and cost of the pens. The engraving was magnificent. The picture did not do these pens any justice. They were actually much better looking once I received them. The only downfall is that I did not order me one.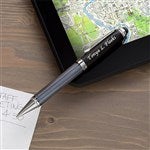 Nice stylus
By
Shopper

(Prescott, AZ) - December 30, 2012
Really like this stylus for our phones, especially with the facebook special of $14.95 each. not sure I would have gone for it at the non/sale price.

Business mans delight
By
chuck B.

(euclid, OH) - December 26, 2012 (
See all reviews by this customer
)
This is a very nice and classy pen. Any professional would love to own it.

Beautiful
By
Kelly G.

(Zuni, VA) - December 26, 2012 (
See all reviews by this customer
)
Ordered for my husband for Christmas. Super impressed! Plan on ordering more for my dad & daughters for their birthdays.

Wonderful gift
By
Jean D.

(Grapevine, TX) - December 21, 2012 (
See all reviews by this customer
)
Beautiful pen with 2 features. Use on computer or as a writing device. My son and nephew just loved them.

Nice pen!
By
Larry K.

(Georgetown, KY) - December 20, 2012 (
See all reviews by this customer
)
I ordered 7 of these pens for Christmas this year for my managers. They arrived very quickly and were all perfect. No issues at all. The only down side, if you can even call it that, was they did not come with a gift box for wrapping. They came individually packed in bubble wrap with a nice cloth sleeve around them. No big deal really, I ran out to my local craft store and purchased jewelry boxes, problem solved. The pens have all been well received by my team and they are quite happy with them. Thanks!

Very good stylus
By
Hira A.

(sugar land , TX) - December 20, 2012 (
See all reviews by this customer
)
The stylus works great on my husbands iPad and he loves the pen as well.

Nice gift
By
Shopper

(mount vernon, NY) - December 17, 2012
Nice pen!!! Makes a great and special gift !

For the guy who has everthing!
By
Shopper

(The Woodlands, TX) - December 14, 2012
I bought this as a gift for someone "who has everything". It is high quality and will certainly fit his professional lifestyle. It writes very smoothly and is comfortable to hold.

Very Professional
By
Dunia R.

(Miami, FL) - December 12, 2012 (
See all reviews by this customer
)
Love the Pen

A 'classy' gift
By
Shopper

(Menlo Park, CA) - December 10, 2012
I had ordered this personalized, stylish-ly engraved 'Stylus pen' for my family friend, who loves his 'tech-toys' (iPADs and iphones) AND loves explaining what he is doing. This gift was PERFECT for him and he LOVED it!! While he could explain on paper what he thinks, he can now easily 'play' on his multiple toys with the same pen! To top it, it has his name engraved in a very classy font! I was very happy with the personalization and the receiver was thrilled to see & use the gift!! I have already ordered for a second one! :-)

Great personal functional gift
By
Shopper

(Martinsville, NJ) - December 8, 2012
Love the look and feel of this pen and stylus. Love making things personal and this is perfect for someone on my staff that teaches the team. The stylus works beautifully on the iPad and the look is very masculine which is what I wanted. Nice weight and the personalization just topped the cake. He will love this along with the personalized mouse pad I got for him too.

INK PEN
By
Shopper

(Mesa, AZ) - December 4, 2012
It is awesome..I know my son will love it..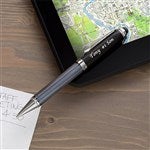 Stylus Pen
By
Shopper

(Arroyo Grande, CA) - November 28, 2012
It's beautiful! It makes a wonderful and personalized gift!