Wonderful product!!
By
Ashley G.

(brandon, FL) - June 16, 2014 (
See all reviews by this customer
)
Easy to personalize, reasonably priced and shipped fast! Definitely told my friends and family about this website and will be using it again for further special occasions and maybe even just for fun sometimes!

Great quality
By
Shopper

(Twin Falls, ID) - June 14, 2014
Mug came exactly how I ordered it.... Thank u!!

Great job
By
Linda W.

(Texarkana, TX) - June 14, 2014 (
See all reviews by this customer
)
I was delighted with the cup! They took the image I sent and make it look even better. I was concerned that it would look "homemade" but it was perfect. Thanks for making my gift so special!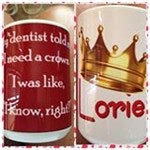 First Purchase -- Very Happy
By
Nancy B.

(Philadelphia, PA) - June 14, 2014 (
See all reviews by this customer
)
This mug was very sturdy and quite large. The picture of my beloved kitties was clear and exactly what I was looking for. I plan to make a lot more purchases, The personalization makes the item very "intimate", Great for gifts!

Custom Coffee Mug
By
Curt D.

(Chandler, AZ) - June 12, 2014 (
See all reviews by this customer
)
I looked at lots of sites for a special customized mug and PersonalizationMall offered the best product with flexible design options and reasonable price. I really wasn't able to find any other sites that came close to PersonalizationMall for the product I was looking for.

I was very happy with my purchase and the recipient was very impressed with the product.

Thanks PersonalizationMall!

I could not be happier!
By
Laura A.

(Fairfield, CT) - June 11, 2014 (
See all reviews by this customer
)
I created a mug for my mother-in-law with 2 pictures of our twins. I loved the design so much, I made one for my husband for Fathers' Day, and another one for myself for work. The quality of the mug and clarity of the pictures exceeded my expectations. Thank you for the excellent products you produce.

Company Branding
By
Nancy T.

(Dallas, TX) - June 10, 2014 (
See all reviews by this customer
)
We used our new company logo on these cups, they turned out GREAT!

take away memories
By
R.M. B.

(OCALA, FL) - June 8, 2014 (
See all reviews by this customer
)
What a beautiful way to send the baby girl off to college while reminding her how life is not what it once was.....but so exciting just the same. We spent many hours laughing at Scooby doo but not anymore.....but hopefully many hours will be spent remembering those hours every time she uses this mug. I would share the pic of the mug but some might not understand the wording or take it the wrong way.

70th Birthday
By
John A.

(Sarasota, FL) - May 30, 2014 (
See all reviews by this customer
)
Excellent quality and rapid delivery at a good price.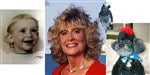 Perfect. Easy. Fast. On time!
By Shopper (Centerport, NY) - May 27, 2014
Could not be any more pleased!

I'll drink to that...
By
Shopper

(Cathedral City, CA) - May 27, 2014
Great looking, worth the $. Color fibrant.

Beautiful Work on the mugs
By
Albert P.

(Canada) - May 24, 2014 (
See all reviews by this customer
)
I was a little hesitant as the 6 personalized mugs were an online order from a company I'd never dealt with before. But what arrived was beyond my expections. Absolutely wonderful. Clear, crisp writing and good depth of color on the logo. The writing was a solid true black with no bleedover whatsoever. I'd have given 6 stars if possible. Many thanks and I'll be back.

Personalized mug
By
Caitlin G.

(Rochester, NY) - May 24, 2014 (
See all reviews by this customer
)
I am extremely happy with the four personalized mugs I ordered. The picture is clear, the mug is a nice shape and feels good in my hand and the items arrived quickly. I would definitely order again.

Excellent!
By
Shopper

(Trinity, FL) - May 21, 2014
This was a gift that I created and asked you to mail directly. I was a bit nervous not seeing the finished product before shipping and called you. Your staff put my mind at ease and explained where the photo & text would appear on the cup. My aunt absolutely loved it. Will order again in future! Thank you.

Beat Expectations
By
Shopper

(Beaverton, OR) - May 20, 2014
Absolutely satisfied with my order. I was put in charge of ordering gifts for the band seniors for graduation, I wanted it to be something a bit more personal, so glad I found this website. I can't wait for them to get these!

Designed Mug
By
Robert R.

(Canada) - May 18, 2014 (
See all reviews by this customer
)
Designed a coffee mug as a gift. Was very concerned what it would look like as it was being shipped direct to the end user. The software made it simple to use my own design. I was kept updated from the time my order was placed and was able to track the shipment to a flawless delivery. Will definately be using this vendor again.

Roses for Mother's Day
By
Shopper

(Anton, TX) - May 17, 2014
I love that I did not have to follow a preset pattern! I put on this mug exactly what I wanted, and it turned out beautiful! Thank you for making this available.

Just what we needed
By
Shopper

(Morgantown, PA) - May 15, 2014
We were extremely satisfied with the product and delighted that we could customize it and receive it so quickly. We wanted a personalized mug with a specific design that was a little complicated. We were so happy that it was possible to do this online. The tools were very easy to use and allowed for a lot of detail. We chose express shipping, and it arrived the day it was promised, in time for a special event. Regular shipping would have been reasonable as well. The mug looked exactly like the preview, and our teacher was excited to receive it.

Loved it!!
By
Shopper

(San Ramon, CA) - May 12, 2014
I created this mug as a Mother's Day gift for my mom. I put pictures of my daughter along with "World Best Grandma" on it!! The quality was amazing!!! My mother loved it!!!! The service was fast and very convenient and what a great price!! I will definitely buy from PersonalizatioMall.com again!

Excellent service
By
Shopper

(Washngton, DC) - May 6, 2014
I thought Amazon.com offered good service until we placed an order for ten mugs with a variety of designs. The order was placed on a Thursday and the order was processed and delivered on Monday. More importantly, the work was correct and the illustrations on the mugs looked better than the original artwork. My wife and I are impressed.

Awesome product!
By
Shopper

(Baytown, TX) - May 2, 2014
The mugs turned out just how I designed them. The printing looks great and I highly recommend this company on any company for quality of products and value of the price.

Personalized Mug
By
Elaine J.

(LaGrange, IL) - April 30, 2014 (
See all reviews by this customer
)
I found the web site very easy to use. The quality of the picture and words was excellent. It was shipped very quickly. I would recommend using this website for personalized items. It is excellent

Great mug
By
Shopper

(Farmington Hills, MI) - April 28, 2014
The mug was perfect! Good quality and size, with excellent print quality. Layout was exactly as I'd expected, and the app to set the print was beyond my expectations. Highly recommend!

Design your own coffee mug
By
Vanessa B.

(Queensbury, NY) - April 22, 2014 (
See all reviews by this customer
)
Received the personally designed coffee mug in a very reasonable turnaround time. The product is excellent quality and the design is exactly as it appeared on the website design page. Very pleased and will order again from Personalization Mall!Thank you!!

Great Quality
By
Shopper

(Evans, GA) - April 19, 2014
I created this mug for our Volleyball Coach!! I created it from scratch which proved to be a little more time consuming that I thought, however, when I received it, in record time by the way, I was extremely pleased with the end product!!

amprx
By
Pat G.

(new market, MD) - April 14, 2014 (
See all reviews by this customer
)
I could not believe how fast and accurate the order was. were going to use them again for sure.

good quality
By
Shopper

(Arlington, TX) - April 9, 2014
Bought two mugs with two different pictures on them and they came exactly as I imagined them. The quality was really good and I would recommend anyone to use them for this

people with everything don't have a chance
By
Shopper

(Fort Pierce, FL) - April 8, 2014
These people do an outstanding job of actualizing your imagination on quality products.
In other words, you get what you thunk of. I now have a place to get unique gifts for the person that needs none.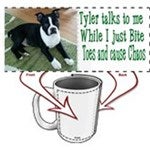 Just What I Wanted!!!!!! :)
By
Tabitha G.

(Holly, MI) - April 7, 2014 (
See all reviews by this customer
)
The mug was awesome. It was just what I wanted. I have ordered from this site before, and will continue to do so, I use my personalized mug everyday. Thank you.

#15 Thurman Munson
By
Wanda G.

(Burlington, VT) - April 5, 2014 (
See all reviews by this customer
)
If you are a diehard Yankee fan especially for Thurman Munson this mug is for you. Has a picture of him in his uniform on one side and his retired number from Yankees Spring Training. A must for any diehard fan.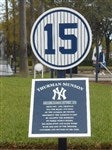 Perfect gift
By
Victoria M.

(Portland, OR) - March 30, 2014 (
See all reviews by this customer
)
I ordered this mug personalized for a friend's birthday and even though I designed a LOT of writing on it and was worried about the quality of the product, the writing was sharp and looked great on the mug. Shipping was fast, price is very reasonable, it was packaged very well. Would buy again.

cup and card personalization
By
Shopper

(montville, OH) - March 26, 2014
Well built "site" to personalize your gifts. Had a little hard time to "size" the photograph on the card, it was much easier to upload the same photograph on the cup. Sincerely... It all turned out better that I expected. Professional and High Quality Service and Results !
I recommend this site.



Amazing
By
Shopper

(WestHills, CA) - March 20, 2014
I got it super quick! I love mine so much and its great quality!

Personalization Mall...My favorite....
By
Brinda J.

(Sandy, UT) - March 19, 2014 (
See all reviews by this customer
)
I have been a loyal customer for over 5-yrs... The quality is simply wonderful, and I have purchased many items. My gifting has become customized items for many occasions-Babies, Weddings, Graduations, birthdays...I have always been so pleased. And I have always been proud of watching my gifts opened, the people who receive them are always thrilled. THANK YOU - THANK YOU!


Happy customre
By
Sandra K.

(Port Charlotte, FL) - March 18, 2014 (
See all reviews by this customer
)
This item was a gift so I have only seen photos of the finished product but the recipient is pleased with it. I was impressed with the speed of production and delivery. Great item and service for the price. Will shop here yet again!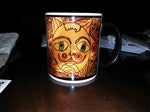 Crawford Personalized Mug
By
Rusty C.

(Columbia, MO) - March 17, 2014 (
See all reviews by this customer
)
The graphics transferred perfectly. The colors are extremely vivid. I couldn't be happier with the mugs!

Love the design service!!
By
Danetta F.

(Chevy Chase, MD) - March 16, 2014 (
See all reviews by this customer
)
Love this site, it is so hard to find items that you can purchase in small quantities and for a reasonable price. Use site for teacher personalized gifts and teachers are always thrilled. Love Personalization Mall!!!!

Quality product and just as pictured.
By
William B.

(LORTON, VA) - March 14, 2014 (
See all reviews by this customer
)
I loved my mug so much that I ordered six more just like it!

Coffee mug
By
Shopper

(Vienna, WV) - March 14, 2014
Product exactly as I designed. I've already ordered another item. Can't wait to get it. Fun to have choices in personalizing a gift. Great quality.

Fast, Simple, Affordable
I made my own design in an outside program and uploaded it. I selected the coffee mug with the black edge and handle.

The mug is made well, of typical size. The graphic was printed directly on the mug and looked exactly as I had designed it. I would suggest that if you use a graphic, use a minimum of 250 - 300 dpi/ppi. If you aren't sure what "dpi" or "ppi" means, then have someone help you (it is pixels per inch), as your picture will come out fuzzy if you aren't careful - but that is of no fault of the company.

I selected the economy shipping and it was made and in my hands within 10 days - that's lightening fast for a personalized/custom item!

I am very happy with everything!