PERFECT
By
Shopper

(Colona, IL) - February 17, 2014
This gift was absolutely amazing! I was thoroughly impressed with the engravings on the top, and how perfect it was! Absolutely amazing gift!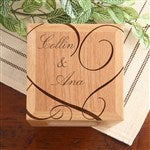 Valentine's Gift
By
Denisha A.

(White River Junction, VT) - February 17, 2014 (
See all reviews by this customer
)
Ordered this for my husband's office for Valentine's Day. I thought our names would be engraved on the cube instead of printed some kind of way which may rub off over the years so this is why I decided on 4 instead of 5 stars.

Now, I have to find pictures which will align in the 3x3 frames.

Overall, very pretty photo cube!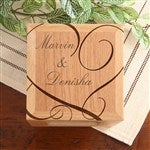 Gorgeous
By
Lyn F.

(Arnold, MO) - November 24, 2013 (
See all reviews by this customer
)
This item is absolutely gorgeous and the personalization is perfect. It's an amazing item and will make an amazing gift for my fiance.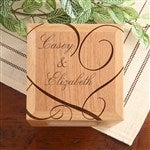 Personalized photo cube
By
Tiffany C.

(Grandview, WA) - September 15, 2013 (
See all reviews by this customer
)
Given the reviews, I was very skeptical about ordering this cube. I am very happy with it!! Although the squares for the pictures are a bit small I am very happy with the sturdiness and the workmanship.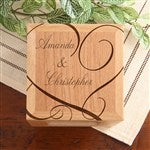 Beautiful momento
By
Shopper

(Santa Rosa, CA) - August 31, 2013
This engraved wooden photo box is very nice quality and beautifully crafted. The newly wedded couple it's intended for should be pleasantly surprised, I know I was.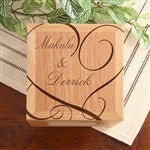 Beautiful
By
Shopper

(Round Rock, TX) - July 20, 2013
This photo cube turned out very nicely!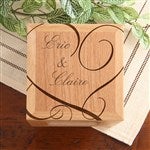 Wonderful, personal, and not expensive
By
Krista S.

(Walbridge, OH) - April 20, 2013 (
See all reviews by this customer
)
I purchased this picture frame for my husband for Valentine's Day. He was looking for a frame to put pics of our family in his office, and this was perfect for him. It's not too big and not too feminine. Plus, the price on it was completely reasonable for the customization and they shipped it the next day! I have been very happy with all of my purchases from PersonalizationMall.com, thank you!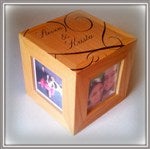 Well Made
By
LISA M.

(ALTOONA, AL) - March 19, 2013 (
See all reviews by this customer
)
This was a gift for my daughter and her husband. They love it. The engraving is beautiful.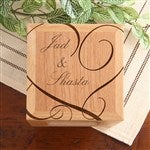 Great engagement gift
By
Gina F.

(Santa Rosa, CA) - March 18, 2013 (
See all reviews by this customer
)
It is a decent size cube and the etching is great!! Will make a wonderful gift.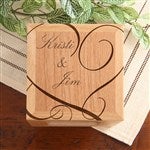 Fantastic Quality!
By
Kimberly M.

(Emerson, NJ) - February 25, 2013 (
See all reviews by this customer
)
We were absolutely pleased with our purchase of the photo cube. The quality of this product is amazing. We had to two day ship it and the personalization on top looked like it took weeks to create. We were so pleased with what we purchased that when we eventually get engaged and married we know where we will come to to get all of the very cool things we have looked at! Thank you for making such wonderful, beautiful products. The couple we gave it to for an engagement present are head over heels in love with it.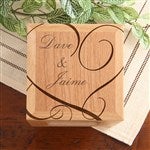 cute gift
By
Shopper

(Norristown, PA) - February 24, 2013
I had to call b/c the first item I received was damaged. The good thing is the product was replaced without any problems and the second one was fine. My issue was handled very well and I had my product in time for valentines day which meant alot to me. I will continue to purchase gifts from this suite b/c I never have any problems. Keep up the good work...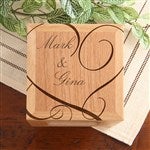 Original and romantic
By
Olivia M.

(El Paso, TX) - February 24, 2013 (
See all reviews by this customer
)
Looks beautiful and it can be usefull even for keeping little thins inside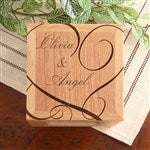 Decorative frame
By
Gale M.

(Smithtown, NY) - February 19, 2013 (
See all reviews by this customer
)
Wood grain and etching of names makes this cube of photos a beautiful ornament on any table.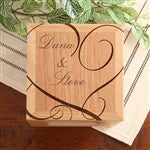 Loved it!
By
Katie H.

(Baltimore, MD) - February 18, 2013 (
See all reviews by this customer
)
I ordered this for my boyfriend and am still waiting for our anniversary next month, which thankfully will give me some time to get together 4 3x3 photos of us. I am not sure if the sizes were listed in the description, however, those are it. Great quality as always!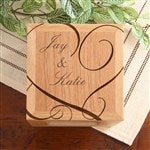 Lovely gift
By
Shopper

(Auburn, CA) - February 11, 2013
I purchased this for my husband and as picky as he is, I have no doubt that he will be equally impressed with the quality of the engraving, the light wood and the clarity of the glass. This is a great gift for the price, classy, the right size and looks to last a while as well. This company has great customer service, good prices & fast shipping. I'm always happy with anything I order!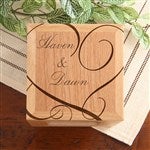 Very Nice
By
Deana K.

(Lafayette, IN) - January 28, 2013 (
See all reviews by this customer
)
Exactly as it was pictured. Love it!!! Shipped very quickly.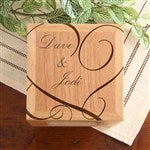 Couple Photo cube
By
Kathy G.

(Minneapolis, MN) - December 18, 2012 (
See all reviews by this customer
)
Fun wedding gift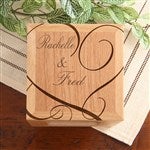 Great Wedding Gift
By
Shopper

(Orlando, FL) - December 14, 2012
This is absolutely beautiful and I'm sure my daughter and soon to be son-in-law will enjoy it for years to come.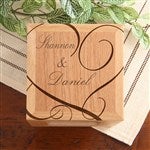 Couple in Love Photo Cube
By
June C.

(Dawsonville, GA) - December 13, 2012 (
See all reviews by this customer
)
Very pleased. Cube of good quality and the personalization is beautiful. Not my first purchase from you this season, nor will it be my last.Shipping is always so quick.

Perfect
By
Shopper

(Towson, MD) - May 5, 2013
Was exactly what I was looking for. Everything was spelled correctly and the detail was amazing.

Not exactly as pictured
By
Shopper

(Edison, NJ) - December 26, 2012
I first received my order and it was damaged. Customer Service was good about sending a replacement, however. On the second frame, the engraving was very light and thin and did not look like it does in the picture. The engraving on the replacement was not dark as pictures above and therefore it was hard to see.

Not sure
By
Shopper

(Olathe, KS) - February 22, 2013
I order this for my boyfriend because i thought it would be nice but when it came, i was shock how small it was. one of the picture glass had come out and it was being a pain to put it back in but in the end i did it.


overall i think its alright.

Nice Photo Cube!
By
Shopper

(Albany, NY) - January 9, 2013
Bought this as a gift and hope that they will like it - we thought it was really cute!

Great
By
Shopper

(Orlando, FL) - June 1, 2013
Engraving looked good. Wood is nice. Very lightweight though.

Loved it!
By
Shopper

(St. Louis, MO) - January 15, 2014
I was very pleased with the size and quality of the photo cube!

Better than expected
By
Shopper

(Washington, UT) - March 13, 2013
This will truely b wedding gifts from now on. Very impressed w/ the size & quality

Quality Wooden Photo Cube
By
Shopper

(Clovis, CA) - March 26, 2013
I was looking for a nice wedding gift with a sentimental touch. When I found this personalized photo cube, it seemed like the perfect gift. When I received the photo cube, it exceeded my expectations! I was hesitant to order it at first, because of one review. They said the cube was smaller than they thought it would be. I'm sure glad that I went ahead and ordered it. I was pleasantly surprised with its larger size, as I lifted it from the box. The photo openings are exactly the dimensions it gives you on the description, for smaller sized photos. The engraving is recessed into the wood beautifully, with very clear scripture. I am very satisfied, and am excited to present it to the newlyweds!

Super nice
By
Neilyn D.

(homestead, FL) - February 28, 2013 (
See all reviews by this customer
)
wow this is beautiful!!very nice job ,thanks

Wonderful gift
By
Shopper

(Cottonport, LA) - March 3, 2013
Very lovely gift at reasonable price

Cute!
By
Shopper

(Owatonna, MN) - January 13, 2013
Great quality! Fast Shipping! And was a great anniversary gift! My boyfriend loved it!

Picture Cube
By
Shopper

(Draper, UT) - December 20, 2012
The cube turned out great!! I am very pleased with the quality.

i love it!!!
it was amazing!!!! my boyfriend love it, i am very happy with it.

love photo cube
By
Jordan S.

(Flatwoods, KY) - January 26, 2013 (
See all reviews by this customer
)
This is such a cute idea for your boyfriend or husband it turned out great!!! Thankyouuu