Wonderful Wedding Gift
By
Tashona B.

(Elma, WA) - April 8, 2014 (
See all reviews by this customer
)
I purchased this canvas print for my husband to be. He loved it. We plan to display it at the guest sign in table. The colors are neutral and the fonts easy to read. I recommend this wall art to every family!

Review
By
Shopper

(Saint Roberts, MO) - April 7, 2014
It looked great she loved it.
Thanks

Review
By
Shopper

(Saint Roberts, MO) - April 7, 2014
It looked great she loved it.
Thanks

Love this!
By
Mercedes A.

(Secane, PA) - March 18, 2014 (
See all reviews by this customer
)
I've bought three of these things!

The first one was for me and my hubby. We hung it up in our home and we were complimented on it left and right. and people ask where we got it. It got destroyed and I had to buy it again. Thankfully, P-Mall still had my order on file and I was able to simply re-order it online. No hassle.

The 3rd one was for my in-laws. On facebook, I saw this photo of a sign called "Grandparents House Rules" and thought it was hilarious. I knew I had to save the photo and get something like it done one day.
One day, it hit me that I could do it on P-Mall.com. So I looked and the only thing I could customize that was like the sign was this relationship rules.
Who said it absolutely had to be about romantic relationships??

So I made it up for my in-laws, tailored the sayings to what applied to us and it still fit with the theme/colors of the canvas!

The in-laws LOVED it! and now everyone will get a kick out of it! check out the photo with this review!

Perfect gift!
By
Holly M.

(Plymouth, MI) - February 24, 2014 (
See all reviews by this customer
)
This is one of many products I have recieved from this site and I am as happy with this as any of the others. Size, weight, # of lines for me to personalize, everything just perfect. I love it!

canvas print
By
Tammie D.

(Pontiac, MI) - February 21, 2014 (
See all reviews by this customer
)
It's awesome and she loved it!!!!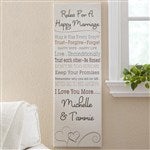 Perfect addition !
By
Shopper

(Chicago, IL) - February 16, 2014
Absolutely love this canvas print, and my fiancé does too. Its beautifully printed and I love the personalization. I named it "House Rules for a happy relationship". Its a perfect addition to our new home together. And I received it just a couple days after I placed the order!

Great sign!!
By
Shopper

(Katy, TX) - February 8, 2014
This is excellent and you can customize everything on it to make it your own. I added a lot of cute things that we say and do together, it's so cute!

Great canvas!
By
Geri H.

(Hempstead, NY) - February 8, 2014 (
See all reviews by this customer
)
It's very nice and goes perfectly with our beige living room. We used some of their words & added our own words and it came out perfectly. We laugh & joke if the other violates the "N & G rules of marriage". The rule that would be most important to you & your mate, make sure it goes on the line that writes in brown(this way that rule stands out) It's very light in weight, it shipped very fast. It's a great item & we really enjoy it.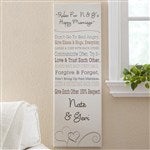 LOVE IT!
By
Leonor P.

(Brooklyn, NY) - February 7, 2014 (
See all reviews by this customer
)
I've been looking for something like this that wasn't a wall decal for a while. I love it. It is fantastic.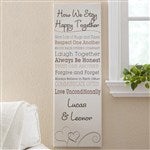 Very nice
By
Shopper

(bronx ny, NY) - February 4, 2014
I love this item it is really nice just what i expected it arriven in exacly one week and the best part is that you can white anything you want love it!

Great Gift! Purchased 5 times
By
Shopper

(Corona, CA) - February 2, 2014
Every single person that has seen this canvas displayed in my home really likes it. It makes the perfect anniversary gift! I've purchased a total of 5 times.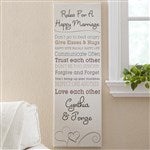 Large beautiful canvas
By
Shopper

(Storm Lake, IA) - January 10, 2014
I had shipped my gift to Texas and was worried on how it truly turned out. When arriving, my friend showed me the canvas and it turned out awesome and was larger than I was expecting!! She said they loved it as well. Love that you can personalize to what fits the couple/situation!!!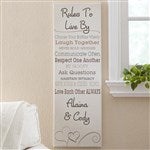 CAnvas
By
Shopper

(Las Vegas, NV) - October 25, 2013
Absolutely love this and the fact you can write your own message

What Dogs Mean to Us
By
Shopper

(Roseburg, OR) - September 22, 2013
Love everything about this item. The differing fonts, easy to read, color will fit anywhere, and I was able to use my own quote which fit perfectly. TOTALLY HAPPY!! Also, very quick turnaround. Will order again and again. Great alternative to vinyl lettering which I also like very much.

Couldn't possibly have been easier/better/faster!
By
Nancy G.

(Omaha, NE) - August 25, 2013 (
See all reviews by this customer
)
The process was sooo easy! I didn't order until LATE on a Monday, and the wedding was the next Saturday! I was concerned about getting it in time and didn't want to invest in the expedited shipping since the item I chose used my whole budget. Well lo and behold, I received the item on my doorstep on THURSDAY, and it was perfect! It was carefully boxed so all I had to do is wrap it. I will not hesitate to order from Personalization Mall again--it was a fantastic experience! My nephew and his new wife loved it. Thank you so much!!!!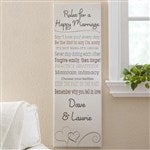 Great canvas print! Large enough to see and read well when hung on the wall.
By
teresa M.

(dover, OH) - June 10, 2013 (
See all reviews by this customer
)
Great organization of the personalized lines and a variety of different script. Canvas is a great size. Looks great on the wall. I would recommend this product.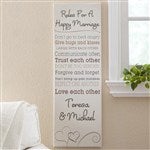 LOVE IT!!!!
By
Danielle C.

(Riverview, FL) - June 4, 2013 (
See all reviews by this customer
)
I have nothing negative to say about this item! Shipping was VERY fast and the quality is fantastic!!! This was a gift to my husband for our anniversary and he loved it! It looks great hanging in our home office! In my opinion, you are getting a very well made item for a GREAT price! Would definitely recommend this item to others!!!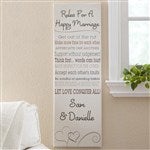 Relationship Rules Canvas Art
By
Shopper

(Danbury, CT) - May 21, 2013
I love personalizing gifts for my boyfriend. And I love this item.

Beautiful Item
By
Ashley E.

(Ogden, UT) - May 13, 2013 (
See all reviews by this customer
)
I purchased this item for a friend and her soon-to-be-husband. She loved it. The quality of the item was beyond expectations and was beautifully designed and created. Definitely purchasing one for my home when I get married. 1000000% satified.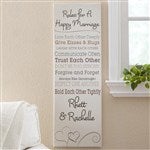 Such an awesome idea!
By
Mercedes A.

(Prospect Park, PA) - April 2, 2013 (
See all reviews by this customer
)
I got it for my bf for our anniversary as a promise from me to him, and him to me. he liked it! and it's beautiful decor for our home! looks just like it does in the picture!!!

The perfect wedding gift!
By
Shopper

(Indianapolis, IN) - March 18, 2013
I bought this canvas art for my daughter and son-in-law for a wedding gift. They love it as much as I knew they would!! All their friends and family comment on it! It is their favorite gift of all..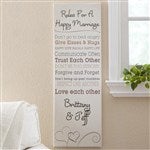 Perfect!
By
Shopper

(Mount Holly, NJ) - March 18, 2013
I'm very happy with my purchase! It is a great quality and was the perfect gift I was looking for.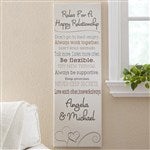 16 years and still so in love This is PERFECT !
By
Shopper

(Monaca, PA) - March 16, 2013
The Canvas is of good quality and the piece with my own words added are so much more meaningful , My Husband Loves This so very much , he ended up doing a full Wedding wall in Our Foyer coming Down the Staircase , everyone talks about how beautiful this is and so special and more meaningful than jewlery lol , and they are so right with this kind of quality and seeing and reading your own thoughts are far more precious and sparkel's more than a diamond because it is this type of product of expression that makes life's moments (PRICELESS ) It comes from your beaming heart. Personalized means so much much more !! Thank You For Another Great quality item that you carry , I have been a long time fan and buy always and will continue to Shop. Our Home is personalized everyroom even the potty room lol with the family name on awsome quality products , did I mention the products are good quality and awsome lol , I urge anyone to not be leary and dive in shop personalizationMall.com A++ Service!!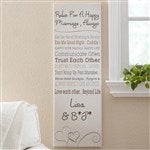 Relationship rules
By
Shopper

(MIDDLEBURG, FL) - March 1, 2013
This was a quality piece of art and done beautifully. Well worth the cost. I have bought from Personalization Mall several times and have never been disappointed.

Very pleased with this item
By
Lisa G.

(Lexington, SC) - February 23, 2013 (
See all reviews by this customer
)
i bought this as a vslentine gift for my husband. It arrived earlier than the website said and we both love it.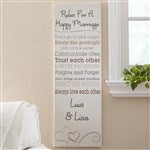 Love, Love, Love
By
Shopper

(Indianapolis, IN) - February 20, 2013
I absolutely love this item! It came out exactly how I pictured it, and it's great quality! However, it was a little difficult trying to figure out how to hang it. The package included hooks, but there's nowhere on the canvas to place the hooks.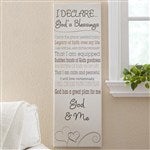 Great quality, service and fast shipping
By
sorimar C.

(meriden , CT) - February 10, 2013 (
See all reviews by this customer
)
The custom canvas I purchased was a great idea. I love it and so does everyone that comes over and notices it. Very good quality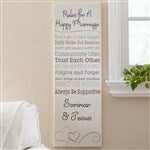 Amazing Art
By
Dorthia M.

(Martinsburg, WV) - February 4, 2013 (
See all reviews by this customer
)
This canvas was exactly what I thought it would be. I am very happy with my purchase. Personalization mall always does a great job. Thank you!!!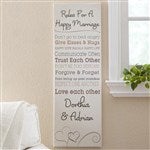 Better than I thought!
By
Shopper

(San Antonio, TX) - February 3, 2013
This canvas came out beautiful. I buy a lot from this site and have come to expect nothing but the best when I purchase. Have to see in person to appreciate the beauty and quality.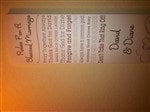 Great Product
By
Shopper

(TRACY, CA) - January 26, 2013
The way that the canvas just turned out was great. Exactly how it showed on the preview. I recommend it to everyone.

Thoughful gift, nice quality, fast shipping!
By
DeAndra J.

(Mc Call Creek, MS) - January 16, 2013 (
See all reviews by this customer
)
I went ahead and bought an early Valentine's Day gift. I chose this site once again because these unique, personalized items are THE BEST! This February will be our 3rd year anniversary, so I really wanted to give him something special! This was PERFECT! I was able to personalize the sayings, and since each saying is sort of an insider, I am sure he will be smiling from ear to ear as he reads it! He also just moved into a new place, so this will be a nice addition to liven up those bare walls. The canvas comes very nicely packaged, and I received it within a week! I really wish I could give it to him sooner! The quality is amazing, and the colors are neutral, so they will go with virtually any color wall. I am now looking at other gifts from Personalization Mall to add to this one! Back to shopping! :)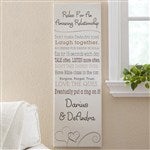 great wedding gift
By
janet H.

(st rose, LA) - December 24, 2012 (
See all reviews by this customer
)
My daughter just got married on 12-12 -12 and I had really wanted something special for her to remember the day, this was perfect and especially that it can be personalized to anything you want to say. My daughter loved it!

SO SWEET!
By
Tristan B.

(Kalamazoo, MI) - February 16, 2014 (
See all reviews by this customer
)
I got this and a couple other things for my boyfriend for valentines day. His face lit up when he opened it! Very pleased!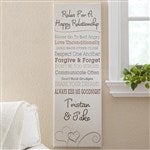 Amazing products and excellent service!
By
Shopper

(Raleigh, NC) - January 18, 2013
i've ordered so many gifts from pm and i am super impressed with quality of both the products and the service.

Great gift
By
Shopper

(New york , NY) - December 24, 2012
I just moved in with my boyfriend and I personalized this canvas to set rules and healthy guidelines for our relationship. I gave him this gift for the holidays and he truly loved it. Some of the rules I out were our inside jokes and others were true virtues needed. This makes for a great gift!!!! When it's personalized it comes from the heart.