16 years and still so in love This is PERFECT !
By
Shopper

(Monaca, PA) - March 16, 2013
The Canvas is of good quality and the piece with my own words added are so much more meaningful , My Husband Loves This so very much , he ended up doing a full Wedding wall in Our Foyer coming Down the Staircase , everyone talks about how beautiful this is and so special and more meaningful than jewlery lol , and they are so right with this kind of quality and seeing and reading your own thoughts are far more precious and sparkel's more than a diamond because it is this type of product of expression that makes life's moments (PRICELESS ) It comes from your beaming heart. Personalized means so much much more !! Thank You For Another Great quality item that you carry , I have been a long time fan and buy always and will continue to Shop. Our Home is personalized everyroom even the potty room lol with the family name on awsome quality products , did I mention the products are good quality and awsome lol , I urge anyone to not be leary and dive in shop personalizationMall.com A++ Service!!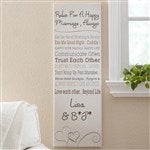 Relationship rules
By
Shopper

(MIDDLEBURG, FL) - March 1, 2013
This was a quality piece of art and done beautifully. Well worth the cost. I have bought from Personalization Mall several times and have never been disappointed.

Very pleased with this item
By
Lisa G.

(Lexington, SC) - February 23, 2013 (
See all reviews by this customer
)
i bought this as a vslentine gift for my husband. It arrived earlier than the website said and we both love it.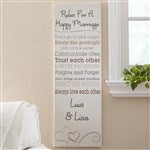 Love, Love, Love
By
Shopper

(Indianapolis, IN) - February 20, 2013
I absolutely love this item! It came out exactly how I pictured it, and it's great quality! However, it was a little difficult trying to figure out how to hang it. The package included hooks, but there's nowhere on the canvas to place the hooks.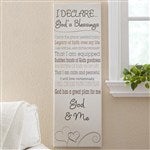 Great quality, service and fast shipping
By
sorimar C.

(meriden , CT) - February 10, 2013 (
See all reviews by this customer
)
The custom canvas I purchased was a great idea. I love it and so does everyone that comes over and notices it. Very good quality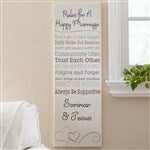 Amazing Art
By
Dorthia M.

(Martinsburg, WV) - February 4, 2013 (
See all reviews by this customer
)
This canvas was exactly what I thought it would be. I am very happy with my purchase. Personalization mall always does a great job. Thank you!!!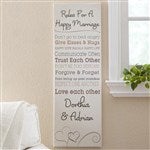 Better than I thought!
By
Shopper

(San Antonio, TX) - February 3, 2013
This canvas came out beautiful. I buy a lot from this site and have come to expect nothing but the best when I purchase. Have to see in person to appreciate the beauty and quality.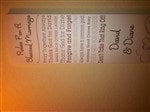 Great Product
By
Shopper

(TRACY, CA) - January 26, 2013
The way that the canvas just turned out was great. Exactly how it showed on the preview. I recommend it to everyone.

Thoughful gift, nice quality, fast shipping!
By
DeAndra J.

(Mc Call Creek, MS) - January 16, 2013 (
See all reviews by this customer
)
I went ahead and bought an early Valentine's Day gift. I chose this site once again because these unique, personalized items are THE BEST! This February will be our 3rd year anniversary, so I really wanted to give him something special! This was PERFECT! I was able to personalize the sayings, and since each saying is sort of an insider, I am sure he will be smiling from ear to ear as he reads it! He also just moved into a new place, so this will be a nice addition to liven up those bare walls. The canvas comes very nicely packaged, and I received it within a week! I really wish I could give it to him sooner! The quality is amazing, and the colors are neutral, so they will go with virtually any color wall. I am now looking at other gifts from Personalization Mall to add to this one! Back to shopping! :)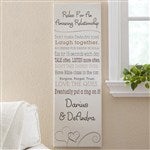 great wedding gift
By
janet H.

(st rose, LA) - December 24, 2012 (
See all reviews by this customer
)
My daughter just got married on 12-12 -12 and I had really wanted something special for her to remember the day, this was perfect and especially that it can be personalized to anything you want to say. My daughter loved it!

Amazing products and excellent service!
By
Shopper

(Raleigh, NC) - January 18, 2013
i've ordered so many gifts from pm and i am super impressed with quality of both the products and the service.

Great gift
By
Shopper

(New york , NY) - December 24, 2012
I just moved in with my boyfriend and I personalized this canvas to set rules and healthy guidelines for our relationship. I gave him this gift for the holidays and he truly loved it. Some of the rules I out were our inside jokes and others were true virtues needed. This makes for a great gift!!!! When it's personalized it comes from the heart.