favorite part of the gift!
By
Shopper

(Sicklerville, NJ) - September 27, 2014
This was my boyfriend's favorite part of his birthday present! I'd call that a win!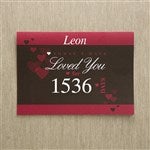 Love it
By
Kimberly S.

(Macon, GA) - June 11, 2014 (
See all reviews by this customer
)
I did not realize that this card was so big until I got it. But it works. I love the fact that I can tell my husband exactly how long I've been living him. Great price too.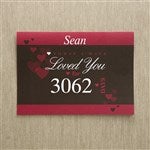 So cute
By
Shopper

(Brooklyn, NY) - May 31, 2014
Purchased this card for my husband on our 1st anniversary. He loved it! Colors are awesome and it was delivered timely. Thank you guys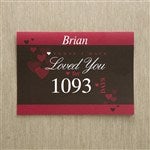 Love it!
By
Shopper

(Ridgefield Park, NJ) - April 19, 2014
Excellent quality! This card went beyond my expectations, I absolutely fell in love with it! Highly recommend :-) Will be back for every occasion xo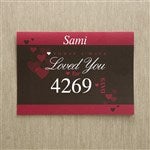 Oversized greeting card
By
Maria E.

(Naples, FL) - April 14, 2014 (
See all reviews by this customer
)
I really loved this card because It just gives a statement!! The person recieving it will always be surprised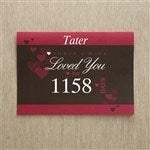 Love it!
By
April H.

(Dyess AFB , TX) - March 8, 2014 (
See all reviews by this customer
)
The quality of the paper is outstanding. it's a thick cardstock, and not made from a cheap quality paper. For my 13th wedding anniversary, I couldn't have asked for a better card.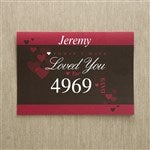 Love love love it
By
Brandee W.

(Ridgeland, MS) - March 2, 2014 (
See all reviews by this customer
)
This gift was super cute and different! I love the fact it was unique and he loved it!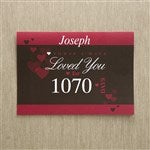 Laughing
By
Jennie H.

(Australia) - February 24, 2014 (
See all reviews by this customer
)
My husband opened the card first. He started laughing, because I am very good with dates & numbers. I confessed that your Site had worked out for me. When he saw what printed inside, happy tears began.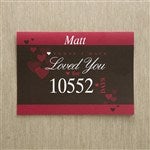 A+++ Quality! Definitely super size!
By
Vera S.

(Newmanstown, PA) - February 23, 2014 (
See all reviews by this customer
)
I love the appearance & size of this card! Very well organized and personalized, I've never seen a card so beautiful! Worth the $$$$$! Show that special someone just how much you love them, it will definitely brighten their day. Hey it brightened mine up and I'm not even on the receiving end!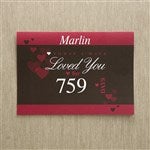 Good product - Disappointing service
By
CHARLES M.

(GLENDALE, CA) - February 20, 2014 (
See all reviews by this customer
)
I was pleased with the product; large and clearly printed exactly as requested. I was disappointed in the delivery service. I requested delivery on 2/13, the day before Valentine's Day. I was "guaranteed" delivery by 2/14. I actually paid more for the delivery than for the product. The Valentine's Day card did not arrive until 2/17 and this was a bit late to add to my Valentine's Day gifts. Since this gift was based on a mathematical calculation that was geared to the date 2/13, it made little sense when it finally arrived. The guarantee was not honored and I hope the company will find a way to make this right.

loved it
By
Courtney M.

(Houston, TX) - February 19, 2014 (
See all reviews by this customer
)
The card is great & a lot bigger than I expected. Good quality! He loved it.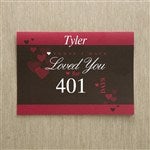 valentine card
By
Shopper

(cedar park, TX) - February 18, 2014
I was completely happy with this card. My husband and I decided on a fancy dinner date instead of gifts for valentines day and this card was the perfect little thoughtful gift that I was looking for. It arrived quickly and was exactly what I wanted.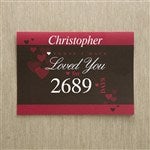 Excellent
By
Ingles H.

(Japan) - February 14, 2014 (
See all reviews by this customer
)
Fast shipping. Item as discribed and shown.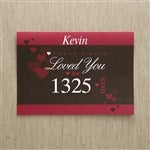 BEST CARD EVER
By
Shopper

(otterbein, IN) - February 10, 2014
I usually don't buy cards as I think they are a waste of money cause they just get thrown away, HOWEVER, when I seen this one and could write whatever I wanted to say inside, I knew it would be the PERFECT CARD. I could not believe how big it was when I received it. WONDERFUL ITEM!!!!!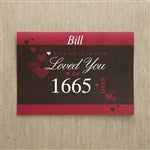 Perfect for Boyfriend
By
Shopper

(Westbury, NY) - February 10, 2014
After being someone for two years, I wanted to give something special and creative. This personalized oversized greeting card is fabulous! It's huge which definitely shows your appreciation, love and affection towards another person. Also, you can customize what you want to say in it and even add your own writing when it arrives. This is a Valentine's Day gift and I'm beyond satisfied with it. First item bought from this site and I'm already hooked on buying more for family and friends.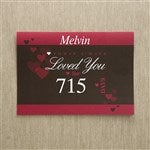 Love it!
By
Sandra B.

(East Providence, RI) - February 3, 2014 (
See all reviews by this customer
)
I love this personalized greeting card. I know they give the dimensions in the description but, it was a lat larger than I expected...not a bad thing. The card will convey to the recipient that a lot of thought went in to the selection...with Personalization Mall doing most of the work.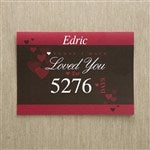 LOVE this card!!!
By
Shopper

(Long Beach, CA) - January 27, 2014
Bought this card as a valentines card for my boyfriend. Last year I bought him a humongous card so this year I felt like toning it down and being more personal. Once I found this card I fell in love but once I got it I was speechless it's wayyy bigger then I expected it's sooo adorable and he will love it. I loved the price i would have paid double for this card and I will be purchasing again soon. They also put a lot of care into shipping this card was not bent when I got it.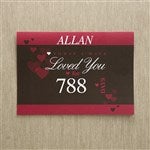 A truly unique gift
By
Kylle H.

(Helper, UT) - January 6, 2014 (
See all reviews by this customer
)
The description is very accurate but I still was surprised by the size in hand and the quality upon arrival. This card is very well made and is just a beautiful and unique way to express yourself to your significant other. My husband's eyes brightened when he opened it on our anniversary last September. I plan on purchasing this card for our anniversaries from now on.. not only for the quality but also as a reminder of the number of days. :) I recommend this product to anyone wanting to go the extra mile! (They are also better than store bought cards, in many ways!)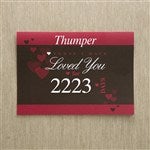 How long have I loved thee
By
Shopper

(Cocoa, FL) - December 27, 2013
What a wonderful gift to give and receive.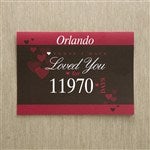 Perfect Gift for Anniversary
By
Javier G.

(Boston, MA) - October 22, 2013 (
See all reviews by this customer
)
The card was bigger than I thought but the bigger space gave me a chance to hand write something extra besides the message itself.
Really beautiful and great design.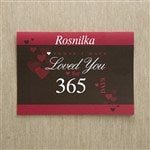 Great Gift
By
Shopper

(pineville, LA) - September 26, 2013
I gave this my husband on our 29th wedding anniversary. To see how long we have been together was so rewarding. The card was beautiful, the card stock was substantial and the personal message I wrote to my husband made his day. Thanks for such great and usual products.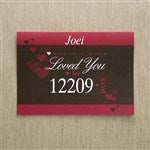 Never disappointed!
By
Samantha S.

(Thornton, CO) - September 5, 2013 (
See all reviews by this customer
)
Everything I have ever ordered from this website has been exactly what I've wanted, and much more upon receipt of the order! Every gift has put the biggest smile on peoples faces! The moments are priceless! 5 Stars all the way!!!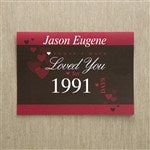 Counting down the days!
By
Chelsea T.

(Goose Creek, SC) - July 28, 2013 (
See all reviews by this customer
)
I ordered this for my boyfriend for our 1 year anniversary and even though I have loved him for longer than 365 days it was such an awesome card to give that matched my 365 theme. It made our special day even better. I would recommend this to anyone trying to make anything more personal!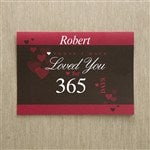 Quality card stock and vibrant colors
By
Diane V.

(Frankfort, IL) - July 27, 2013 (
See all reviews by this customer
)
Always purchase cards for my gifts that I purchase. It's personalized by you and presents beautifully and the price is so very reasonable. I will purchase cards again and again.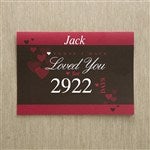 Best Way to Capture a Heart Already Stolen...
By
Shopper

(Colorado Springs, CO) - July 22, 2013
Although this card is 4 1/2x the size of a regular card the cover alone is so captivating! It's one thing to be with someone for MONTHS or even YEARS but to see that displayed down into a matter of days- makes people really think about the things their relationship has survived and how much stronger they are because of their time spent together. This card gives an insight into our past and makes the receiver look forward to their future!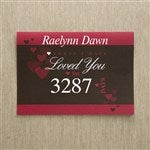 Oversized and Unique card
By
Shopper

(Richmond Hill, NY) - July 6, 2013
Gave it to my boyfriend for our anniversary and he was pleasantly surprised! The size was larger than expected which made it even better!!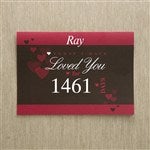 Cute but BIG
By
Shopper

(Inglewood, CA) - May 4, 2013
Loved the card and so did my hubby. I just didn't realize it was going to be larger than a standard size card.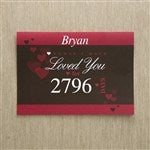 Fantastic!
By
Shopper

(Stephens City, VA) - May 3, 2013
Such a beautiful and thoughtful gift, my fiance love this card so much-- he was really pleased with it and thought it was great. It's a large card and given the price, it was a great deal.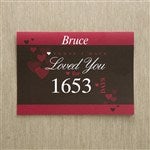 Kool reviews
By
Jane R.

(Naples, FL) - May 1, 2013 (
See all reviews by this customer
)
Just a really neat surprise for special occasions!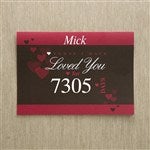 Amazing!
By
Shopper

(Canada) - April 9, 2013
This card was such a great idea and the price is so incredible. The size is bigger than I expected. The quality is excellent.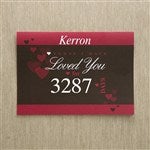 Loved it <3
By
Anaid B.

(Renton , WA) - April 2, 2013 (
See all reviews by this customer
)
This was a great gift card along with the price! My husband loved it!!

Creative
By
Shopper

(Jersey City, NJ) - March 16, 2013
I liked it very much, its different.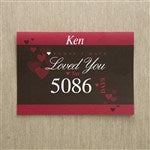 Personalized Card
By
Shopper

(San Carlos, CA) - March 10, 2013
This card is printed on quality paper. The text was exactly as I printed it. The inside is nicely decorated. A good value.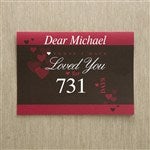 Price & Shipping!
By
Jasmine M.

(Country club hills, IL) - February 27, 2013 (
See all reviews by this customer
)
A great price for such an amazing &personal gift..women & men loveee feeling special! &this card does it under $6 bucks!! Also, I found this site Monday &needed the gift TODAY! It shipped in time with even standard day shipping (I love him veryyy much but was not paying $30 for a card I could get for $10) ..so the 1-2shipping days is true! Even with the 3-5 day shipping option! Soo excited! Last minute or not greattt gift/great buy! Ill post a pic later! Just had to spread the word:). Enjoy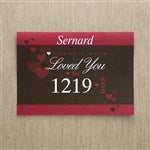 Valentine's Day Card
By
Christine C.

(Providence, RI) - February 25, 2013 (
See all reviews by this customer
)
This card was absolutely great! It was a lot bigger than I thought it would be, and he liked it very much so. I was so happy with the results and how the card turned out. I will be shopping at this website a lot more. Thank you very much!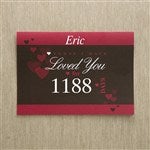 BEST CARD
By
Shopper

(hollywood, FL) - February 19, 2013
I got this card for my BF for valentine's day and it was THE BEST CARD I've ever got before. IT WAS HUGE! Absolutely amazing. I was beyond happy about it.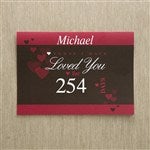 Beautiful card
By
Julissa P.

(Brooklyn , NY) - February 19, 2013 (
See all reviews by this customer
)
This was an awesome valentine's day card. He said "wow this is really nice". When it arrived I showed my coworkers and they wil be purchasing this card for special occasions also.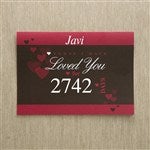 Best Valentine Card ever
By
Cherri L.

(Independence, IA) - February 18, 2013 (
See all reviews by this customer
)
This was perfect; a personalized card that said what I wanted to say.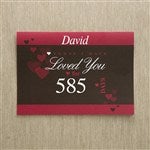 luvd it
By
Betzy P.

(Manchester, CT) - February 17, 2013 (
See all reviews by this customer
)
Got this for my boyfriend for valentines day..it's def a creative card to give and a bigger surprise was that I didn't expect it to be as large of a card then it was. He loved it and the price was great and it got to me within a few days!!!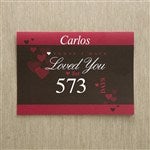 Perfect card!
By
Shopper

(Reno, NV) - February 17, 2013
Caught my husband by surprise. He loves it and thought that it's really unique and cool. An excellent Valentine's Day card for sure! I love the idea of having the number of days display on the front. I thought that was brilliant and romantic.