personalized t shirt
By
Patricia V.

(Prospect, CT) - March 19, 2014 (
See all reviews by this customer
)
I created my own shirt to run in my first half marathon the day before my 50th Birthday. I wore it over my running gear which was good because it was really cold out and gave me another layer.
after washing it that night, I also wore it the next day, my birthday and St Patrick's day.
it was simple to make and allowed me to do exactly what I wanted.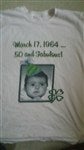 Awesome T!
By
jacqueline S.

(Overland Park, KS) - March 3, 2014 (
See all reviews by this customer
)
Thanks for helping my creativity come alive! Shirt looks great, program was super easy to use and fun, quick delivery, you guys rock!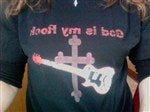 Great result for the price
By
Shopper

(Lewisville, TX) - November 4, 2013
I was pleased with the result for the price I paid.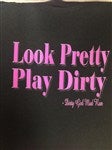 Grand Canyon T-shirt
By
Shopper

(Phoenix, AZ) - June 21, 2013
My husband and our neighbor hiked the canyon in one day and they loved these shirts. Our neighbor is buying 3 more for his family who hiked with them that day.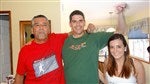 Nice shirt but so BIG!
By
Shopper

(Phoenix, AZ) - June 3, 2013
I like how the two shirts turned out but XL is really huge so I hope they will shrink a bit.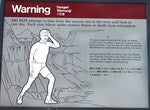 Family reunion t-shirts
By
Shopper

(Bolingbrook, IL) - July 30, 2013
I ordered t-shirts for our family reunion meet and greet day. THEY WERE A HIT!! Great job and excellent quality. I have washed the shirts and they did not fade and came out great. I discovered that I could change the color of the lettering which I had indicated in a previous review that I thought it was a flaw with PMall. I was wrong!! It is always a pleasure to do business with PMall!!

Great price for personalized items
By
Shopper

(Parker, CO) - July 30, 2013
I have searched for personalized items online and found that this was very cost effective. Liked the way that you could truly design it online. Would design more in the future.

Love, Love, Love It!!!!!
By
Moina C.

(Washington, DC) - August 9, 2013 (
See all reviews by this customer
)
I absolutely love my shirt. I customized it to represent the ministry, at church, that I Chair. I was able to put 3 pictures, of past events of this particular Ministry. I wore the shirt to the Church-wide picnic and it was a complete hit. Everyone loved it and one of their own. I will definitely order again. I'm NEVER dissatisfied when I order from PersonalizationMall.com!!!

Girl friends first cruise
By
Shopper

(Sun City Center, FL) - August 25, 2013
I designed our T-shirt for our first cruise. Received the product within 2 weeks. Absolutely AWESOME company for PERSONALIZATION!! I will have this company do all my personalization. Highly recommend to all customers!

Awesome job on personalization
By
Shopper

(Moultonborough, NH) - August 13, 2013
These shirts came through just as ordered. What a great bday gift!

design your own tshirt
By
Debra M.

(Oklahoma City, OK) - June 23, 2013 (
See all reviews by this customer
)
I purchased two of these and they both came out as good as I had hoped


design your own t shirt
By
Debra M.

(Oklahoma City, OK) - June 23, 2013 (
See all reviews by this customer
)
came out just as good as I thought it would

T-shirt
By
Margie D.

(Williston, VT) - June 25, 2013 (
See all reviews by this customer
)
Fantastic

EXCELLENT
By
CATHY H.

(LENEXA, KS) - July 28, 2013 (
See all reviews by this customer
)
I WOULD ORDER THIS AGAIN.IT WAS REALLY NEAT AND MY MOTHER JUST LOVED IT ,. SO FAST TO GET IT . I THINK THE SERVICES IS WONDERFUL

Great shirt, good material
By
Shopper

(Forest Hills, NY) - June 22, 2013
My husband loved this shirt with a picture of him and our 10 month old for Father's Day #1 Dad! Shirt is very good material and true to the size.

Memorial T-Shirt
By
Michael R.

(Yonkers, NY) - October 7, 2013 (
See all reviews by this customer
)
This was a memorial T-shirt for my Uncle who just lost his wife of 52 years. He absolutely loved it and with his favorite girl on there it is something he will treasure. Product was quality made and shipping was fast!

Homecoming shirt
By
Bianca S.

(Memphis, TN) - October 5, 2013 (
See all reviews by this customer
)
The quality of the t-shirt is great. It was a perfect fit and arrived in a timely manner.

Easy fun Christmas idea
By
Angela L.

(Suwanee, GA) - October 10, 2013 (
See all reviews by this customer
)
The quality was very nice and I love that one can personalize it any way they want. I used mine as a Christmas gift.

design your own t shirt
By
GAIL W.

(RISING SUN, MD) - October 19, 2013 (
See all reviews by this customer
)
i was extremely, pleasantly, surprised when i received my t shirt. it turned put exactly how i wanted it to. the quality of the shirt is excellent it has a silky feel to it. not at all what i was expecting.its a high quality t shirt. its extremely comfortable to wear . very glad i ordered it. am going to order the door mat next. thank you for a fine product.

Great Shirt
By
Shopper

(Union, NJ) - October 16, 2013
Speedy delivery. Great shirt and great personalization as I designed it. I was very pleased with the final result. Will recommend.

Awesome shirt
By
Samantha V.

(Bellaire, OH) - September 30, 2013 (
See all reviews by this customer
)
Shirt looked just as I designed it and was super soft!

Awesome t shirt
By
Shopper

(Sterling, VA) - September 6, 2013
The t shirt was exactly how I had designed and looked wondderful. The material and the print was great

Super soft tee
By
Nicole B.

(Cary, NC) - September 1, 2013 (
See all reviews by this customer
)
I made a shirt for my friends bachelorette weekend- i searched the internet for the perfect shirt at the right price- i decided to go with this shirt because it was cheap and i could write whatever i wanted too- plus I have purchased many items from this site and am always so happy with the product and the quick delivery! This tee was no different, I thought it was just going to be a super cheap quaility tee- but I should have known better since everything I have ever purchased on here is high quality! This tee is a super soft, great quality shirt!

Shirt
By
Marsema S.

(Philadelphia, PA) - September 23, 2013 (
See all reviews by this customer
)
The shirt as always was great! I am a very satisfied customer and would recomend this product

Awesome!
By Shopper (Metairie, LA) - September 30, 2013
The shirt I designed came out great! It was a nice, thick cotton shirt and the printing looked very professional. I love it!

Excellent Quality and great Customer Service! Love it!
By
Shopper

(North Port, FL) - September 24, 2013
Excellent quality!! Customer Service was superb in assisting me with design and wording to fit the T-shirt print area paramaters. Shirt was shipped and received quickly and exceeded my expectations! Great job!! PersonalizationMall is saved to my favorites!!

Awesome Father's Day Gift
By
Martha M.

(San Antonio, TX) - June 17, 2013 (
See all reviews by this customer
)
It's my husband's first father's day and this gift was perfect. Keeping this website on my favorites.

Preview artwork carefully
By
Shopper

(Monroe, NC) - June 11, 2013
I love personalization mall. I have ordered many things and wii continue. This "design your own" t-shirt was perfect EXCEPT that the artwork was too low on the shirt and the recipient will not be able to wear it. I approved the artwork itself but didn't pay attention to its actual location on the shirt I guess.

Nice personalized gift
By
Tara W.

(Visalia, CA) - May 16, 2013 (
See all reviews by this customer
)
I was satisfied with the item which was purchased as a gift. Overall, it was of decent quality ('above average' yet not 'the best' hence my 4 rather than 5 star rating). Shipping was very prompt and the price was right. I'd certainly do business with this company in the future.

Consider your Font Color
By
Linda A.

(Petal, MS) - June 19, 2013 (
See all reviews by this customer
)
This is a fine quality shirt, very soft material; however, the blue is MUCH darker than it appears in the preview, so you need to make sure to pick a very light colored font (like WHITE) in order for it to show up clearly. The default font is set to black, and I didn't really think of changing it because the black showed up fine in my preview; however, when the shirt arrived, you could barely see the print and I had to reorder. Lesson learned: next time I'll make sure to consider the font color more carefully. Otherwise, great product.

Good for the money you spent
By
Shopper

(Fairfield , IA) - September 9, 2013
Not too bad for the money spent. Wish I had more freedom in designing it though.

Custom TShirt
By
Clifford F.

(Middlebourne, WV) - July 17, 2013 (
See all reviews by this customer
)
Nice shirt, came exactly how we wanted it, the only flaw was the shirt was a little smaller than the size indicated, so order a size bigger.

photo tee
By
Shopper

(Derby, NY) - September 2, 2013
The photo turned out great but the tee shirt itself is extremely long and doesn't fit well at all. Would not order again because of the fit.

Design your own
By
Shopper

(Wellsburg, WV) - June 24, 2013
I was very unhappy with the T shirt. I ordered two for grandfathers and the picture was of good quality but on the shirt it was extremely dark and you can't see the picture clearly. I felt is was not a good product.

the photo on the shirt was too dark
By
Shopper

(belleville, NJ) - May 26, 2013
i purchased this customized item as a father's day gift for my dad and im extremely disappointed with what was sent to me. the photo is way too dark to even see. not my idea of a nice father's day gift.

Grainy
By
Brenda M.

(Katy, TX) - June 13, 2013 (
See all reviews by this customer
)
The picture on the shirt turned out very grainy - you cannot make out the detail in the picture at all

Letters
By
Cheryl D.

(Dunn, NC) - March 3, 2014 (
See all reviews by this customer
)
I got my T-shirt today, but could not see the writing on it. I did a dark blue shirt with black letters, but I could see the letters good on my preview before ordering, unfortunately I could not see them on the t-shirt. My future husband was very happy with it, so we decided to hang it up in his studio and re-purchase another T-shirt in a different color. He was happy, so I was happy, thanks a lot we will continue to purchase with Personalizationmall.com


Came out great but shrank
By
Shopper

(Noblesville, IN) - June 22, 2013
I loved this shirt, but even washing it the way it was suggested caused it to shrink. It was a Father's Day present for my husband that matched my daughters shirt I bought. He didn't even get to wear it once. Now it no longer fits.

sizes
By
Shopper

(Sterling, IL) - June 3, 2014
Great quality of the Tshirt, and the process & delivery was excellent.
It, however did not fit the person I bought it for. It would have been nice to have been able to purchase the next size, however, it was not available.

Personalized T-Shirt
By
Shopper

(Allentown, PA) - April 29, 2014
Picture clarity on shirt wasn't exactly what I was expecting, but still looks pretty good.