Grandkids Favorite Gift
By
Beverly S.

(Shirley, MA) - September 1, 2014 (
See all reviews by this customer
)
Our granddaughter loved her custom named bowl that I added one of her t-shirt designs as the picture! So unique each day that she uses it for cereal or ice cream.

Dad's Bowl
By
Shopper

(Hamburg, NY) - May 30, 2014
Imprint is a little larger than I expected, but he will love this bowl! The print is very nice & I received it quickly.


Candy Bowl
By
Shopper

(Sugar Land, TX) - February 15, 2014
I ordered this personalized bowl and added a few photos that as a group of friends we took together. I gave this as a birthday gift to a friend and the workmanship on the bowl was just great.

My favorite bowls
By Shopper (Sacramento , CA) - February 2, 2014
I order 2 bowls and designed them myself. I simply love the way they turned out. I especially love the one that I created for my boyfriend. It turned out great. I am going to give it to him for Valentine's day. Thank you Personaliztion for making my day a special one.



Extraordinary
By
Shopper

(Springfield Gardens, NY) - January 13, 2014
I ordered two of these at once! I personalized each differently with a name, phrase, and picture.
My friends loved them!
The quality of both the bowl and printing was amazing!
Highly recommend!

Cute bowl
By
Shopper

(Cardiff, CA) - December 30, 2013
Creating a bowl was easy. I actually made two: one for my son and one for my father-in-law, and both turned out great. I was very impressed with the prompt & timely shipments to two different locations, too.

Personalized bowl
By
elaine S.

(boca raton, FL) - December 26, 2013 (
See all reviews by this customer
)
I had this bowl made with a picture of a restaurant that was in my family years ago to give as a gift to 2 family members. They loved it and suggested that I order 2 more for other family members. The quality was great, the picture looked exactly like the original. Shipping was fast, would recommend this company for future purchases.

Wonderful!
By
Kelley K.

(Jackson, MO) - November 26, 2013 (
See all reviews by this customer
)
The product arrived exactly as I ordered. Very nicely done!

Exactly what I had hoped for!
By
Adam O.

(Canton, MI) - November 8, 2013 (
See all reviews by this customer
)
The product came out just as I had imagined it and the image quality was fantastic!

Grandmas soup
By
Erika A.

(Helendale, CA) - September 6, 2013 (
See all reviews by this customer
)
Love it my mom loves it too Ty

ADORABLE - YOU HAVE TO DO THIS!!!!
By
Shopper

(Highland Heights, OH) - July 26, 2013
I sent in pictures of the little girls that will be coming to a birthday party. They are illustrated photos so I was not for sure how they would turn out! DROP DEAD CRAZY GREAT!! I mean this is the absolute best thing if you are having a birthday party!! So each girl will be given an ice cream bowl with THEIR FACE and THEIR NAME on it just for THEM! The bowls turned out FANTASTIC!! What you send in is what is printed and it's not fuzzy and it's not discolored ..... it's just FUN!!!

Quality
By
Lynna H.

(Paragould , AR) - May 3, 2013 (
See all reviews by this customer
)
I was amazed at the quality of the bowl itself and the detail of my personalization. The bowl is a nice size and no rough edges with very smooth detail. The image I created really was a nice addition and the actual application of the image that was applied was impressive. Thanks PersonalizationMall!!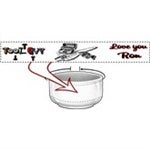 A Bit On the Small Side
By
Shopper

(Smyrna, DE) - June 19, 2014
I bought this as a replacement for another bowl for my husband and when I received it, it was a bit smaller than what I thought it was going to be. Nevertheless, my husband loved it and since it was a gift for him, that was all that mattered! He loves it and in turn, I love it!

Good quality for the price
By
Gayle R.

(Valparaiso, IN) - December 23, 2013 (
See all reviews by this customer
)
I was expecting it to be a little bigger, but it is very nice. The text and pictures came out clear and exactly as I had designed them. Can't beat the speed and service.

Awesome Gift...Size Does Matter
By
Shopper

(Chicago, IL) - June 17, 2013
I purchased this a Fathers Day gift, and he LOVED it...the bowl came out just as I designed it...the clip art I uploaded was perfect. The QUALITY was on point. The ONLY reason this review did not get 5 STARS was because of the SIZE of the bowl I really wished that it was slightly Bigger or have the options to go up in size depending on individual this was a gift for an adult male and I just think the serving size should have been BIGGER. But other than that GREAT Product!!!!

Disappointed
By
Shopper

(Ponte Vedra Beach, FL) - October 3, 2013
Please note there is a fairly big gap in the back of the cereal bowl so that your design will not wrap entirely around, causing it to look lopsided. (Even though you use the entire panel for your design). I was a bit disappointed with the outcome. It is difficult to tell from the preview what the entire bowl will look like.