Creating forever memories
By
Margaret B.

(Fort Mohave, AZ) - September 1, 2014 (
See all reviews by this customer
)
Personalization mall.com, created a beautiful pillow, with 2 photos of my sister's precious cats, with sweet captions under both photos. She was completely overwhelmed by her gift, she loves her furry pets very much, as she has never had children. This pillow made her day, she called me when it was delivered and was so happy wirh how it looked. Personaliationmall.com you did an awesome job, the order process was so easy and fast and your workmanship on the photo pillow was flawless fast delivery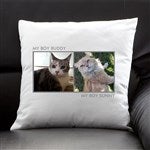 Beautiful
By
Shopper

(Yonkers, NY) - June 22, 2014
I ordered 3 pillows ...for my boys on Father's Day! They all love it!
I love it too

Treasure for My Retiring Friend
By
Shopper

(Baltimore, MD) - June 17, 2014
I use Personalization Mall for many of my gifts. This pillow displayed important work events for my friend to remember as she retired. She was so touched by the pillow. The pillow was beautiful as I expected. Every product I have ever ordered from Personalization Mall has been awesome.

Awesome
By
Keri G.

(Tewksbury, MA) - May 20, 2014 (
See all reviews by this customer
)
Great job..so cute

Awesome Mother's Day gift
By
gina N.

(henry, IL) - May 6, 2014 (
See all reviews by this customer
)
I purchased this with a picture of my new Granddaughter for my daughter's 1st Mother's Day gift. It is more than I could have ever imagined. I cannot wait for her to open it.

Wonderful
By
Shopper

(Scottsdale, AZ) - April 29, 2014
This pillow arrived so quickly and gives us so much pleasure,thank you very much.

Great Pillow and Memories
By
Shopper

(fayetteville, NC) - April 23, 2014
I got this pillow for my daughter who is deployed away from her precious daughter. I'm so so happy with the way it turned out because I was apprehensive. This will be a such a hit with her and will probably make her cry happy tears. Thank you for letting me give my daughter a little Mother's Day memory! My only other comment would be, more colors.

Great quality pillow!
By
Shopper

(Washington, IL) - April 22, 2014
We ordered this pillow for grandma's birthday, and put pics of the grand babies on it. I'm very pleased with the quality and size of the pillow.

3 Photo Pillow
By
alvin B.

(Bevier, MO) - March 29, 2014 (
See all reviews by this customer
)
As always, Great Service, Speedy Delivery, and a beautiful product !

Sure to be a hit when I give it to my wife for our 10th Anniversary in 3 weeks.
alvin b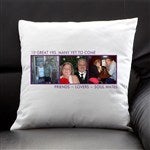 Pleased Coach
By
Shopper

(Syracuse, NY) - March 12, 2014
I bought these pillows for my senior athletes as their end of season gift. I thought the pillow was awesome and was a great memory keepsake. They enjoyed it as well. My only wish was that they offered more solid colors for the pillow in case a team was to do something like this. Our colors are orange and blue so a blue pillow would have been nice.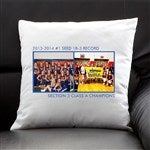 Comfort at a time of Loss
By
Phylis P.

(Scottsdale, AZ) - February 15, 2014 (
See all reviews by this customer
)
I bought this pillow for my 82 year old mom with my dad's picture on it after he passed away. She lives alone in another state and it was unbearable to think that after 62 years of marriage that she was now alone and I was no where near her to comfort her at this time of loss. She initially slept holding the pillow at night and now she has it placed on "his" chair. She finds tremendous comfort in seeing him, smiling, the way she wants to remember him. We are amazed at how helpful this has been for our family. Every time I speak to my mom on the phone she thanks me and tells me what a great and thoughtful gift this was.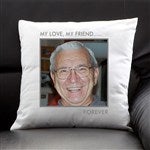 Gone Way Too Soon
By
Conner H.

(Denver, CO) - December 30, 2013 (
See all reviews by this customer
)
One of the best ways I've found to remember loved ones and be able to hold them close whenever you want!

"Forever"
By
Conner H.

(Denver, CO) - December 27, 2013 (
See all reviews by this customer
)
I love the personal touch a gift like this gives. It's keeps that person or people with you and you can hold them as long and as hard and as often as you want. Excellent idea, I just wish I could pick other pillow colors but that's not a complant it's a want.

Totally satisfied
By
Luz S.

(Chicago, IL) - December 20, 2013 (
See all reviews by this customer
)
As with most things online, one wonders if the end result will be what you expect. I was so happy with the quality and turnaround time that I will order from this website again and again. I've also provided to friends for their use. I just love the pillow I ordered to give as a gift. Thank you for doing a great job!

VERY HAPPY
By
Shopper

(white plains, NY) - December 11, 2013
THIS WAS A GOOD QUALITY - AND DELIVERED IN A QUICK AND TIMELY FASHION. DEFINITELY WILL ORDER AGAIN.

Wonderful Christmas Gift
By
Cindy S.

(Pittsburgh, PA) - December 7, 2013 (
See all reviews by this customer
)
This personal touch adds extra warmth to the holidays
And this is a quality product

Picture pillow
By
Shopper

(Highlands Ranch, CO) - November 20, 2013
Very nice product. Picture is pretty clear. Wish there was a variety of pillow colors as the white is pretty plain. I would recommend this product.

grandkids photo pillow
By
Shopper

(WEST POINT, UT) - October 30, 2013
My family lives out of state and haven't seen my grandkids so for my mothers birthday i sent her a pillow with there pictures on it and she loves it. So now i'm sending one to my mother in law for christmas. Awesome idea for out of state family.

Perfect gift
By
Shopper

(Garland, TX) - August 23, 2013
Pillow came exactly as I ordered it. Seems to be of good quality and a perfect keepsake gift.

good quality
By
Shopper

(yuba, CA) - July 28, 2013
Pictures came out good quality is also good it would be more better if you have color choices.

personalized pillow with photo
By
Shopper

(marlboro, NJ) - July 12, 2013
I bought this for my mother in law 85th birthday and put a photo of all the grandkids.It was absolutely perfect. I shop often on this site and it always meets my expectations.

Great pillow
By
Brenda F.

(New Lenox, IL) - May 16, 2013 (
See all reviews by this customer
)
I am happy how this pillow turned out. The picture looks great. This is a good keepsake.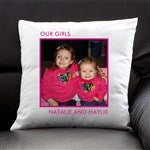 Great gift for Grandma!
By
Shopper

(Flushing, NY) - May 16, 2013
My mom loved this !!! Was a great Mother's Day gift from her Grandchildren
It took me a while to get the photo to fit but once it was done it was fine! Item came quickly and was good quality

Loved it!
By
Lynn S.

(Albany, OR) - May 12, 2013 (
See all reviews by this customer
)
It was exactly what I wanted. Great item for the price!


Perfect gift for graduate
By
Charlotte G.

(Indianapolis, IN) - May 4, 2013 (
See all reviews by this customer
)
I am so pleased with the two photo pillow I ordered. The fabric is good quality and the pictures have been reproduced with clarity. I especially appreciated the ease with which the pillow could be ordered complete with an immediate visual of what I would be receiving and the quickness of the actual delivery. I would certainly order from this company again.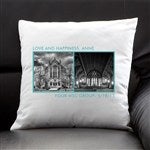 Very Pleased
By
Shopper

(Franklin, IN) - April 30, 2013
Ordered this for my mom. She is going to enjoy this very much. Perfect for someone that doesn't have much room.

BEAUTIFUL ITEM
By
kimberly N.

(san antonio, TX) - March 29, 2013 (
See all reviews by this customer
)
GREAT ITEM. CAME OUT VERY PRETTY & VERY AFFORDABLE!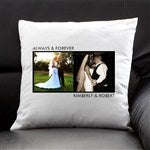 Picture Pillow Keepsake
By
Shopper

(Mount Airy, MD) - March 14, 2013
I love this pillow. It looks exactly like the preview and makes for a cute throw pillow or keepsake. I also received it quickly. Make sure to use the correct quality photo so it turns out as expected.

Love my pillow
By
Laurel L.

(Claremont, CA) - February 16, 2013 (
See all reviews by this customer
)
Quality is really good. Clarity of picture is excellent. Very fast delivery.

3 picture pillow
By
kathy Z.

(bethlehem, PA) - January 25, 2013 (
See all reviews by this customer
)
I recently ordered three 3 picture keepsake pillows ; they arrived very quickly and the quality of the pictures was great . I would definitely recomend this company to my friends .

Family Treasure
By
Rebecca H.

(Elgin, IL) - January 22, 2013 (
See all reviews by this customer
)
I sent this pillow to two distant family members as a Christmas gift and it has been dubbed their favorite gifts of the year! Very thoughtful and useful make this gift idea a big hit for all ages. Would definitely recommend this gift. Also, super fast production and shipment. My family received them 1 week after ordering without paying for upgraded shipping. Thank you!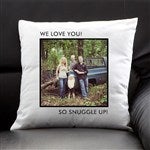 Mary's Daddy Pillow
By
Bob B.

(Chicago, IL) - January 9, 2013 (
See all reviews by this customer
)
The pillow was amazing! The picture quality on the pillow was perfect! My daughter loved the sentiment and has slept with it every night since! I was very pleased myself with her reaction and the quality of the pillow itself.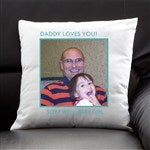 Most Beautiful Item I think I've Ever Ordered!
By
Betty W.

(Archer, FL) - January 6, 2013 (
See all reviews by this customer
)
This pillow is beautiful! Turned out more than what I would have ever expected!!!! It means so much to me as I had lost my daughter and it's just perfect for me as not only is it beautiful, I snuggle with it and it brings some warmth.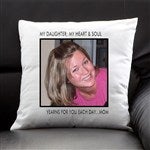 pillow keepsake
By
Shopper

(Carmel, IN) - January 2, 2013
Great quality...picture clear. Wonderful service. Highly recommend.

Perfect Little Pillow
By
Amanda R.

(Cape Coral, FL) - January 2, 2013 (
See all reviews by this customer
)
Loved the pillow. The picture was printed nicely & clear. Was extremely happy with the product and I plan on making one every year with our Christmas picture.

Good quality...better than expected.
By
Lisa A.

(Elk Grove , CA) - December 29, 2012 (
See all reviews by this customer
)
Nice quality pillow...and pictures looked great. Love the editing tools. Turned out even better than I expected. Bonus it was on sale. Great gift!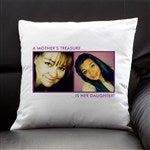 Continuous Outstanding Products and Service
By
Shopper

(Baltimore, MD) - December 28, 2012
I ordered many of my holiday gifts from Personalization Mall. The keepsake photo pillows were such a grand success! I sent this particular pillow to a lady who works with me. Her dog has a disease and will probably not be around for very long. I put a photo of her dog on the pillow, so she'll be able to have a wonderful memory of her beloved pet. Every product I have purchased has been packaged to avoid damage in shipping; always gets to the designated address; and my gifts have always made someone's day. Thank you, Personalization Mall, for your service. I will continue to patronize your business and I tell others how wonderful you are.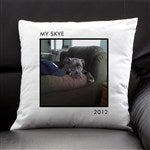 Great product
By
Jillian S.

(Kennebunk, ME) - December 16, 2012 (
See all reviews by this customer
)
I was hesitant because I put a collage on the pillow but it came out perfect. It is just a small decorative pillow but perfect for grandma to show case all of her grand babies.

Love this idea!
By
Shopper

(Mardela Springs, MD) - September 27, 2014
I really love this pillow idea. Just make sure the photos aren't dark.

Cute Personalized Pillow
By
Renee B.

(Elkhorn, NE) - September 19, 2014 (
See all reviews by this customer
)
Great for a gift for anyone. Bought it for Grandparents Day and they just love it. The picture however is difficult to crop if you do not have the right proportions in the first place. You are not able to crop one side and then the next. It is automatically adjusted in proportion because of the size of picture allowed. The site should allow to resize the picture itself instead of only cropping, otherwise very good product for anyone. I had to ad white on top and bottom in order for all the grandchildren to be included without cropping anyone off.