Awesome product!!!!
By
Lauren D.

(Arlington, TX) - March 10, 2013 (
See all reviews by this customer
)
This cookie jar was just as described!! Picture came out very clear and it looked just like the example it showed me!! Will use personalization mall over and over!!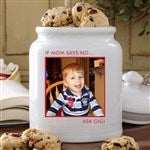 HONEY POT
By
Shopper

(Cathedral City, CA) - March 5, 2013
The beautiful personalized cookie jar you made for us is now a 'Honey Pot' and the permanent property of Boo-Bear. Thanks again for your excellent workmanship and customer service. Love, Russ & Dee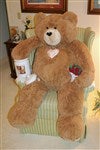 Cookie Jar and/or Candy Jar.
By
Shopper

(ANTIOCH, TN) - January 25, 2013
I purchased this for my secret sister. It is heavy, seals good and the picture and writing are excellent. I liked that I could pick the colors and the wording. I especially like the fact that I can see how it was going to look before I ordered it. I actually changed the color of the wording because of that. I thought the price was a little high when I ordered it, but when I received it, totally worth it.

Cookie Jar
By
Shopper

(Chesapeake, VA) - January 10, 2013
A bit over-priced but the personalization on it (photo & lettering) turned out great...much better and more professional looking than what I've seen on similar type products from other vendors! Very pleased with purchase and would definitely recommend site to others.

Excellent product
By
Shopper

(Vale, NC) - December 30, 2012
This cookie jar turned out terrific. We ordered it and received in less than a week. It looks great!! I have ordered in the past and definitely have friends that will order this since they have seen ours. Thanks again for another great product...

Gift
By
Annette H.

(Santee, CA) - December 30, 2012 (
See all reviews by this customer
)
Got this as a gift. It was a big hit. Quality was great the picture was clear. Highly recommend.

Cookie Jar
By
Stephanie W.

(Bronx, NY) - December 27, 2012 (
See all reviews by this customer
)
I got this for my parents and placed a picture of their five grandsons on it. What a beautiful surprise. The look on my mother's face was of full surprise. I don't believe she knew that doing things like this was even possible. Lovely!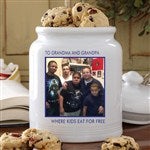 Cookie Jar
By
Jennifer K.

(Maplewood, MN) - December 27, 2012 (
See all reviews by this customer
)
The cookie jar seems to be high quality. The pictures on the cookie jar were very clear. It is a geat gift.

Personalized cookie jar
By
Deeona R.

(Moore, OK) - December 17, 2012 (
See all reviews by this customer
)
We ordered this cookie jar with pics of all grandkids for my mother-in-law. It turned out perfect. We haven't given it to her yet...it is for Christmas, but I know she will love it! We love it!!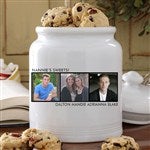 Great quality
By
Alexandra L.

(Falcon Heights, MN) - December 17, 2012 (
See all reviews by this customer
)
Photo looks great, text looks professional, high quality ceramic jar -- all as described on the website. Great personalized gift!

It is picture perfect!
By
Miriam Q.

(Minot AFB, ND) - December 8, 2012 (
See all reviews by this customer
)
I was hesitant when I ordered this cookie jar because I wasn't sure how the quality of the pictures would be. When it arrived it looked just as perfect as it did in the preview! It will be my husband's Christmas gift from the kids and I know he will cherish it forever (and I will get all my containers back now too, lol)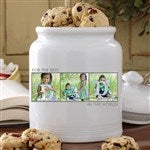 Fantastic Product
By
Shopper

(Canada) - December 7, 2012
I ordered this for my mother and I couldn't be happier. It is a nice big cookie jar and the pictures turned out very clear! Excellent product - would order for another family member - well done!

Memory Cookie Jar
By
Shopper

(Niceville, FL) - December 1, 2012
Ordered this for my son and his wife for Christmas. The picture is so clear and the words I chose were placed just as I ordered. Couldn't be more pleased.

Awesome Cookie Jar
By
Glynnis S.

(Henderson, NV) - November 29, 2012 (
See all reviews by this customer
)
I was extremely pleased with the options for personalized cookie jars, and then even more pleased when I received it in the mail. The cookie jar was good size, the colors printed very bold, and turned out exactly as it previewed. This was purchased as a gift and I am sure that the receipiant will be thrilled.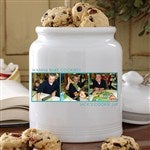 Great Cookie Jar
By
Scooter M.

(Nahunta, GA) - November 28, 2012 (
See all reviews by this customer
)
I loved this cookie jar. My friend collects cookie jars and is always looking for a unique one...what better way than to have her kids pics on it! Perfect gift for her!!!!

blurry pics
By
Shopper

(CHULA VISTA, CA) - May 3, 2013
pictures came out blurred.