Great Quality
By
Shopper

(Newnan, GA) - February 6, 2014
I loved this cookie jar. The picture and writing that I submitted to be put on it came out exactly how it looked on the computer. The cookie jar, itself, is great quality and the lid has a rubber part on the inside to help it stay sealed to the jar. I've only used it for pre-wrapped, store bought cookies, though. I haven't had a chance put homemade cookies in it to see how long they will stay fresh.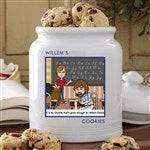 Excellent
By
Crystal R.

(Riverdale, GA) - February 3, 2014 (
See all reviews by this customer
)
Love love love! The quality of the picture was great.

Great purchase
By
Shopper

(Roseburg, OR) - January 14, 2014
It turned out really nice. Awesome gift! Very unique. I would definitely purchase again.

Perfect gift for that special someone
By
Tina B.

(Orlando, FL) - January 4, 2014 (
See all reviews by this customer
)
I put two pics of my boys on the cookie jar and personalized it. My mother absolutely loved the gift. It arrived at her house just in time for Christmas (2 days earlier than promised).



Very nice cookie jar- high quality!
By
Shopper

(Forest City, IA) - December 30, 2013
This is a very nice cookie jar! It's just the right size to hold lots of cookies, and one of the best features is the seal around the lid. It's seals up very nicely to keep the cookies fresh. I bought it for my mom, and we used it this past weekend with her cookies. It kept them very fresh. I could tell right away that it is a high quality cookie jar. The pictures looked wonderful on it, and the finish is very smooth. I am very impressed with it! I would buy this again for someone else, and I recommend it to anyone. It makes a wonderful gift for yourself or someone else.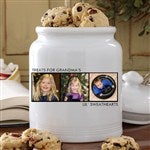 Love It
By
Shopper

(Compton, CA) - December 13, 2013
I bought one for myself and everyone just loved it! I decided to order one for my Mom and one for my sister as Christmas gifts! Quality is amazing!

Just the right size!
By
Marta S.

(Irvine, CA) - December 10, 2013 (
See all reviews by this customer
)
I offered this personalized jar to my Mother-in-Law for her birthday. It had the words: "Oma's cookie jar is always full!" and with a picture of my husband and our kids. She loved it! :)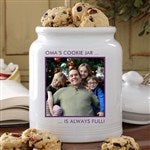 Good quality
By
Shopper

(Englewood, CO) - November 23, 2013
I am well satisfied with this product - sturdy, photo quality is great - would order another

A unique and useful retirement gift
By
Shopper

(Trevose, PA) - November 17, 2013
It would have suit me better to have a larger (more encompassing) picture displayed, however, it still worked with the one that was printed on it. The jar was of better quality than I had thought it would be and he printing was good also. Unfortunately I needed it sooner then later and had to pay for expedite shipping. If you do not have to do that, it is a good product for the price and regular shipping will get it to you relatively fast also. Liked doing business with this company.

Love cookie jar!
By
Shopper

(GILBERT, AZ) - October 6, 2013
I absolutely love this cookie jar! I purchased it as a thank you gift for my cousin and included three pictures. Amazing quality and pics are clear! Highly recommend this

Better the expected...
By
Nicole H.

(Oro Valley, AZ) - September 23, 2013 (
See all reviews by this customer
)
The cookie jar itself is much larger then expected. It's a nice quality and I will purchase another as a gift in the future. Overall I'm very happy with my purchase and would highly recommend this product.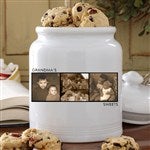 Very Nice!!
By
Shopper

(Garden City, MI) - August 19, 2013
Loved the cookie jar! A nice size jar and heavy duty, like how you can pick the color and put a picture on it, the only thing is that I thought the picture would have been a little bigger but other than that very nice! I love this company I have ordered quite a few things from them & will continue to, Awesome products & service!!

Excellent!
By
Shopper

(Juda, WI) - August 12, 2013
The quality of this item exceeded my expectations, which were high to begin with. The jar is very heavy, a large size, and the picture came out very crisp...no blurring whatsoever! It will be a wonderful birthday present for the intended recipient!

Grandaughters Cookie Jar
By
Shopper

(Austin, TX) - May 17, 2013
The cookie jar I ordered arrived quickly and we were very pleased with the quality of the picture transfer. The image was as sharp and clear as the one I downloaded. I would recommend this jar and might even order another one just like it.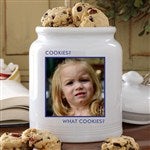 Perfect Present
By
Shopper

(Houston, TX) - May 8, 2013
I bought this for my husband for our nineth wedding anniversary, year for pottery gifts. I put an engagement picture, a wedding picture and a picture of us with our child. The caption read Our Sweet Journey...filled with love. The photos are fantastic they are clear and vibrant. The printing is fantastic. My husband loved the gift. The quality is above my expectations! It's perfect! Get this for any gift...make cookies to fill it and you won'tt go wrong!

Great Cookie Jars
By
Judith W.

(West JORDAN, UT) - April 1, 2013 (
See all reviews by this customer
)
What a wonderful surprise. This is a large porcelain cookie jar with a rubber fitted lid to stop your cookies from going stale. The personalization was clear and crisp. Buy one for yourself and you'll want to buy one for your daughter, daughter-in-law and one for your mother and mother-in-law. How about one for each season? Yes, they are that fabulous. Buy it, you'll love it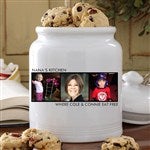 Love this
By
Shopper

(East Rutherford , NJ) - March 20, 2013
This is actually the 3rd one I have purchased. I have gotten so many compliments that I purchased 2 more for gifts. The jar is beautiful and heavy/sturdy. The picture quality is great. Love these!

Awesome product!!!!
By
Lauren D.

(Arlington, TX) - March 10, 2013 (
See all reviews by this customer
)
This cookie jar was just as described!! Picture came out very clear and it looked just like the example it showed me!! Will use personalization mall over and over!!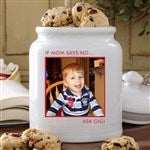 HONEY POT
By
Shopper

(Cathedral City, CA) - March 5, 2013
The beautiful personalized cookie jar you made for us is now a 'Honey Pot' and the permanent property of Boo-Bear. Thanks again for your excellent workmanship and customer service. Love, Russ & Dee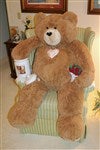 Cookie Jar and/or Candy Jar.
By
Shopper

(ANTIOCH, TN) - January 25, 2013
I purchased this for my secret sister. It is heavy, seals good and the picture and writing are excellent. I liked that I could pick the colors and the wording. I especially like the fact that I can see how it was going to look before I ordered it. I actually changed the color of the wording because of that. I thought the price was a little high when I ordered it, but when I received it, totally worth it.

Cookie Jar
By
Shopper

(Chesapeake, VA) - January 10, 2013
A bit over-priced but the personalization on it (photo & lettering) turned out great...much better and more professional looking than what I've seen on similar type products from other vendors! Very pleased with purchase and would definitely recommend site to others.

Excellent product
By
Shopper

(Vale, NC) - December 30, 2012
This cookie jar turned out terrific. We ordered it and received in less than a week. It looks great!! I have ordered in the past and definitely have friends that will order this since they have seen ours. Thanks again for another great product...

Gift
By
Annette H.

(Santee, CA) - December 30, 2012 (
See all reviews by this customer
)
Got this as a gift. It was a big hit. Quality was great the picture was clear. Highly recommend.

Cookie Jar
By
Stephanie W.

(Bronx, NY) - December 27, 2012 (
See all reviews by this customer
)
I got this for my parents and placed a picture of their five grandsons on it. What a beautiful surprise. The look on my mother's face was of full surprise. I don't believe she knew that doing things like this was even possible. Lovely!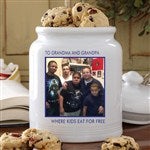 Cookie Jar
By
Jennifer K.

(Maplewood, MN) - December 27, 2012 (
See all reviews by this customer
)
The cookie jar seems to be high quality. The pictures on the cookie jar were very clear. It is a geat gift.

Personalized cookie jar
By
Deeona R.

(Moore, OK) - December 17, 2012 (
See all reviews by this customer
)
We ordered this cookie jar with pics of all grandkids for my mother-in-law. It turned out perfect. We haven't given it to her yet...it is for Christmas, but I know she will love it! We love it!!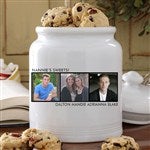 Great quality
By
Alexandra L.

(Falcon Heights, MN) - December 17, 2012 (
See all reviews by this customer
)
Photo looks great, text looks professional, high quality ceramic jar -- all as described on the website. Great personalized gift!

It is picture perfect!
By
Miriam Q.

(Minot AFB, ND) - December 8, 2012 (
See all reviews by this customer
)
I was hesitant when I ordered this cookie jar because I wasn't sure how the quality of the pictures would be. When it arrived it looked just as perfect as it did in the preview! It will be my husband's Christmas gift from the kids and I know he will cherish it forever (and I will get all my containers back now too, lol)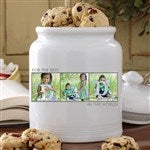 Fantastic Product
By
Shopper

(Canada) - December 7, 2012
I ordered this for my mother and I couldn't be happier. It is a nice big cookie jar and the pictures turned out very clear! Excellent product - would order for another family member - well done!

Memory Cookie Jar
By
Shopper

(Niceville, FL) - December 1, 2012
Ordered this for my son and his wife for Christmas. The picture is so clear and the words I chose were placed just as I ordered. Couldn't be more pleased.

Awesome Cookie Jar
By
Glynnis S.

(Henderson, NV) - November 29, 2012 (
See all reviews by this customer
)
I was extremely pleased with the options for personalized cookie jars, and then even more pleased when I received it in the mail. The cookie jar was good size, the colors printed very bold, and turned out exactly as it previewed. This was purchased as a gift and I am sure that the receipiant will be thrilled.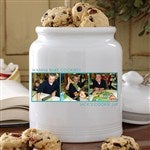 Great Cookie Jar
By
Scooter M.

(Nahunta, GA) - November 28, 2012 (
See all reviews by this customer
)
I loved this cookie jar. My friend collects cookie jars and is always looking for a unique one...what better way than to have her kids pics on it! Perfect gift for her!!!!

It was amazing!
By
Shopper

(Greer, SC) - June 23, 2014
I highly recommend this product if you're looking for something personal and high quality. The person loved the quality of the picture as well as the jar. The only thing I was not completely satisfied with was the "do it yourself" gift maker. It turned out looking okay but the materials were not of the same high quality as the jar and not worth the extra $4.75. But overall, I would definitely buy this cookie jar!

blurry pics
By
Shopper

(CHULA VISTA, CA) - May 3, 2013
pictures came out blurred.