PERFECT HOODIE
By
Alexis D.

(Hollywood Hills, FL) - August 15, 2014 (
See all reviews by this customer
)
This ir perfect for my niece who is turning 2.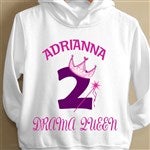 Birthday Princess Age 2!!!!
By
Donna I.

(Londonderry, NH) - July 28, 2014 (
See all reviews by this customer
)
My Granddaughter is turning 2 in August and she is having a Princess Party. I saw this shirt and thought it would be perfect for her to wear with a tutu and tiara. I love the shirt, so does her Mom and the quality is fantastic as usual.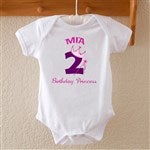 Cutest Birthday Princess
By
Shopper

(Lawrenceville, GA) - April 6, 2014
My niece was turning 3 and we were all scrambling to find her the cutest outfit for her princess themed party. I remember I bought a gift from here before and decided to look under the "favorite birthday gifts" category. When I saw this t-shirt I knew that was it. My sister said I was taking over but she couldn't get mad at the cute outfit that I found for my niece. Purchasing the t-shirt and pairing it with a pink tutu was the cutest outfit. Everyone loved it!!!! Personalization Mall is the BEST!!!!!!!!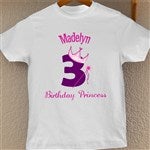 satisfied customer
By
Shopper

(Lafayette, LA) - February 1, 2014
I bought this shirt for my daughter's 6th birthday and she absolutely loves it. I will use this cite again.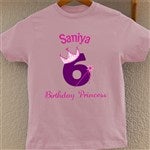 20th Grandchild
By
Shopper

(Chicago, IL) - November 10, 2013
2013 New Year's Eve, we will be celebrating my 20th grandchild's first birthday. I was very excited to find a perfect bib for the grand occasion. I love it and I know if she knew what was happening, she would love it, too.

adorable little shirt for a sweet little girl, looked great - so special, unique
By
Angela W.

(Rochester, NY) - October 27, 2013 (
See all reviews by this customer
)
My 2 yr old granddaughter looked so cute in her new birthday princess shirt. I was so glad I purchased this shirt for her to wear on her special day.

Birthday girl
By
Shopper

(McLean, VA) - September 21, 2013
I sent this out of state as a birthday gift. Although I didn't see it, I received a big 'thank-you' fom the recipients! They definitely planned on using it, and were very excited about it.

T-Review
By
Shopper

(Hyndman, PA) - September 21, 2013
Shipped in timely manner. Pleased with personalization.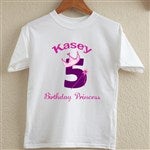 Granddaughter love it, it was a birthday gift
By
Shopper

(Algonquin, IL) - September 7, 2013
The product was nice and my granddaughter love it.

Perfect Custom Shirt!
By
Karen M.

(Chicago, IL) - April 16, 2013 (
See all reviews by this customer
)
Great Gift! Came quickly. Only suggestion, the ability to get the number 7 in different colors.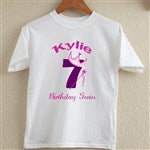 Very Pretty and Makes it a Great Gift!
By
Scarlett G.

(Downey, CA) - April 1, 2013 (
See all reviews by this customer
)
My little friend loved it, i totally recommend this product!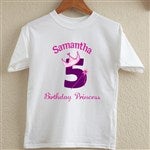 Birthday T-Shirt
By
Donna L M.

(Providence, RI) - February 28, 2014 (
See all reviews by this customer
)
I bought this for my niece's birthday. My sister really loved it. The only problem I didn't care for was the sizing. It was for 2T-4T. That range is too difficult. My niece is a tiny little peanut. You may think about offering one more size to cover everybody. Other than that, it was great! Thank you.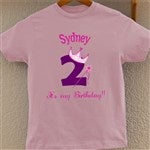 Cute nightgown with nice personalization options
By
Shopper

(Uncasville, CT) - May 5, 2013
This nightgown is a cute item especially with the ability to personalize with a Name, Age and your own phrase instead of a short list of choices. I needed size 6 but felt I should order the 7-8 because I feared the 5-6 might be too small. Upon arrival, I realized that the 5-6 probably would have been fine as the 7-8 is quite large. The material is soft but thin so this nightgown is for the cuteness factor and not for warmth. As it is a gift, I'm unsure of washing results.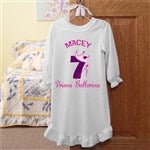 very pleased
By
kristie M.

(price, UT) - April 30, 2013 (
See all reviews by this customer
)
I order this birthday T-Shirt for my 2 grandaughter. The one grandaughter birthday is in May and the other is in Sept. I just order the two now to be sure I received them before their birthday. Didnt have to worry I order them on a Friday and got them the next Monday wow I was impressed. They are turning 4 I couldnt make up my mind on the size, until I read some of the reviews. One said they run alittle big, her 5 year old could wear it. So I decided to order the 2 to 4 and sure enough they were alittle big, but were ok. I was very pleased with this order. I will be sure to order again

Good Quality, Tough to Guess Size
By
Shopper

(Mount Joy, PA) - February 22, 2013
The t-shirt arrived and I was impressed with the overall look of the t-shirt and the quality. But, I was extremely disappointed in the size. I ordered the extra small youth for sizes 2-4 and it was like a dress on my two year old daughter. I didn't order the 24m infant size because I feared it would be too small, but instead I now have something way too big! It actually fits and is slightly big on my soon to be five year old son and my children are not short for their ages!

Cute but color is faded!!
By
Shopper

(Pawtucket, RI) - November 17, 2013
Was excited to get this shirt for my daughters 3rd birthday coming up. The sizes run big and the number on the shirt is faded a lot & small in size! It is not dark & the number big like they show you on the website. I don't know if mine just didn't come out right when they did the printing but it looks like it has been washed 20 times and is brand new.

Cute top!
By
Michele H.

(Lexington, KY) - March 11, 2013 (
See all reviews by this customer
)
This is a cute top but the color did fade when I washed it. It will be a good play top.