Great!!!
By
Shopper

(Decatur, IN) - July 8, 2013
This is a wonderful gift for a man celebrating a milestone birthday! I received it in a couple of days in plenty of time for the big day!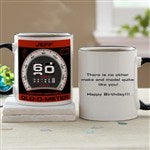 Quality
By
Debbie S.

(Plymouth, MN) - April 19, 2013 (
See all reviews by this customer
)
Love it! Good quality for price. Item looks exactly as site shows. Will order, again from you.
Delivered on time.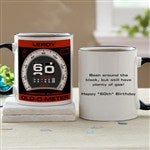 Great looking mug!
By
Shopper

(McKinney, TX) - April 1, 2013
Perfect gift! Very professional looking & great with the personalization! Couldn't ask for a better gift for an aging car-enthusiast!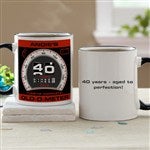 mug for birthday present
By
Shopper

(Waynesboro, GA) - April 1, 2013
Ordered this mug for a special birthday gift. It is everything I had hoped for. The quality of the lettering is excellent and I ordered it and in less than 7 days I had it in hand. I have previously ordered from personalizationmall and will do so again. I have never been disappointed.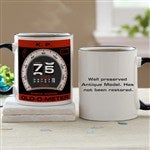 Love it!
By
Shelly M.

(Wauchula, FL) - March 29, 2013 (
See all reviews by this customer
)
True personalization and perfect for a guy!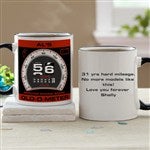 Wonderful Design
By
Joseph S.

(Bronx, NY) - October 1, 2012 (
See all reviews by this customer
)
Excellent gift, ordered it for my best friend's 30th birthday, he loved it, great use for the coffee lover, hot coco, or even as a keep sake! Great gift idea!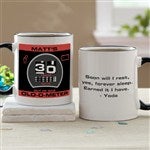 Quallity
By
Shopper

(Kernersville, NC) - April 29, 2012
Better than expected. Great gift idea!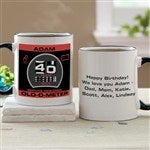 Great item!-Great Service!
By
Shopper

(tullahoma, TN) - April 21, 2012
I couldn't be more pleased with this item and with the quick service. First, I received notification that my purchase was being processed and would ship within 2 days after ordering. I then received it within a week of ordering. The quality is great and the price very reasonable. I will use this site again and highly recommend this site to anyone looking for a unique personalized gift.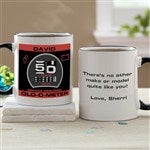 Love it!
By
Linda A.

(Central Point, OR) - February 4, 2012 (
See all reviews by this customer
)
This mug is quality work and I cannot wait to give it as a gift to our school principal!!! Shipping is lightning fast!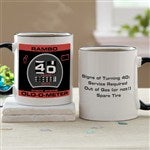 Great item
By
Shopper

(Uxbridge, MA) - December 14, 2011
This is a very clever gift. My friend loved it and said it was a very solid mug. Great product!

Terrific mug idea
By
Shopper

(Harrod, OH) - July 28, 2012
This is a fun gift to give! The price is good and the workmanship if perfect.
We are well pleased with this purchase and will no doubt buy more in the future.
Thanks.

Great gift
By
Janice Y.

(Delmont, PA) - May 21, 2012 (
See all reviews by this customer
)
We were delighted with our purchase. We would be happy to shop at Personalization Mall.com again sometime in the future.

Just what I was looking for!
By
Shopper

(Stanton, CA) - August 8, 2014
It is so hard to recognize a 50th birthday with all the ho-hum sayings. I wanted something different and got it! And I had fun creating it. Thank you for your fast service and quality work. You made it so easy to do and very reasonably priced!

Everything I expected
By
Robin C.

(Munfordville, KY) - August 19, 2014 (
See all reviews by this customer
)
I was very pleased with my order. The cup was exactly what it looked like in the picture.

Given as gift for brother's birthday!
By
Shopper

(New York, NY) - February 24, 2013
He said that he received item on time;
and said he loves his personalized cup!!
My brother says he will use for special occasions!

Excellent product
By
Shopper

(Mills, PA) - August 5, 2014
Got this mug to give as a gift and I am very happy with it. It is well made and the colors are nice.

Loved it!
By
Shopper

(Saint Augustine, FL) - November 22, 2011
I bought this for my husband's 40th birthday and it was perfect! I was very pleased when I saw the mug. My husband loves it and thought it was really funny. The mug is very nice and did not look cheap at all. the words are printed and not stickers which is very nice. I think it is something my husband will be able to cherish for years.
The only thing I think they could change is maybe have a few suggestions for messages on the mug. I am not that witty so I just used the example they had. Other than that it is perfect and I am thinking of getting one for my father when he turns 60 in a couple years! :-)

Oldometer Coffee Cup
By
Brandy W.

(Olney, IL) - November 21, 2011 (
See all reviews by this customer
)
Our birthday boy loved it! Everyone was asking where'd you find that and of course I gave em the web address!
Thanks!


Birthday Gift
By
Shopper

(Irmo, SC) - May 31, 2014
This was very creative. I loved it.

Soooo Happy
By
Kelly S.

(CLEVELAND, OH) - August 10, 2013 (
See all reviews by this customer
)
I am very satisfied with the mug that was made for my dad! Awesome! I definantely will be using this company again!

HUSBAND BIRTHDAY CUP
My son

very satisfied
By
Shopper

(Olean, NY) - February 8, 2014
Nice product.....quick service ..would shop here again

Great gift!
By
Shopper

(Okemos, MI) - February 24, 2014
I got this mug for my husband BD. He loves it :) Great size and quality! Super fast shipping! will shop here again.

Great Gift
By
Shopper

(Port Orange, FL) - June 11, 2013
I ordered one of these for my brother who turned 60, and he is not easily impressed. but loved the mug. I have ordered other ones for people approaching the big 60, 70 & even 80. I put the last of the 50's number appears as 59, etc. Very good quaility and all orders ship quickly.

quick delivery
By
Shopper

(Lady Lake, FL) - September 27, 2013
was very happy to get a personalized item so quickly.
It is so cute and can't wait to give it to our 90 year old friend.

looks great!
By
Christina G.

(Joshua Tree, CA) - August 24, 2012 (
See all reviews by this customer
)
This mug looks great. Everything from this site is fantastic!

Love this mug
By
Shopper

(Odenton, MD) - August 18, 2012
I ordered this mug as a gift for a friend celebrating his 65th birthday. The colors are good and I like the fact that you can add a personal message on it.
Well worth the cost.

Loved it!
By
Shopper

(Beaverton, OR) - August 23, 2013
I loved the oldometer on the mug. It makes a perfect gift for someone who has the ability to appreciate humor!

Birthday Gift
By
Shopper

(Waynesboro, GA) - March 22, 2013
Ordered this mug as a birthday gift. Can't begin to say how pleased I am with it. It exceeded my expectations. Presonalizationmall provided quality workmanship, service and a unique product. What more could you ask for??

Awesome!!
By
Noemi R.

(Columbia, SC) - January 23, 2013 (
See all reviews by this customer
)
Being my first purchase from Personalization Mall, I was simply hoping to get a decent product. I was pleasantly surprised by the quick delivery, the quality of the item and the packaging. My mug arrived and looked exactly as it displayed during the ordering process. Definite winner!