High School Sweethearts
By
Shopper

(Conway, AR) - February 11, 2014
I ran across this website one evening. I showed my son the website so he could be thinking about a gift for his girlfriend. He had me order this product. He was very pleased with how it turned out. I was too, except I wish we would have used a different picture cause it was a tad dark. Overall, we were pleased. I recommend this product.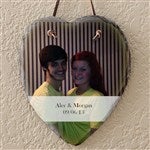 Awesome!!
By
Anusha C.

(SAT ANTONIO, TX) - August 19, 2013 (
See all reviews by this customer
)
Worth more than the price..the slate is lovely and perfect :)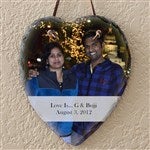 Something different
By
Bethany G.

(Charlton, MA) - February 15, 2013 (
See all reviews by this customer
)
I love the idea of photos on different medias. The heart shaped slate ended up being perfect for one of our wedding pictures and I can't wait to find the perfect place in our home to hang it.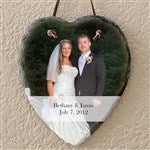 Happy Valentine's Day
By Shopper (Garden City, KS) - January 19, 2013
Best Valentine's gift for my love

PERFECT!!
By
Shopper

(Herndon, VA) - February 8, 2013
I loved it even better than I expected.

Personalized Heart Slate
By
Shopper

(Auburn, PA) - November 16, 2013
I ordered 2 of them, one for each of my children, both turned out wonderful,
very good quality. I would recommend this product.

very disappointed
By
Shopper

(Belmont, CA) - February 22, 2013
I ordered this plaque for my husband for Valentine's day. The original order got lost so it did not arrive till today. When I opened it the slate heart is very cute. However the picture and color is dull and flat. I might just throw it out. The picture I submitted was very clear.

nicely done
By
Shopper

(escondido , CA) - February 11, 2013
Love this it was dine well. I wish the white stripe would be less thick to show more pic, it was a bit smaller than I thought it woukd be. I would order it again.

Loved it
By
terri O.

(harlingen, TX) - December 27, 2013 (
See all reviews by this customer
)
I gave this a s a gift to a dear friend of mine and she cried! She loved it!

Awesome Memory
By
Shopper

(Cicero, NY) - December 29, 2013
This came out awesome! Did this as a memorial to my Mom, so I would always have a keepsake of her. The quality is great. If you have a picture of your loved one this is a great keepsake.

GREAT GIFT! LOVE IT!
By
Shopper

(Ashtabula, OH) - February 23, 2014
I GOT THIS FOR MY HUSBAND AS A VALENTINES/ANNIVERSARY GIFT. I PUT A PICTURE FROM OUR WEDDING DAY IN IT. MY HUSBAND WAS VERY TOUCHED. IT DEFINITELY GIVES MEANING TO OUR LOVE IS WRITTEN IN STONE. I THINK IT IS THE PERFECT GIFT FOR THAT SPECIAL SOMEONE AND THE FACT THAT IT IS GREAT FOR INDOOR AND OUTDOOR JUST MAKES IT THAT MUCH BETTER.

Great gift
By
Ashley S.

(Boonville , MO) - February 19, 2013 (
See all reviews by this customer
)
This was a gorgeous gift for my husband we both love it.

Second Time Around
By
Shopper

(Pflugerville, TX) - June 30, 2013
At first I ordered a photo plate. The picture was too fuzzy and it just didnt look good enough to give as a gift. When i complained, they were responsive and professional. Ultimately, they agreed that it didn't turn out well and gave me store credit. I immediately ordered the heart slate. It was classy and high quality. Photo was clear and the slate had a nice thickness. It was the perfect retirement gift for my co worker. I appreciate the customer service and definitely will order from this company again!

Europe trip
By
Susan E.

(Lockport, NY) - December 1, 2013 (
See all reviews by this customer
)
Beautiful. Great idea using slate. Will be one of those gifts you can't just go buy anywhere.