great
By
Vicky A.

(Jamaica, NY) - September 2, 2010 (
See all reviews by this customer
)
another great product by personalizationmall.com. being that it was my first time purchasing from this website i didnt expect much of it but i am very happy with this. its beautifully crafted and has nice weight to it.

great product
By
LOIS S.

(PENSACOLA, FL) - May 19, 2010 (
See all reviews by this customer
)
beautiful gift and would order again

You're #1 Keepsake Award
By
Eleanor C.

(North Syracuse, NY) - February 15, 2010 (
See all reviews by this customer
)
This was the PERFECT gift for my friend who helped me through a difficult health situation. What a smile it brought to her face when she opened your box. I am delighted with your engraving and your craftsmanship. Keep up the excellent work. I have found the perfect company to create my special personalized gifts. I enjoy doing business with your website.

it's great
By
Ella B.

(norcrosss, GA) - February 10, 2010 (
See all reviews by this customer
)
I just ordered this for my boyfriend and he loves it!! it's just like the picture and i can't wait to personalize one for my dad.

Perfect
By
Wendy C.

(Palm Desert, CA) - January 18, 2010 (
See all reviews by this customer
)
It's perfect! Exactly as shown! I am so excited about this gift! It's the perfect size! I love it!

#1 Keepsake Award
By
Haley F.

(Kingsport, TN) - October 14, 2009 (
See all reviews by this customer
)
I ordered this item for a Boss's day gift. This item turned out great and was exactly as promised. Item shipped also when promised and I had this in less than a week. Would order again from this company.

Great Quality, but much smaller than expected
By
Shopper

(Rochester, NY) - April 29, 2014
As always, Personalizationmall.com provied a great quality item, but in this case, the item was much smaller than expected. For the cost of about $30, I expected something much larger, but this item only stands about as high as a coffee cup. For $15, it would have received 5 Stars, but for $30, I could only give it 4 Stars

Nice but Small
By
Shopper

(Stone Mountain, GA) - February 4, 2014
I thought this would be a perfect gift for my boyfriend for Valentine's Day. I was super excited for it to come in the mail. When it finally came, and I opened up the package, the award was much smaller than what I was expecting.

Ok
By
Shopper

(Century, FL) - January 28, 2014
Not as big as I thought.... But my husband got the message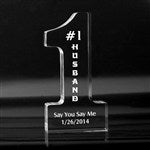 great keepsake
By
Amberly M.

(Knoxville, TN) - November 30, 2013 (
See all reviews by this customer
)
Coworkers and I got this for our boss. It isn't as big as the picture but it is perfect for her desk. She loves it!! I'm addicted to this website. I've ordered many things and will order many things in the future.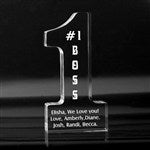 Grateful Mom
By
Belinda M.

(Rancho Cucamonga, CA) - May 25, 2013 (
See all reviews by this customer
)
Totally love this for my sons coach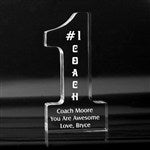 Sharp!
By
Shopper

(Canada) - October 23, 2012
Very well done! A bit smaller than the image tends to show but it's well done and looks great!

Small but worth it
By
Panhia L.

(Fresno, CA) - October 12, 2012 (
See all reviews by this customer
)
I bought this for my husband for Father's Day. He likes it, but when it arrived..it is smaller than what I expected. The quality was good though.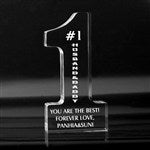 This is a great Gift but...
By
Katelin K.

(warrenville, IL) - December 19, 2011 (
See all reviews by this customer
)
I have loved everything about this little gift I purchased for christmas this year except it is much smaller than i woud have liked it to be for $30.00. It is still of great quality tho and the engraving turned out perfect but it just seems to small...it would have been nice to be about 20-30% bigger, but it will do.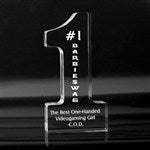 Awesome
By
Faye G.

(Dayton, OH) - February 14, 2010 (
See all reviews by this customer
)
I got this as a gift for my boyfriend who is in the services. It thought it was the best...He loved it

" Short", but Sweet
By
Lisa J.

(Pearland, TX) - February 11, 2010 (
See all reviews by this customer
)
I really am pleased with the overall product, but the image shown online makes the actual item itself "appear" to be taller/bigger than what it really is.

Number 1 doesn't measure up to its name.
By
Shopper

(Whitestone, NY) - March 23, 2013
This item looks so much bigger in the picture than the actual piece itself.

omg! it's so small!
By
Shopper

(Atherton, CA) - February 7, 2011
Darling, which is why i'm not completely freaked that I made this purchase, given it was for my child.
But otherwise...it's so small. I was reaaly shocked! I think it's dimensions sould really be highlighted in the description.
I've purchased other similar items from this website (the heart, etc) and was just really saddened and shocked by this items size. I bought a heart for another child and now feel badly that that is so much larger/nicer. ugh! It was less expensive too! PM doesnt make a heart for Mother/Son so I had to do this instead. Pretty sorry I did!!
Otherwise good quality! PM does a nice job.