Just the right token of my love
By
Charlotte M.

(Hanover, VA) - August 23, 2014 (
See all reviews by this customer
)
I bought this for my grandson, who will soon be leaving for basic training. It is the perfect gift and I know he will love it. It is a great bargain, great quality and arrived quickly. Thank you for creating this special gift for a very special young man.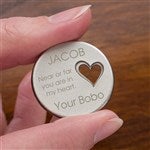 Great
By
kimberly M.

(munroe falls, OH) - December 16, 2013 (
See all reviews by this customer
)
I bought this for my son who is in the service. I have not sent it to him yet but I know he will love it. This is a saying I have told him for a few years now and am hoping he will carry it in his pocket-it is the perfect size!!!

Beautiful military token
By
Kristen C.

(Princeville, IL) - November 9, 2013 (
See all reviews by this customer
)
I wanted to give something to my husband before he deploys overseas for a year that he can look at to know he is loved. I wanted something small that wouldn't take up any space and he would be able to carry with him always. I looked all over and found this little token not much bigger than a quarter. It had a heart on it and was able to be engraved with the short, loving phrases we say to each other daily. This is the perfect gift I'd been searching for and I know it will touch his heart when he opens it. Thank you, I know I love it!!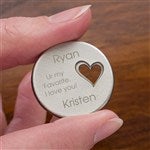 Better than expected...
By
Shopper

(Arlington, TX) - November 1, 2013
I knew it would be nice, but it was way above my expectations!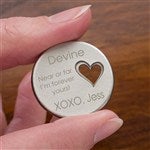 Perfect gift for someone going away
By
Danielle F.

(Felton, DE) - August 12, 2013 (
See all reviews by this customer
)
When my husband deployed I knew he only had limited space in his bags to bring stuff overseas so I wanted something personal but small enough it wouldn't take up too much space. This was perfect!! A short but sweet message and it had him grinning from ear to ear. He loved it and he can pull it out anytime he's missing me and know that I love him and I'm thinking of him!!

Excellent and Quick!
By
Shopper

(Holland, NY) - August 5, 2013
Excellent product for such a great price! Item was shipped very quickly and arrived in a nice, black velvet bag for carrying. I would definitely recommend this product :)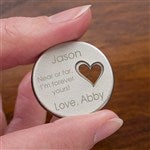 Nice reminder
By
Donna H.

(Metairie, LA) - July 8, 2013 (
See all reviews by this customer
)
I bought this for my husband, just becasue. It fits perfectly on his key ring and he has a reminder every day to drive safely and come home to me in one piece.
I also bought one for my daughter in law for my son to give her for their anniversary.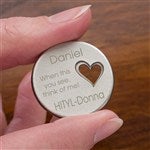 Perfect
By
Shopper

(Ladson, SC) - June 18, 2013
Nice quality. Perfect little something to give my husband as he deploys.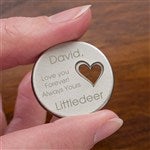 Loved it!
By
Shopper

(Roy, UT) - May 6, 2013
Loved this product. It is small enough my husband can keep it in his wallet or pocket but not too small that it will get lost.

Grand-daughter loved it
By
Shopper

(Carrollton, MO) - April 14, 2013
My grand-daughter got this for her dad who will be going away again to serve his country. It is so her dad will be able to take it with him and remember she is always with him. He was really touched by it.

Good buy
By
Shopper

(West Covina, CA) - August 1, 2014
Love this buy. Happy with my product. Would buy again or recommended to anyone.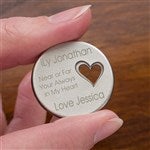 Perfect!
By
Shopper

(Las Cruces, NM) - January 24, 2014
I bought this as an anniversary gift for my boyfriend. Its nice so he can carry it with him always but isn't flashy like a piece of jewelry. The personalization was exaclty as I ordered it. Only reason I'm not rating five is because the piece wasn't as shiny or buffed as in the picture but its still very nice for the price.

Hard to read
By
Cynthia B.

(Overland Park, KS) - August 3, 2013 (
See all reviews by this customer
)
I ordered two one for each of my children. They loved them, although one was easier to read then the other one for some reason.

Nice Small Gift
By
MelissaTye W.

(Amarillo, TX) - July 8, 2013 (
See all reviews by this customer
)
This was perfect to send to one of friends serving in the military.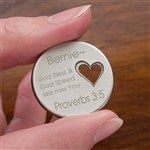 A little dull
By
Shopper

(Ashland, NH) - April 27, 2013
I order one and made a mistake in the personalization so be very careful looking over your personalization, the first one was shiny and came out very nice. The second one I ordered to fix my mistake is a little dull and a little hard to read. Overall still like it and hope I can shine it up.