Beautiful!
By
Amanda C.

(Elizabeth, PA) - June 19, 2013 (
See all reviews by this customer
)
Bought this for my husband for Father's Day. I put five pictures of my husband and son together (from the moment my husband held our son for the first time, up until a couple months ago) around it. It came out amazing. I made the photos black and white, and it came out looking expensive and classy, yet was under $20. Highly recommend.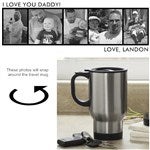 LOVE IT!!
By
Brittany S.

(tomball, TX) - June 14, 2013 (
See all reviews by this customer
)
I ordered this mug for my Husbands Fathers Day gift and I can not wait to give it to him! It turned out perfect and better than I expected! The mug is good quality and the pictures showed up great on it. I Love it and I know my husband will too!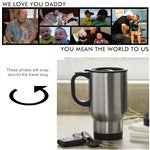 Wonderful gift!
By
Shopper

(Lenoir, NC) - June 12, 2013
I ordered this for my best friend and it came out so nice! It's for his birthday, but I'm not gonna wait that long to give it to him. He's going to love it! The quality is nice and the picture turned out great!

Great Mug
By
Patricia J.

(Naperville, IL) - June 4, 2013 (
See all reviews by this customer
)
Pictures look great. Looks really good on the travel mug

Awesome
By
Marlena K.

(Greenwich, CT) - May 25, 2013 (
See all reviews by this customer
)
My Mom absolutely Loved this coffee mug and as soon as she seen the pictures I put on it she started crying. I put 2 baby pictures of my brother and I and two pictures of us now, Me in College and My brother in the US Army. She couldn't stop crying with joy. I was thrilled that something so simple brought so much joy into her life :)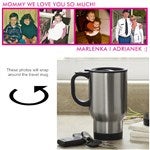 Loved It
By
Ashley D.

(La Mesa , CA) - May 15, 2013 (
See all reviews by this customer
)
I ordered this coffee mug for my mother in law and it came out beautiful. I've ordered this mug before in the black and white version, but this one with the color print and label option made it 10x better. Would definitely recommend as a gift.

Great Gift!
By
Shopper

(Holmes Beach, FL) - May 5, 2013
Surprised how well the photos looked! Quality of mug is also nice. I bought this for a father's day gift & can't wait to give it to him!!

picture perfect
By
Jeremy G.

(Plato, MO) - May 3, 2013 (
See all reviews by this customer
)
The wife was super happy with it as a mothers present. She took it to work to show it off and 3 of her coworkers wanted to know where i got it from so they could get one for there wives.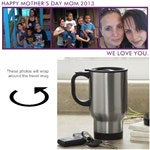 Travel photo mug
By
Meghan B.

(Braintree, MA) - May 1, 2013 (
See all reviews by this customer
)
Great mug...so happy with how it came out! Shipped quickly too :)

daughter's book cup
By
barb K.

(Bartlett, IL) - October 28, 2013 (
See all reviews by this customer
)
I placed my daughter's two published book covers on a travel mug for her - they turned out very well. I would have liked them lightened up a bit - but the covers themselves were dark green. I think she will be delighted and I look forward to adding covers to future mugs when she publishes her next novel.

Good, but not perfect
By
Matthew E.

(Menlo Park, CA) - July 19, 2013 (
See all reviews by this customer
)
If you need a car mug, this is one of the few options I've seen. It is a quality mug. The only downside is the pictures will be a bit dark and also - probably harder to fix - the shiny steel surface of the mug is so reflective that it makes appreciating the pictures a bit of a challenge. That said, I'm comparing this to the *stunning* clarity of the ceramic mugs we've purchased in the past. Would be great if PersonalizationMall could create some kind of a "matte white" decal beneath the pictures to give a better "canvas" for the photos.

That said, my recipient loved it, and it remains a solid option if you want a travel mug.

Very good travel mug
By
Shopper

(Chicago, IL) - May 20, 2013
Good value for purchase - only drawback was the pictures didn't seem contrasted enough from the mug, so it made the pictures a little less sharp / clear. But, overall was pretty pleased with it.

good
By
Shopper

(Elk Grove, CA) - April 8, 2013
Its nice in shape, good in quality, easy to use, the pics are clear

disappointed
By
Terri B.

(Mauldin, SC) - December 3, 2013 (
See all reviews by this customer
)
I ordered three of these mugs because I thought they were such a neat idea. They are a neat idea, however the pictures turned out so dark on the metal that you can hardly see them. When designing the mugs the colors looked great but that's not how they turned out. Yes, they will still serve a purpose as they are very nice mugs but the whole point as a gift was the personalization.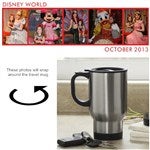 Like the mug but photos too dark
By
Shopper

(North Richland Hills, TX) - June 21, 2013
Loved the mug, but the photos were really dark. It was a father's day gift. My husband loved it. The photos that I uploaded were not dark photos so I was pretty surprised when I opened it and they were so dark. Other than that, the mug was good.


Disappointed
By
Helen M B.

(Vero Beach, FL) - October 11, 2013 (
See all reviews by this customer
)
This product did not allow me to see a "finished product" with my personalization. The pictures I chose are not easy to make out on the metallic background. If I could have seen it in its final form, I would have made a different choice.

I've always liked the items I order from this site, so I was very disappointed.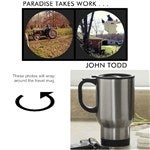 Great Idea
By
Shopper

(Rio Rancho, NM) - June 24, 2013
Ordering was very unclear. Asked a color but never told you what the color option was for. I chose Black since it was a first time fathers day gift for my son. Very unhappy with where the coloring showed up. Evidently the color option was for the picture surround. My picture was not dark but what had shown up on the mug was.

Get your shine on....ok, that's enough!!
By
Shopper

(Bar Nunn, WY) - June 18, 2013
Please note: I am not hard to please and buy many things based on reviews. Hope this helps someone. This mug itself seems to be of good quality. However, the combination of printing the pictures on the VERY SHINY mug doesn't make for a good product. The picture of the mug on the website shows very clearly seen images printed on the stainless steel...in real life, the mug is a bit darker metal and has such a glare that you can barely make out pictures. It was a disappointment for my husband's Father's Day gift. A PRICEY disappointment, at that!

Good mug without picture
By
Shopper

(Palm beach gardens , FL) - December 7, 2013
Very nice mug but the pictures did not show up. Wish the mug would be offered with a white background like the water bottle. The pictures show up well on that item.

Picture mug
By
Shopper

(Granbury, TX) - April 20, 2013
Picture did not show up well on mug. Mug not worth price paid. Only item I have been dissatisfied with from personalization mall.

Mug is great but photos are so dark you can hardly see them
By
Shopper

(Fort Lauderdale, FL) - April 3, 2013
The mug is great, it was shipped quickly - good quality I think - but the photos are so dark you can't really see them - my husband had to ask me "what's that a photo of?" and "who's that?" in the photo - so I would say that from this point of view it's a big disappointment, sadly, or else I would be ordering more. But the quality of the mug is great, quick shipping - just dark photos (and the photos I provided aren't dark, they are bright beach and ocean photos). But again, good quality mug.