Very Fast Service, Nice Price, Looks Professional!
By
Kraig H.

(Saint Louis, MO) - April 28, 2013 (
See all reviews by this customer
)
I ordered this for my wife's birthday, it's a month away, but I'm definitely sure it will be a BIG Hit out of several I have planned! All her favorite cats/pets are on one mug, including me of course! What more can you ask for!? She's going to have fun drinking her coffee or cocoa in the morning! She's a cat lover so i'm sure she's going to love seeing her favorite cats on one mug! Plus it looks very well done, not a sticker or print, looks like it was professionally airbrushed by machine and glossed/oven fired like any ceramics should be! I've seen junky mugs before, and this is NOT junky! Very well done! Plus it's 15oz, we hate those small coffee mugs. I'm AMAZED from when I ordered it to how quick it came also!? 2 days! The only problem now is waiting a month to see her expression!? Thanks Personalization Mall, you've always come through with the upmost professionalism & really have cool and professional gifts, not junk at all! We both love shopping here all the time! Another great purchase from this place! I thank you!

wonderful gift - arrived fast!
By
TAMI W.

(SPARKS, NV) - April 16, 2013 (
See all reviews by this customer
)
gave a special and unique to feel to a gift. Especially when you get them something all the time...

Beautiful mugs!
By
Sandra M.

(Chapel Hill, NC) - April 13, 2013 (
See all reviews by this customer
)
My friends and I love the mugs! They were easy to make from my photos. The result was beautiful, high qualiy mugs and a lasting memory of our years together.

Great Mug
By
Shopper

(Long Beach, CA) - April 9, 2013
This is a gift to my daughter and it looks so beautiful.

great more than i expected
By
Nairuz A.

(Arlington, VA) - March 18, 2013 (
See all reviews by this customer
)
i got this for the mother's day.mom loved very much. The quality is really good .I am of ordering more for each one of the family .thanks

My son loved this mug!
By
Shopper

(O'Fallon, MO) - March 10, 2013
I put photos of my son's wife and his baby girl on it w/ the caption "i love my girls. My girls love me." He absolutely loved it. When he opened it, I wish I would have captured on camera the big grin on his face. Pictures were reproduced perfectly and the names were in the perfect places for the photos. I will order again! Thanks Personalization Mall!

Special gift
By
Wendy B.

(El Paso, TX) - December 2, 2013 (
See all reviews by this customer
)
I was looking for something nice to give my team. By adding all the personal pictures and titles, I was able to create a very memorable gift for all their hard work. I would love to see the same thing done on a plate or a bag.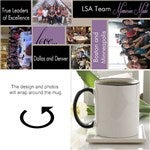 excellent quality!
By
Nicole S.

(Fort Wayne, IN) - October 8, 2013 (
See all reviews by this customer
)
I purchased & customzed this mug for a friend. It was nice to be able to preview what I made to get an idea of what it looked like. I was blown away at the quality of the mug once I got it. The pictures were vibrant and it just had a quality apperance overall. I was also impressed on how quickly I received it. I ordered it on a Thursday and it arrived on Monday!

Daddy loved his gift!
By
Stephanie W.

(Prairieville, LA) - June 22, 2013 (
See all reviews by this customer
)
My husband loves this mug. It almost made him cry when I gave it to him for Father's Day. The pictures turned out great, the 11oz. size of the cup is perfect and it seems to wash safely in the dishwasher. We've washed it several times in the dishwasher and there has been absolutely no fading. The glossy protective cover on the mug seems to do its job. He uses this mug close to every morning (if it's clean).

My only complaint would be that the top picture they advertise this mug with is thinner than an actual picture you wouild most likely use. The thinner picture allows the pictures below it to be flush to it. When you use your picture, which most likely would not be as thin, it makes a small gap. Even though it would look nicer without the gap, I got over this and am still very happy with how it turned out....gap and all. :)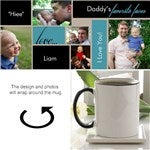 Favorite Faces Photo Mug for Father's Day
By
Jacqueline S.

(Pittsburgh , PA) - June 17, 2013 (
See all reviews by this customer
)
Great mug, great style and size. It took me a little time to figure out the process to pick the pictures and crop them through the website, but it all worked out. Two of the pictures turned a little yellow tinted otherwise I would give it 5 stars - they were natural light photos with no flash.

Mother's Day Gift
By
Shopper

(Foley, AL) - May 14, 2013
This is an amazing mother,s day gift. she will love it and may even bring tears to her eyes, well did mine anyway.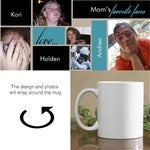 Great
By
Emily M.

(Canton, OH) - March 9, 2013 (
See all reviews by this customer
)
the mug is great and the amount of pics with the words you can put around them, the only thing is that you don't have the option of moving the pictures around the places that you want, so if you don't like how they fit on the mug then you have to start all over again after you know how the setup goes.

coffee cup
By
Shopper

(Washington, MO) - December 3, 2013
The pictures faded towards the bottom of the cup, but overall it was a good purchase

Great Buy
By
Kelly P.

(Boston, NY) - May 16, 2013 (
See all reviews by this customer
)
i bought this cup for mothers day, and she loved it. although im not sure if it is dishwasher safe, and the rim of the cup didnt come out as clean as i hoped it would.all in all though, it was a perfect gift