Return Customer
By
Shopper

(Baxley, GA) - September 15, 2014
I have had several orders from Personalization Mall, but this was one of my favorites. This mug turned out so good!!

Great idea that is easy and fast to design
By
Shopper

(Cape Coral, FL) - September 6, 2014
I have ordered more than one for gifts. The quality is great. The recipients were very thrilled with them. I was amazed at how fast they were delivered. :)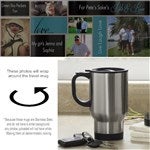 Loved it
By
Jacqueline E.

(Uvalde, TX) - June 28, 2014 (
See all reviews by this customer
)
I got this product special made for my bf. Two things that he loves are coffee and well me :) to be able to put both together in one was absolutely amazing. Now when I am far away every morning when he drinks his coffee it'll be a beautiful reminder of us.

Wonderful
By
Tricia C.

(reynoldsburg, OH) - June 24, 2014 (
See all reviews by this customer
)
I absolutely love it. It came out so perfect and I was very pleased. I definitely will be doing business again.

perfect
By
roger F.

(Claremont, CA) - June 21, 2014 (
See all reviews by this customer
)
Very nice and great idea..it helps to be able to get a gift so personal delivered especially when we live in different countries. .Thanks. .

Nice Mug
By
Shopper

(Granville, OH) - June 21, 2014
Item arrived as promised. Looks great. Pictures on mug turned out nice! Would def buy another one!

Beautiful product
By
Amy A.

(Stamford, CT) - June 20, 2014 (
See all reviews by this customer
)
I created a mug for my husband for Father's Day and it was easy to do and turned out beautiful. He was very impressed with the quality and loves having a mug with his "favorite faces" on it. I would recommend this product to anyone who asks.

Awesome travel mug
By
rachel R.

(winchester, CA) - June 19, 2014 (
See all reviews by this customer
)
We got this for my brother in law for work and after I created & purchased it I suddenly remembered I had bought him a stainless steel mug in the past and the photos we're very hard to see on it. When the mug arrived I was excited to see how clear the pictures were. He was extremely happy with his gift and I was happy I chose personalization mall to create it.

Love
By
Shopper

(Easton, PA) - June 16, 2014
I heart it and so did my husband!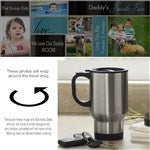 Great gift!
By
Shanna S.

(Crosby, TX) - June 15, 2014 (
See all reviews by this customer
)
I was so happy to see that the pictures were just as shown online. They're clear, and it definitely met my expectations! My hubby loved the gift, and I'll buy from this site again for sure :)

great quality
By
Shopper

(Peabody, MA) - June 14, 2014
I was very pleased with the quality of the mug itself, as well as with the color and clarity of the pictures.

love it
By
Vanessa M. N.

(San Jose, CA) - June 10, 2014 (
See all reviews by this customer
)
Super cute gift for my father in law. I'm sure he will love it as much as I do. The photos turned out really great!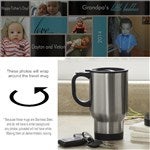 Favorite Faces Mug
By
Shopper

(Gardner, KS) - June 1, 2014
This mug came out wonderful! The pictures look great! The person we gave it to loved it! Uses it everyday!!!


Beloved gifts
By
Tara S.

(San Diego, CA) - May 31, 2014 (
See all reviews by this customer
)
I gave one of these mugs to each of the grandfathers of our two boys, with custom photos and sayings. The gifts arrived on time, looked terrific (in teal), and were a huge surprise hit. Both men seemed very touched by the personalization.

I give 5 stars, but for future buyers, I do have a couple things to mention.
1. The photos do look like they might easily get scratched up, so I think they should only be hand washed.
2. On one of the mugs, I wrote, "The Boys" as my phrase, but it printed out as, "Papa John's The Boys", so I didn't realize how the computer was going to arrange the phrases. It is sort of like Mad Libs. If I did another mug, I would just be more careful to follow their example phrases. I hope that makes sense.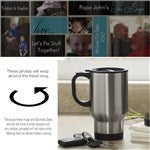 Favorite Mother's Day Gift
By
Jeremy E.

(Schertz, TX) - May 20, 2014 (
See all reviews by this customer
)
The ordering process was so easy...I did it on my Iphone! Shipping was fast and inexpensive. More importantly, the quality of the cup was amazing. My wife loved it and said it was her favorite Mother's Day gift!! She has used it everyday since!

Very Nice
By
Shopper

(Cincinnati, OH) - May 14, 2014
It didn't say the ounces and I was hoping it was bigger. But it looks to be very good quality. The steel was a little dark which made the pictures seem kind of dim. But she'll love having it and using it.

Perfect
By
META L.

(OWASSO, OK) - May 13, 2014 (
See all reviews by this customer
)
My girls grandma loved her Mother's Day gift... It is perfect!!!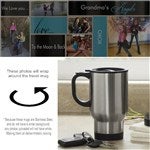 So very pleased
By
Shopper

(Pompton Plains, NJ) - May 9, 2014
This mug arrived quickly and I am amazed at the quality product it is. The mug is very durable and the uploaded photos, etc. are all very clear. This turned out very well for a gift.

Simply Adorable
By
sandra M.

(new york, NY) - May 7, 2014 (
See all reviews by this customer
)
This is an amazing gift I would recommend but it is a little hard to see the pictures, otherwise it is wonderful

Love my mug!
By
Shopper

(Robeline, LA) - April 4, 2014
This was my birthday gift from my son, and l love being able to carry my fave pics of him with me. Great color and detail on product.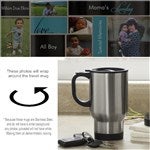 great coffee mug
By
Shopper

(Milwaukee, WI) - April 1, 2014
Loved it

Love it
By
Karlene D.

(Eau claire, WI) - March 18, 2014 (
See all reviews by this customer
)
Got this cup for my fiance after her mother passed andshe absolutely loved it. Pictures were crisp and I was scared they would wash off but after a week if wear and tear they haven't yet.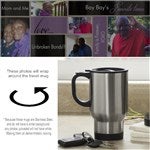 AWESOME quality and service from the company
By
pam W.

(Lakewood ranch , FL) - March 17, 2014 (
See all reviews by this customer
)
LOVE LOVE LOVE this mug! We have not had any issues with it leaking and the photos on the outside look fantasfic! Was a great gift from my husband and mom, wonderful customer service as well from the company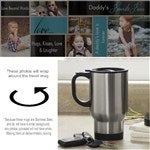 Unusual photo item!!! practical too!
By
shari S.

(Lawrence, NY) - March 15, 2014 (
See all reviews by this customer
)
Fabulous item and clear ordering procedure. Best to use pics with a lot of color!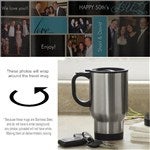 Awesome!
By
Dale O.

(Post Falls , ID) - March 12, 2014 (
See all reviews by this customer
)
There is no way you could make this travel mug any better! It is absolutely perfect! Amazing quality!! Just gorgeous! My favorite thing yet...& I do a lot of shopping here lol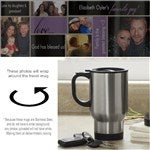 Priceless
By
Shopper

(Johnstown, PA) - February 16, 2014
I ordered this mug for my mother for Valentine's Day. It was her first Valentine's Day without my dad, who died of cancer last September. When she opened it and saw the pictures of her and my dad with their grandson, it brought tears to her eyes. It is very well made and a reasonable price.

Very good quality mug...
By
Linda K.

(Canada) - February 12, 2014 (
See all reviews by this customer
)
The only tedious thing was trying to make sure the pictures were oriented the right way as I had seen a review that they were not. It did take a lot of toggling and re-uploading and playing with the system for it to finally get it right but the mug turned out beautiful. The pictures are so crisp and the messages are just so clear as well. Love it.

Better than expected
By
Jana S.

(APO, AE) - January 12, 2014 (
See all reviews by this customer
)
Ordered this for my mother in law. I really wasn't sure how the pictures would look on the mug but they turned out great and she loves it.

Personalized travel mug
By
Julie G.

(Denver, IA) - December 30, 2013 (
See all reviews by this customer
)
These mugs turned out wonderfully. The quality is excellent. Pictures were downloaded off of facebook and are very clear. My mother and step-father were very pleased with these. Just can't microwave or was in dishwasher. It works great for someone who has a Keurig.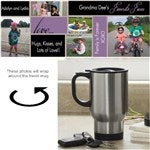 Great gift for the grandparents!
By
Nicole S.

(Skokie, IL) - December 29, 2013 (
See all reviews by this customer
)
I loved this gift when it came. The pictures were clear, and it looked exactly as I had pictured when I filled out all the information and uploaded the pictures. Very nice gift.

Very pleased!
By
Shopper

(Delran, NJ) - December 26, 2013
I got 2 of these mugs as gifts. I was very pleased w/ the quality. I was worried the pics would be too light, but they weren't I would definitely order again.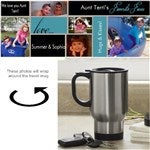 awesome travel mug
By
lori F.

(moundridge, KS) - December 25, 2013 (
See all reviews by this customer
)
I had no idea how awesome this travel mug would turn out! It is really beautiful. It is stainless steel inside as well-not plastic. The pictures are imbedded in the steel. The recipient doesn't get the gift until tomorrow but he will absolutely LOVE it. Well worth the money! A true keepsake! Thank you.

accurate ordera and fast shipping
By
brooke E.

(port orchard, WA) - December 22, 2013 (
See all reviews by this customer
)
This is a great site to personalize all sorts of great gifts and things for yourself or your family. I have ordered from here multiple times and not only gotten exactly what I ordered but with a great price and fast shipping. I have already recommended this site to friends and family and will continue coming here as my primary buying site. Good job guys!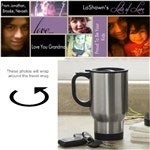 Great Gift for Grandma
By
Aerial O.

(Memphis, TN) - December 19, 2013 (
See all reviews by this customer
)
Great product.. Exactly as pictured... Pictures and writing clear... Excited about giving it...

Wonderful Gift
By
Shopper

(North Royalton, OH) - December 17, 2013
I ordered this as a present for my husband. It has a nice weight to it and doesn't feel cheap or flimsy. The finished product was way better than I expected! The
photos are clear and sharp. Overall a very attractive mug and appears to be of good quality, especially for the price!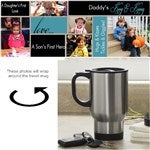 Amazing Laser Etching
By
Shopper

(Auburn, CA) - December 15, 2013
The laser etching is beautiful. The price is reasonable. It ships fast. I will definitely come back for more. Very Happy Customer!!!!

Love my Mug
By
Shopper

(Orange Park, FL) - December 13, 2013
This personalized mug turned out fantastic. Shipping was extremely quick. I will be a return customer. I have given this website to many friends. Thanks so much for your detailed work.

Great product
By
Shopper

(Milwaukee, WI) - December 10, 2013
This mug is exactly what I was hoping it would be. Great product!

SO pleased!
By
Ruth Ann C.

(Fairview, WV) - December 7, 2013 (
See all reviews by this customer
)
I bought this as part of a Christmas gift for my Momma, she will flip from excitement! It's SO great, it turned out beautiful! I couldn't be happier...great purchase!

Great Photo Travel Mug
By
Shopper

(Bridgewater, NJ) - December 5, 2013
I gave this mug to my mom for her birthday - she loves it - now she can see her grandkids and kids everytime she drives somewhere : )