So excited!!
By
Ashley J.

(Xenia, OH) - June 27, 2014 (
See all reviews by this customer
)
I could wait to get our canvas! Its on the main wall in our home and I cant brag enough about the quality its beautiful!! We love this site! We recommend it to all our friends and family!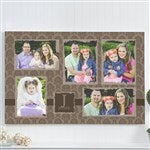 Perfect Mother's Day gift
By
Andrea C.

(Greer, SC) - May 7, 2014 (
See all reviews by this customer
)
I purchased this Collage for both my Mother and my Mother-in-Law. The quality of the prints and canvas is unbeatable. Not only was the quality terrific, the price and speed of delivery was exceptional. I have "created" and ordered many things from Personalization Mall and have been pleased with all of them. The products are well made and look just as good in person as on the website - sometimes even better! The price is so reasonable and the shipping is always fast and reliable. I will continue to use Personalization Mall for gifts for family, friends, and occasionally, myself.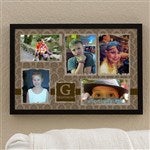 Early father's day gift
By
Shopper

(EVERET, WA) - April 8, 2014
It came out beautifully and quickly. My husband loved it. It was his favorite gift of the girls.

Collage canvas 12x18
By
Rhonda C.

(Saint Francisville, LA) - January 13, 2014 (
See all reviews by this customer
)
I was so pleased at how this canvas turned out! Great product and speedy delivery!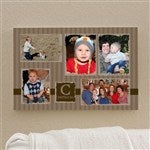 Photo Collage
By
Shopper

(Portland, OR) - January 2, 2014
The finished product was absolutely beautiful. The turn around was amazingly fast. We ordered on Saturday and received on Monday using the express shipping. I would highly recommend this product.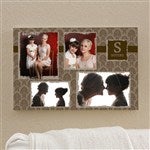 LOVE IT
By
Suresh L.

(Jamaica, NY) - January 2, 2014 (
See all reviews by this customer
)
i always love their canvas prints bcoz we have so many options n we can create so many beautiful prints. the quality of the prints r "unbelievable".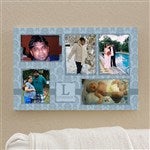 product features I like
By
Shopper

(arlington, TX) - December 24, 2013
Very good quality work. I ordered one for a gift it was so good I ordered one for myself!!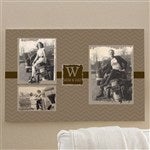 Picture collage
By
Hope A.

(Cameron, MO) - December 16, 2013 (
See all reviews by this customer
)
This collage exceeded my expectations. Looked very professional and quality was great. I will order from Personalizationmall.com in the future.

Never Dissaponted
By
Staci R F.

(Evans Mills, NY) - December 16, 2013 (
See all reviews by this customer
)
Ive ordered multiple times from this site. Always canvases as I just am in love, I ordered 2 framed and one not. Absolutely gorgeous, one was a memorial to my Grandmother and 2 were family photos of myself as well as children due to a recent divorce. Most meaningful and beautiful gifts you can give! Merry Christmas

Love it
By
Tania B.

(Atlanta, GA) - December 12, 2013 (
See all reviews by this customer
)
This was a gift for my parents. They loved it. They shipped it 2 days later. really nice and nice customer service. love it love it.

beautiful...
By
Shopper

(New Hyde Park, NY) - December 11, 2013
we made ours a wedding collage... and it came out beautiful!

Awesome
By
Shopper

(Leavenworth, KS) - November 25, 2013
My photo collage was so awesome and the turn a round time was amazing!! The price was just right and it was so easy esp. for someone who is not good on the computer. I love this site!! Thanks!!


Personalized Canvas
By
Shopper

(Lyons, KS) - November 23, 2013
Looked Great!

perfect collage canvas
By
christopher Z.

(Fernley, NV) - November 12, 2013 (
See all reviews by this customer
)
I paid $150 a few years ago through a professional photographer for my older sons senior portrait canvas collage. This time I really wanted to see if I could cut back on cost but not quality. I have ordered at least 100 items from this site in the last 3 years and I have never been disappointed. From ornaments to mugs, etc. I found this collage canvas for my younger sons senior portraits for $50. It was a wonderful size, and the result was BEAUTIFUL. It looks fantastic. I like it even more than the one I paid $150 for. I am so impressed with the quality, the size,(16x24) the colors, and the quick delivery.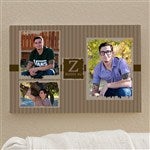 Beautiful
By
Rose W.

(Harlem, GA) - September 14, 2013 (
See all reviews by this customer
)
I bought this for my sister-in-law for Christmas. It arrived so quickly that I was scared when I opened it that it would be tacky and cheap looking. It was soooo beautiful and classy. Even my husband who notices nothing, said it was beautiful and wants me to order one for us and for his mother for her Christmas gift. Thanks for having such great products!

Pics for grandpa
By
Shopper

(MERRITT ISLAND, FL) - June 16, 2013
Very happy how this turned out

love this
By
Shopper

(Japan) - June 2, 2013
this is a gift for my husband . he loved it and said it was great! i haven't seen it in person yet.. but i seen only pic.... it sounds like a great product. i use Personalized Gifts 3.4 time alrady. this company had many many great stuff !!! i will order something again !

Picture Quality
By
Shopper

(Las Vegas, NV) - January 5, 2014
Overall the product looks great. I was just a little disappointed that 2 pictures came out darker than I saw them appear on this website. The quality said the picture was great. They came out ok. But it still looks nice.

Beautiful Printing!
By
Ashley T.

(San Francisco, CA) - December 14, 2013 (
See all reviews by this customer
)
I was very surprised to how well this product came out! It is beautiful and I know my Dad will love it for his Christmas gift. My only problem is that I thought it wasn't very secure in the frame. It feels a little loose, but doesn't effect the product at all.

Great gift!!!
By
Mary C.

(Nevada, TX) - November 19, 2013 (
See all reviews by this customer
)
I can't wait to give this to my mom for Christmas! I know she will love this! So happy!