Great purchase!
By
Shopper

(Duluth, GA) - September 20, 2014
The frame came in, and you can fit a lot of words onto the frame. The white colored "ink" is very solid. The product is awesome! My dad loved it! I wish it came with more protection or wrapped in more bubble wrap in the box. The package came in very safely and securely though, and I requested mine to be sent to my college dorm. It survived the huge mail room at my dorm.

Abosolutely Beautiful....
By
Robin O.

(Owensboro, KY) - September 17, 2014 (
See all reviews by this customer
)
I ordered this frame as a Christmas gift for my great neice to give to her grandfather. After receiving it I was showing it to my sister and I dropped it and broke it. My heart sank. I came home and re-ordered another one.
If you want a beautiful frame for the man in someone's life then I highly recommend this frame.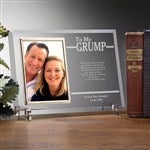 Wow!!
By
Nediva R.

(Cypress, TX) - September 15, 2014 (
See all reviews by this customer
)
I bought this for my boyfriends Birthday and edited everything on here to make it to him.you can change this from dad to anyone who is special to you. I put our 2 yr anniversary picture inside here.the quality o the frame is amazing!i loved it:)!the little glass leg holders are very cute and easy set down anywhere.im so happy with this product!thankyou!!

Loved it
By
Rebecca F.

(Kankakee, IL) - September 6, 2014 (
See all reviews by this customer
)
I purchased this frame for my Dad to give him on my wedding day. I loved that I could write whatever quote that I wanted on the frame. Not many websites let you do that. I also love that you can view it online before you purchase it. It turned out amazing once I received it. Better that I thought! He's going to love it!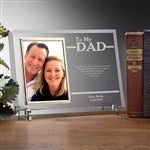 Love it
By
Shopper

(stamford, CT) - September 2, 2014
Arrived quickly and exactly as it looked in the proof.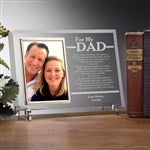 Beautiful Frame
By
Shopper

(Rutland, MA) - August 27, 2014
I gave this to my stepdad the day before my wedding. I had it engraved with the stepdad poem suggested on this website and it brought tears to his eyes. I can't wait to put of photo of us during the father/daughter dance. Stunning frame.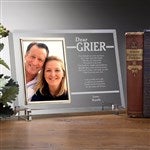 Very nice engraving
By
Shopper

(Madison, WI) - August 13, 2014
This frame looks very nice. The engraving is very clear and seems like it will last for a long time.
The first item that was shipped was broken into many pieces. I called Customer Service and they quickly sent a replacement.
Great product!

Love it
By
Katie M.

(Grove city, MN) - July 29, 2014 (
See all reviews by this customer
)
Great quality absolutley beautiful! Thank you

Awesome
By
Siri P.

(Westwood, NJ) - July 5, 2014 (
See all reviews by this customer
)
I just loved it so much. It was a gift to my husband n when he saw the frame n he read it he was so happy. I loved tge engraving on it.

Father's Day Frame
By
Shopper

(Amarillo, TX) - June 17, 2014
I bought this frame for Father's Day and personalized it. The product is very high quality and well made. Wonderful gift! Thank you.

loved it
By
Shopper

(Sacramento, CA) - June 16, 2014
The picture frame came out really nice and my son loved it.

Awesome
By
Shopper

(Moline, IL) - June 16, 2014
My wife got it for her Stepdad and he loved it.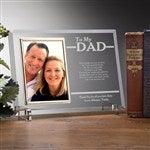 BEST GIFT
By
Shopper

(Potomac, MD) - June 11, 2014
I bought this as a wedding gift for my dad and it turned out perfect! I am so excited to give it to him! I had also bought this as a gift last year for my grandma for mother's day and she absolutely loved it!

Engraving Plaque
By
Joyce B.

(Manlius , NY) - May 25, 2014 (
See all reviews by this customer
)
A great product for commemorating special life events! Well pleased with product.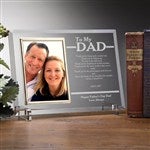 Frame
By
Lacey K.

(Mount Julier, TN) - April 13, 2014 (
See all reviews by this customer
)
This product was delivered fast and was very large! Very impressed and happy with this product! Can't wait to give it to my father!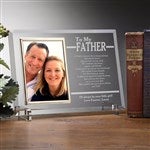 Helpful tips
By
Shopper

(Lakeland, FL) - April 8, 2014
LOVED this frame. It was high quality, delivered quickly, and came wrapped and ready to go. I definitely recommend.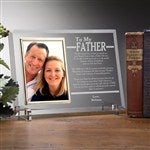 On point
By
Shopper

(Miami, FL) - April 8, 2014
Plaque came out perfect. Looked just as it did when I made it o the website.

Great Father of the Bride gift!
By
Shopper

(Houston, TX) - March 11, 2014
Great quality, beautiful design and excellent price. You can customize the text to anything that you want and preview your exact message before you order. I can't wait to give this to my dad before my wedding!

Great product
By
Mindy E.

(Fontanelle, IA) - March 6, 2014 (
See all reviews by this customer
)
This was received very quickly by my dad for his birthday. It was beautiful. Love it. Made him cry.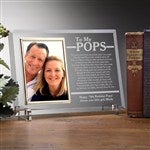 Great Product
By
Amaris A.

(Austin, TX) - March 2, 2014 (
See all reviews by this customer
)
I was very pleased with the engraved frame. It looks just like the picture, but even more beautiful in person. Also, it was delivered early, which was a plus. I ordered two of these, one for my father-in-law and one for my grandparents, and I will be ordering more gifts from this site in the future.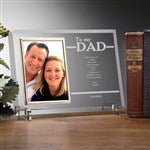 Very good gift:)
By
Shopper

(East Falmouth, MA) - January 27, 2014
I ordered this for my boyfriend for his birthday from his 10 year old son. I used the Sears photo of him and his son we took a few years back, and picked a very nice poem. These poems were nice because they could come from a kid, not just an adult. My boyfriend was wowed by the quality and said this gift was a hit! This gift looks even classier in person than what it looks like online. I think the personal photo added to the perfecton of this beautifully made gift.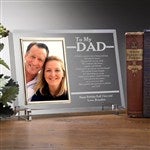 Wonderful
By
Bridget T.

(Modena, PA) - December 25, 2013 (
See all reviews by this customer
)
My Dad shed a few tears when he opened & read his gift so I am 100% pleased with my purchase. I think it will be hard to find a better gift than this!!!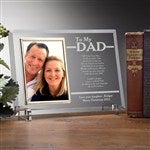 Such an awesome step-dad gift!
By
Crystal M.

(Renfrew, PA) - December 2, 2013 (
See all reviews by this customer
)
I loved how I could customize this gift to say "Papa" which is what my children call my boyfriend who is their 2nd dad. The message that was one of our choices had an amazing quote that is going to make him cry!

Beautiful tribute to Dads !!
By
Barbara B.

(Oakdale, CA) - November 9, 2013 (
See all reviews by this customer
)
When I opened this gift for my Dad I cried !! I wrote a beautiful tribute to him for a Christmas present. It just came out LOVELY !!

Great gift!
By
Nicole O.

(Lawrence, KS) - July 6, 2013 (
See all reviews by this customer
)
I got one of these for my dad and one for my step-dad for Father's Day. I'm putting a picture of me and them in each one from my wedding in June. I know they will both love them.

Sentimental and personal
By
Kelly D.

(Kirkland, IL) - June 14, 2013 (
See all reviews by this customer
)
My father in law is a very religious man, and a wonderful Dad. He appreciated this gift in the utmost!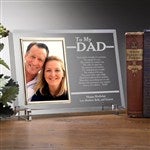 Fathers Day Gift
By
Leana S.

(Papillion , NE) - July 28, 2014 (
See all reviews by this customer
)
I ordered this for my husband as a Fathers Day gift from our 3 kids (4, 2 & 5 mos). I was out of town with the kids and wanted my husband to have a gift delivered to him to let him know we were still thinking of him. It turned out beautifully and my husband really loved it. I do wish the personalized part of the engraving with my kids names was larger and darker but other than that, I'm very pleased with it.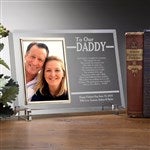 Hard to see writing
By
Crystal D.

(Richmond, VA) - June 10, 2014 (
See all reviews by this customer
)
The piece is very nice and sturdy. The ONLY problem is it is very hard to read the engraved part. In the picture it looks very clear, in person not so much.
I guess it will serve it's purpose!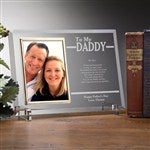 Proudly Displayed
By
Heather S.

(Lufkin, TX) - June 24, 2013 (
See all reviews by this customer
)
This was a Father's Day gift for my Grandpa. I thought the product I received was wonderful and of great quality. (Since I needed to place a picture in it I actually got to see this purchase before it was given to him!) I was very happy with the out come. It is now sitting in his living room and he says that everyone that has seen it since has made a comment on how nice it is. The only reason I didn't give 5 stars is I worry about the stand. There have been no incidents with it so far but the frame is rather heavy and the stand pieces are plastic. Thanks Personalization Mall for helping make me the one that always finds such "NEAT" gifts!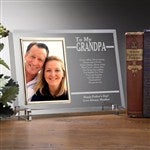 Misleading picture
By Shopper (Clinton, MA) - May 9, 2013
You can BARELY see the engraving on these frames. Sure it's easier to see in the photograph on this site when they have it placed in front of a dark background (notice how the shade grows darker once it gets behind the engraving - that's because it's almost impossible to see). The whole purpose of getting something like this is for the engraving, since you can't see it, it's worthless. I am far too embarrassed to give these frames to my parents and will have to spend even more money that I don't have on a different website to get better gifts.