adorable christening gift
By
Shopper

(Newtown, PA) - January 31, 2014
purchased for my niece on her christening day. Beautiful keepsake and great size to hang on wall, not too big (or small).

Her very own Angel
By
margaret C.

(Branford, CT) - January 24, 2014 (
See all reviews by this customer
)
This plaque is subtle yet religious enough for my Catholic standards. Just perfect as a christening gift for my niece. Personalizing the name makes it extra special. Plaque is a solid and substantial gift.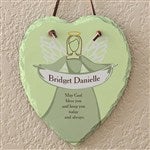 GREAT GIFT
By
Shopper

(MECHANICSVILLE, VA) - January 20, 2014
THIS IS A GREAT GIFT FOR A SPECIAL PERSON. ARRIVED AS EXPECTED AND PERSONALIZED AS EXPECTED ANOTHER GREAT PRODUCT THANK YOU.

A special Blessing plaque
By
Sue L.

(Massapequa, NY) - December 20, 2013 (
See all reviews by this customer
)
Such a pretty item which is delicate and so special. I most especially like the softer colors used and the options for wonderful sayings. I usually give crosses as a memento of a Baptism, but thought this was a better option since it was so unique.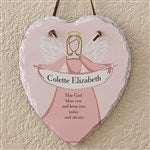 Two Little Angels
By
Shopper

(Henderson, NV) - September 15, 2013
I looked at several places to try & find gifts for a friends 2 little girls that were going to be baptized. These worked out great and are really lovely. I liked that I had a choice of what was to be written on them since I did not want them to be exactly the same, but wanted them both to be pink. I was able to get them both the same, but with a different verse on each one along with the girl's names. Perfect!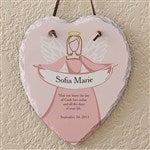 Great Christening Gift for my Niece
By
Michele C.

(Cleveland, OH) - August 25, 2013 (
See all reviews by this customer
)
Arrived very quickly! Very Beautiful and a perfect christening gift! The only thing I didn't like about it was the leather rope to hang it! I replaced it with a beautiful off white thick ribbon! It was perfect!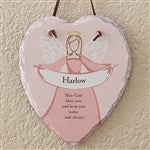 Timeless gift to carry thru the years
By
Shopper

(Butler, PA) - May 6, 2013
Our niece has a unique spelling to her name, and having the personalization ability is wonderful. we were very happy with the quality of the slate plaque and the lovely paint work.
She was so thrilled to see her name in the banner along with her prayer on her 1st Communion.
Very nice that is a pretty figure that can be age appropriate thru the years as she grows, and that was an important keepsake advantage.


Beautiful and made very good
By
Sherrie S.

(Tulsa, OK) - May 5, 2013 (
See all reviews by this customer
)
This was a lot nicer than I thought it would be. It is heavy and very durable. I would recommend this. I bought it as a gift.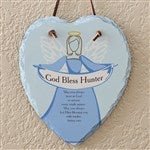 I love this site
By
sara jane J.

(indio, CA) - May 3, 2013 (
See all reviews by this customer
)
A Flawless item from this site again. :) clear writing and nice color print!!!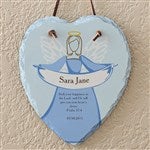 Beautiful!
By
Shopper

(Independence, MO) - January 16, 2013
Angel Blessings is exactly what I had hoped and more. The Bible verse I picked and the way the lining was done was perfect. I love it.

Nice :-)
By
Shopper

(Bartlett, IL) - November 20, 2012
Very happy with the order...would recommended to everyone...thank you!

Angel Prayer
By
William O.

(Oak Ridge, TN) - August 1, 2012 (
See all reviews by this customer
)
I was really impressed with this item because You can write Your own little prayer and put on it. I like items like this were they can really be personalized not just with the name.

Angel Plaque review
By
Shopper

(Albuquerque, NM) - May 8, 2012
Beautiful! Arrived exactly as shown.

Beyond my expectations!
By
Shopper

(Barton, VT) - May 5, 2012
This gift is for a 5 month old baby who is having her church dedication--perfect gift for the occasion.

Loved it
By
Shopper

(windermere, FL) - May 5, 2012
I got this gift for a friend. She absolutly loved it.

Angel Blessings Plaque
By
Shopper

(Grand Prairie, TX) - April 30, 2012
I ordered these for my nieces on their Confirmation and they loved them.

Great new baby nursery decor
By
Shopper

(Margate, FL) - April 17, 2012
I ordered this for my new bundle of joy and was greatly surprised by the quality of the plaque. It looks like it's on a piece of slate which is a durable material. The leather hanging strap is convenient since it's quite heavy. I'm very pleased with this purchase.

Angel Blessings
By
Shopper

(Easton, MA) - April 16, 2012
I was very pleased with the 4 plaques that I ordered and received in a very timely mmanner. I have ordered a fifth one today because I was very much impressed with the quality of the product and the quick shipment of same.

Much better than I thought
By
Shopper

(Armstrong, IA) - April 16, 2012
When ordering this, I didn't realize it was slate (just thought it was wood). When it arrived, I was so impressed with the quality and also that it was slate. I would definately recommend this to others.

Beautiful Plaque
By
Patricia T.

(Waterford, PA) - February 11, 2012 (
See all reviews by this customer
)
I purchased this for my grandson`s christening and it is more beautiful than I had expected. Nice personalization and very good quality for the price.

Perfect baptism gift
By
Shopper

(Tyrone, PA) - February 6, 2012
Beautiful verse and graphics. Exactly as pictured. Great gift that can be personalized to commemorate an important event.

Beautiful keepsake item
By
Piper B.

(North Myrtle Beach, SC) - December 3, 2011 (
See all reviews by this customer
)
We bought this for our granddaughter's christening and were very happy with it. It is exactly as pictured and the personalization makes it special. I like that it will hang in her room - with the date of the baptism printed on it - as a reminder of how special our little girl is. I will buy again from this company!

Great for a meaninful gift
By
Shopper

(Menifee, CA) - September 20, 2011
I used it as a baptism gift, n the parents of the baby loved it.

Beautiful Keepsake
By
Shopper

(Mission Viejo, CA) - June 26, 2011
Very pleased with these plaques! They are beautiful and a wonderful keepsake for my niece and nephew. When I showed them to my husband, he said "Wow those are cool!" Would definitely recommend them

Beautiful and larger than expected
By
Shopper

(Celebration, FL) - May 31, 2011
This gift was absolutely amazing! And it was SO nice that you could write your own msg and was well worth the purchase. Highly recommended

My baby's nursery
By
Tassia D.

(Charleston, SC) - May 24, 2011 (
See all reviews by this customer
)
I bought this plaque to hang on my first baby's room. The plaque is beautiful e really shows love. I was looking for a Christian blessing for her room and I found this out.
I recommend it!

Perfect Baptism Gift
By
Betsy V.

(Jersey City, NJ) - June 9, 2010 (
See all reviews by this customer
)
This is a very beautiful gift for a baby's baptism. The parents loved it and shipping was super fast! I can't get over how nice the plaque and personalization was. If I had my own baby - I would buy this again in a heartbeat! Thanks for allowing me to express myself with this gift!

Perfect
By
Monique C.

(Farmington Hills, MI) - March 23, 2010 (
See all reviews by this customer
)
I love my plaque. It is very sturdy, and everything I thought it would be and more. Personalization is my favorite website, whenever I buy gifts for special occasions this is my first and only stop.

Very satisfied customer
By
Carmela S.

(Canada) - March 4, 2010 (
See all reviews by this customer
)
I placed my order for the "Angel Blessings, personalized plaque" and I must admit at first I was a bit nervous purchasing any item through internet, but must say PersonalizationMall.com is so safe and very easy site to shop and to place your order. No complication at all and I was nervous that what you see on the screen is sometimes not exactly what you will receive but again I am more than happy to say that receiving the Angel Blessings personalized plaque was exactly, if not, even more beautiful than what I saw on the screen. Definitely recommend the Angel Blessings Plaque as it is truly beautiful and the versus to choose from are so valuable for you, if this is for you, or if it's a gift to give will be very valuable to the person receving it.

It is very clear that PersonlizationMall.com does care to give their customers great quality satisfaction as I am truly a very satisfied customer. Thank you for the great service and for the quick delivery too!

Repeat customer for sure,
Carmela
Montreal, Cananda

My Mommom Is My Angel
By
Cynthia W.

(Saint Cloud, FL) - December 22, 2009 (
See all reviews by this customer
)
The plaque was beautiful!! My Mom made it to see Baby Ethan's Sonogram, to see that he would be another Great Great Grand baby but Mommom had passed away before he was born & he will always know that she was their to share finding out the sex of our new little Guy!! She will be his Angel in Heaven looking out for him from above. This plaque has made this time very special even though it was so sad!!
Thank You for such a beautiful Gift to have as a special forever keepsake!!
Cindy W.

Lovely!
By
Donna S.

(Philadelphia, PA) - December 1, 2009 (
See all reviews by this customer
)
This piece is exactly as represented and looks even nicer in reality. Any friend or loved one would appreciate this gift.

Excellent
By
Marie G.

(Long Island City, NY) - October 16, 2009 (
See all reviews by this customer
)
I was very pleased with the Angel Blessings Personalized Plaque. At first I was a bit worried because it required it being written in Portuguese and not English but it came out perfect. Excellent work and I look forward to buying with you again in the future.

Hope
By
Amanda H.

(Shelocta, PA) - October 8, 2009 (
See all reviews by this customer
)
This was a perfect gift for my 2 yr. old nephew, Michael. He is battling Cancer and this is one of the many angels that surround him. My sister and brother-in-law always keep it close. The craftsmanship is amazing for the price. Very satisfied with my purchase.

It show your love
By
Natty D.

(tannersville, NY) - October 1, 2009 (
See all reviews by this customer
)
It's so nice and beutiful and the statement means alot. It state you care and want the best for that child and are blessing him or her.

something different
By
Shopper

(Staten Island, NY) - May 17, 2012
Gift for a communion. Liked that you could personalize the prayer as well as the name.
Shipping was VERY fast but "gift wrap" was not worth it. It just consisted of tissue paper
in a box with an elastic band around it.

Great baptism gift
By
Deborah C.

(Wake Forest, NC) - June 27, 2011 (
See all reviews by this customer
)
Ordered this as a baptism gift and loved it. It was a nice size and weight for the price and was printed as requested. I would order it again.

Nice gift
By
Shopper

(Broadview Heights, OH) - May 28, 2011
The plaque came as described/shown. Nice quality. The only reason I didn't give it a 5-stars is that I wish the font for the bottom half wasn't quite so generic/boring. It would have been nice to pick a prettier font, or had one that matched the top half. Otherwise quality item, neatly made, packed/shipped well.

Pretty Plaque for Communion Commemoration
By
Shopper

(Elm Grove, WI) - April 17, 2011
I selected this heart plaque as a gift for two girls who will be marking that significant childhood religious milestone: First Communion. I was pleasantly surprised that the order arrived within a week. I was very pleased with the quality, and I know both girls will feel how special it is to have a personalized gift, with a saying just for them. It's a nice feature to be able to create your own saying. I would recommend this for value, quality and creativity.

Rose Marie
By
Rose Marie C.

(Thousand Oaks, CA) - October 27, 2009 (
See all reviews by this customer
)
I am pleased with the purchase of the Angel Blessing, and only hope it will last for a very long time.