Personalized Glass Frame
By
Theresa G.

(Antelope, CA) - April 29, 2013 (
See all reviews by this customer
)
The frame is beautiful, and the wording that I requested was very professionally done. I am very pleased.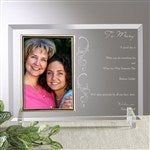 ALMOST PERFECT
By
Rose M S.

(Oakland Park, FL) - April 19, 2013 (
See all reviews by this customer
)
Big pluses: value, price, discount, quality, prompt shipment, and most of all chance to compose an original poem with ample # of lines. Only issue - engraving print is white and a little difficult to read on glass - darker print would be better contrast if possible. I may put a dark or navy cloth or felt behind. In any event know my mom will love it - unique idea.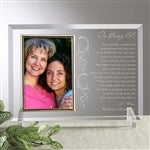 Very Elegant
By
Lacey G.

(Elyria, OH) - April 7, 2013 (
See all reviews by this customer
)
We used this frame for our aunt. she has done so much for our wedding and we just wanted to give her a little thank you to show our appreciation.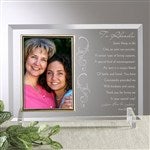 Amazing
By
Shopper

(Poughkeepsie, NY) - May 13, 2013
This was a gift from my sister and me to our mother. She was amazed & loved it. By far, the best Mother's Day gift !

Even better than expected!
By
Shopper

(Las Vegas, NV) - May 14, 2013
I had purchased picture frames from this site in the past, and found the product to be appropriate for the price. I was searching for a Mother's Day gift and decided I would give this frame a try. I liked that you could create your own poem without an extra fee and that it was on engraved glass. I received the product exactly as quoted for my shipping level, and boy was I surprised when I opened the box. This frame is absolutely BEAUTIFUL!! The engraving is perfect and the delicate design makes this frame seem ultra elegant. I would have paid double what I paid for this if I new the excellent craftsmanship of this frame. The only thing I would change is that the "feet" holding the frame are made of plastic and not glass, which was a little let down. But overall, I am very satisfied.

Special Gift For Aunt and Uncle at my wedding
By
Shopper

(Crown Point, IN) - May 6, 2013
Love the options for this gift. I made it for my Aunt and Uncle to say Thank you for walking me down the aisle. My parents are no longer with me so I needed some thing to say Thank you for being my special stand in for my parents. The only thing that I did not like was the Heading of Aunt and Uncle and my signature was in a script that was harder to read. Otherwise this is the perfect gift. Very fast shipment, A+

100th Birthday Party
By
KEVIN H.

(THORNTON, CO) - April 28, 2013 (
See all reviews by this customer
)
I was very impressed with the glass frame, the quality is a 5 star rating. I would recommend this site to all my family and friends.

Great Product
By
Shopper

(Los Angeles, CA) - April 30, 2013
This product is wonderful!! I bought it for my mom as a graduation gift. I want to thank her for all the support in obtaining my bachelor's degree :) I was satisfied with the product indeed. I just think that the letters should be much darker so you can view them better when the frame is by the sun. Other than that it is GREAT!!

Perfect!
By
LaNedra G.

(lauderhill, FL) - April 29, 2013 (
See all reviews by this customer
)
This gift was purchased for my Mother on my wedding day! She loves it!

Good quality, hard to read
By
Shopper

(Tucson, AZ) - May 13, 2013
The item is beautiful, but a little hard to read. When you have multiple lines, it sort of distorts the viewing area. It will work though!

awesome
By
Shopper

(Buda, TX) - January 2, 2014
this photo frame is totally cute a great value and a great present i am so happy how it turned out

Excellent item!
By
Frank P.

(Albuquerque, NM) - December 27, 2013 (
See all reviews by this customer
)
Normally, you would expect to pay a lot more money for this type of quality. The packaging and presentation was top notch and I received the item a lot sooner than expected. Highly recommended!

Perfect!
By
Deborah W.

(New York, NY) - December 22, 2013 (
See all reviews by this customer
)
Purchased this as a Christmas gift for my daughter. I am very pleased with the quality, size & personalizing of this item. It fit my needs perfectly & I know my daughter will be surprised & touched when she opens it on Christmas morning.

Wonderful gift!!!!!
By
Shopper

(Centreville, VA) - January 24, 2014
I was looking for something special for my mom to give her as a "thank you" for my wedding day. I had looked MANY places, but couldn't find something that I could customize on my own. This glass photo frame looked lovely online, but it is even better in person!!! I am so pleased with this frame and would recommend it to anyone looking for a personalized gift. Also, the price was resonable and the product was delivered quickly!

Loved it
By
Natalie B.

(Glastonbury, CT) - April 14, 2014 (
See all reviews by this customer
)
I wrote my own message to my mom as a gift for my wedding. My fiance got one for his parents combined... And i got one for my mom & one for my dad. I gifted them to my parents at the rehersal dinner and my mom cried!!! Such a great gift

It was perfect!
By
Shopper

(Houston, TX) - March 25, 2014
It was well done. It looked exactly as it is online. It was so carefully packaged for shipping that it could not have broken in transit. The gift box made it super perfect in presentation. Always get one! My Pastor loved her gift!

"Priceless" Gift!
By
Joann K.

(Brighton, MI) - February 12, 2014 (
See all reviews by this customer
)
Received this from my recently married son for Christmas. He personalized it with a couple of stanzas from the "Mom & Son" song we danced to at the wedding reception along with a collage photo of us dancing together. I told him that although there was an actual dollar value to the gift, to me it was priceless and will be treasured forever.

Very pleased
By
Shopper

(Lawrence, KS) - July 5, 2013
I ordered this for my mom hoping for the best. It turned out beautifully! I am very pleased with it. The only thing I would change would be the color around the photo. It is gold, and it would look better in silver, in my opinion.

Dear Mom Poem Personalized Glass Frame
By
Shopper

(Seaford, NY) - June 3, 2013
I loved it. Great quality. The only thing I wish was different was that the letters were either a little bigger or written in color as it can be a little hard to read. Other than that, I was very satisfied with the product and service. It was packed really well.

mothers day
By
Jasmine A.

(Bayonne, NJ) - May 18, 2013 (
See all reviews by this customer
)
My mom loved this product! The poem really touched her, it was a great gift at such an affordable price.

Excellent Quality
By
Shopper

(Nashua, NH) - July 23, 2013
I ordered this frame and customized it in order to use it for a maid of honor gift for my little sister. The writing looked wonderful and the quality was amazing. You will not find a better deal.

Great value
By
Shopper

(Buda, TX) - December 16, 2013
This frame is very well made and a very nice piece i am so happy with my purchase.

Very sastified
By
Shopper

(euclid, OH) - October 25, 2013
This was a very pleasing gift&made my sis so happy because she already has everything&its so hard to shop for her I'm glad I was able to please her with this unique/personal gift

amazing
By
Shopper

(Streamwood, IL) - August 31, 2013
This was the perfect gift for Mother of the Bride/Mother of the Groom.
The engraving is beautiful and clean cut. It looks a lot more expensive than it costs.
I like that you can create your own poem or use their poems with your own edits/changes.
will definitely buy from here again!!!! Shipping was so fast. We received the item within a few days of placing the order!