Great!!!!!!
By
james H.

(columbia, SC) - September 1, 2013 (
See all reviews by this customer
)
This item is awesome not to big not to small .Mom will like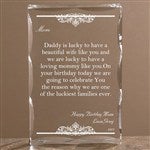 Wonderful Gift
By
Danny W.

(Great Valley, NY) - August 26, 2013 (
See all reviews by this customer
)
This is a wonderful gift. Cards are great but being able to personalize a letter to your loved one takes it one step further.

Loved it!!
By
Shopper

(Riverside, CA) - July 2, 2013
My mom absolutely loved it! It's so beautiful and perfect. I was able to get it on time too. I was so happy I ordered this amazing gift from this place.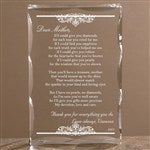 Very good quality
By
Amanda B.

(Canada) - June 10, 2013 (
See all reviews by this customer
)
the first thing I noticed was the weight, this product is heavy and you can tell it is good quality! Secondly, the inscription is very clear and easy to read despite I wrote a lot of personalization. The fact the personalization is free is fantastic. My future mother in law is going to love this! Highly recommended....and write your own inscription!

Loved it
By
Shopper

(corpus christi, TX) - May 31, 2013
I'll recommend it. It was a perfect gift. Thanks

Perfect!
By
Mercedes A.

(Secane, PA) - May 21, 2013 (
See all reviews by this customer
)
Awesome mother's day gift!
We got it for my mom and chose poem one (out of all the poems, that one was perfect for our circumstances and new it would mean something to my mom). I signed it from all of her kids and her grandbaby. I knew she would love it, but I didn't know it would bring tears to her eyes! So glad I got this for her!

Came out perfectly!!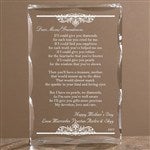 Magical
By
Shopper

(Italy) - May 21, 2013
I sent this to my mom for mother's day because i am currently away working overseas at a hospital so I knew I wasn't going to be there with her. I sent this to her and she receieved it on time and it was beautiful like the picture said it would be. It definitely made her cry. Thanks.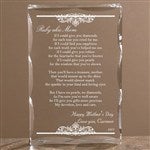 Absolutely great
By
Kimberlee A.

(Toledo, OH) - May 20, 2013 (
See all reviews by this customer
)
Personalized this for my mom for mother's day. It came out perfect & she loved it. Shipping and product quality are excellent. Had some questions prior to ordering, & cust service was so helpful & professional and friendly. Great product that can be personalized/customized and given for any occasion and the person will be thrilled. It's so nice that you can preview exactly what the item will look like with your personalization before you submit the order. All around A++. Thanks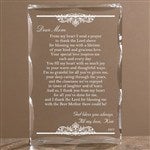 Beautiful
By
Shopper

(Fisk, MO) - May 18, 2013
I bought this as a gift for Mother's Day. My mom absolutely loved it and so did I!!

Retirement Present
By
Karen T.

(Schererville, IN) - May 15, 2013 (
See all reviews by this customer
)
I wrote my own poem for a friend for her retirement. Everyone loved it!!! Great quality and was sent within a week!

Awesome
By
Kimberly T.

(Denham Springs, LA) - May 13, 2013 (
See all reviews by this customer
)
This is a very sturdy, nice sized, solid piece or work. Absolutely wonderful!!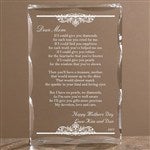 satified customer
By
david S.

(sweetwater, TX) - May 5, 2013 (
See all reviews by this customer
)
I was very satified with my purchase.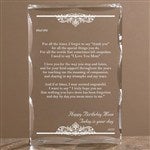 Great Item
By
Kristofor H.

(Jamestown, KY) - May 4, 2013 (
See all reviews by this customer
)
I couldn't be happier with this item. Better than I had hoped and great price.

Beautiful gift
By
Joni H.

(Oak Point, TX) - May 4, 2013 (
See all reviews by this customer
)
I created my Mother's Day keepsake with my own words from my heart. When my Mom read it she cried and said it was the best gift she could ever get. The quiality is wonderful, the boxing and shipping was very professional. I love every bit of this gift!

Perfection at it's Finest
By
Geoffrey T.

(Hopewell Junction, NY) - March 24, 2013 (
See all reviews by this customer
)
I needed to think of something personalized for a woman who hates gifts, is picky as can be, and really deserves something nice. I went to Personalization Mall for her Christmas gift so I figured why not try and come back for the birthday. I did quite a bit of searching to find the right gift and once I found this awesome idea I set my mind to writing her a poem.

There was so much freedom and liberty in what I wanted to put in there, the amount of space I had to do it, and how I wanted it structured. The end result was about 25 seconds of silence as she read and a continuous stream of tears when she was done.

I call that--Perfection at it's Finest.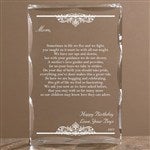 Mother wedding gift
By
Shopper

(Columbia, MO) - January 3, 2013
Excellent quality and such a special gift for my Mother on my wedding day! Great company and quality!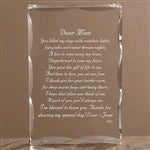 awesome
By
Markita T.

(Follansbee, WV) - December 30, 2012 (
See all reviews by this customer
)
I was so happy with this product at first I was skeptical but after seeing it I know ill be ordering similar products from this sight! I got this for my sister in law for her birthday I love that you can write your own message and everything!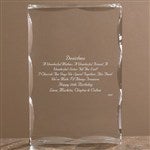 Keepsake
By
Karen D.

(brookwood , AL) - December 23, 2012 (
See all reviews by this customer
)
I made my own...I lost my dad this year so I put my own message on it I found the poem broken chain along with a dedication to my dad at the end and engraved it on this ....It turned out so beautiful!!!!!! I bought one for each member of my family I highly recommend this to everyone this company does awesome work!!! and quick shipping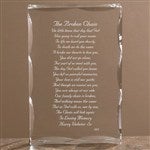 Personalized letter
By
Shopper

(Meridian , ID) - December 16, 2012
I purchased this item and I love it. The web site was easy to use and I received my product quickly. It turned out to be very lovely. I would recommend this site to everyone. What a wonderful place to personalize a gift. Thanks!

Beautiful - Exactly what i wanted
By
Shopper

(Elmhurst, IL) - December 7, 2012
this is deff worth the money - very beautiful girl and well engraved! i was very pleased

Beautiful
By
Randy JS P.

(Orlando, FL) - October 27, 2012 (
See all reviews by this customer
)
I'm not sure just how the etching is done so quickly but this gift arrived in beautiful condition. Of course the full effect won't be realized for a while since this gift was ordered for Christmas; however, I have a feeling it will be well received.

Perfect gift
By
Shopper

(Whitney, TX) - October 2, 2012
This was a great way to express your feelings in a very unique way. The item was very pretty not too big or too small. The person on the receiving end was very impressed with the gift and the way it was personalized for them.
I will order again!

great gift!!!
By
anthony N.

(ontario, CA) - June 12, 2012 (
See all reviews by this customer
)
I gave this gift to my girlfriend with a personalized poem and she loved it. piece was nicely engraved and looked elegant. would highly recommend for anyone wanting a personalized gift.

My mother's birthday keepsake plaque
By
Kenneth D.

(Sugar Land, TX) - June 10, 2012 (
See all reviews by this customer
)
The plaque is more beautiful in person than online. I'm so sure that my mother will love this birthday keepsake plaque.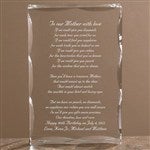 Perfect Anytime Gift for Grandmothers/Mothers!
By
Melinda S.

(Carroll, OH) - May 21, 2012 (
See all reviews by this customer
)
High quality, professionally etched keepsake piece in which you are able to customize however you wish. This gift is unique and makes a great gift for difficult to buy for the grandmother/mother who "has everything". My MIL truly enjoyed receiving her permanent poem from her grandchildren on Mother's Day, it was evident by the smile on her face!

I wish I could give this 10 stars!
By
Shopper

(Brea, CA) - May 8, 2012
I LOVE LOVE LOVE these. The fact that I can use my own poem is just an added bonus. I got 2 of them, one for my mother in law for mother's day and for for my parent's. The quality of the glass and personalization is Perfect. I cannot thank personalization.mall enough for this product!

excellent product!
By
Shopper

(FORT WAYNE, IN) - April 27, 2012
The product was excellent!!!!! I use this cite for all my personalized gifts. The weight of the product was well worth the cost, I just wish is was bigger as in taller as the picture portray! however I love this cite and will continue to be a valuable customer thank you personalization for your great work!!!!

Beautiful and Excellent Quality
By
Shopper

(Lafayette, CO) - March 23, 2012
I ordered this keepsake as a gift from my daughter to my mother. It is absolutely beautiful. The engraving was perfect and the plaque itself is made of a high quality material. I was surprised how heavy it is. It looks and feels like crystal even though it is not. I am very pleased with this purchase and most certainly will be ordering other items from this company.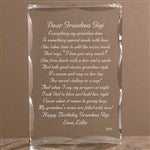 Such good quality...
By
Linda K.

(Canada) - March 13, 2012 (
See all reviews by this customer
)
Much heavier that anticipated therefore adding to its quality! She loved the gift sooo much she showed everyone and just couldn't get over the personalization part. It was made 'just for me' she said...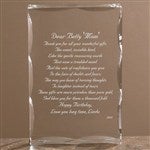 perfect
By
Shopper

(Minot, ND) - February 6, 2012
It's the perfect way to say what you want. Such a wonderful keepsake!

Such a touching gift!
By
Shopper

(MCHENRY, IL) - December 30, 2011
I love this gift so much, as you can see the photo attached is a poem that i hand wrote for my mommy for christmas! When I recieved this it was soo wonderful and very very clear. The only thing that I would have liked better was to have the printing/letters a little bigger, but not a big deal at all. My mom loved this gift so much! Highly Recommend for a touching gift!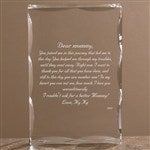 Christmas gift
By
Shopper

(Dallas, GA) - December 24, 2011
I got this for my mom for Christmas for whom I am caring for, the poem says it all and it will be cherished, thanks

Wonderful
By
Rhonda M.

(Denton, TX) - December 20, 2011 (
See all reviews by this customer
)
Arrived quickly and shipped to insure it didn't break. Beautiful keepsake and very beautifully done.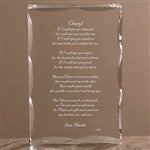 Perfect!
By
Shopper

(Oconomowoc, WI) - December 16, 2011
I got this for my Mom for her birthday. It was a little thicker than I had imagined, but I actually like it better that way because it makes it look even more high quality. I'm sure my Mom will absolutely love the gift!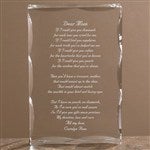 I'm in love with Personalization Mall
By
Shopper

(Fairbury, NE) - December 1, 2011
I have ordered so much stuff from Personalizationmall.com that I can't write a review for each item...what I can say is that I think this is possibly one of the best stores (online for me) that is out there today. I have not ordered one thing that I have not loved and everyone who I have given gifts to has felt the same way...in some cases, even a few tears. Thank you so much for providing the quality products that you do and in such a quick and professional manner. You have made my gift giving so very special to so many people. It's a very personal thing to be able to put your own spin on the items you provide. By the way, I don't write reviews on anything....but you guys deserve it. Thank you!!!!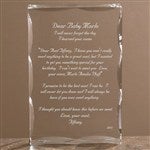 it is a gift
By
Karen K.

(Cincinnati, OH) - November 29, 2011 (
See all reviews by this customer
)
Very nice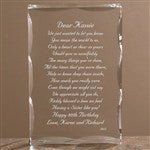 Very nice
By
Chad A.

(El Monte, CA) - November 11, 2011 (
See all reviews by this customer
)
My husband and I got this for his Stepmother(my mother in-law) and she loved it. We just adjusted the Mother's poem to include us. Very nice product and pretty.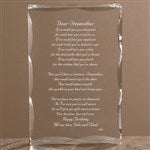 Used as a poem for my 18 yr old daughter's B-day
By
Renee S.

(Rolfe, IA) - November 1, 2011 (
See all reviews by this customer
)
It was a way I could write to her the tender words from my heart but also include her dear daddy in it who was killed in a motorcycle accident in 2007. I promised her and her daddy (when he died) I would share a moment of each milestone in her life somehow with her dad there. This done a super job and everyone at the table were in tears. Thanks for the awesome gift idea, Renee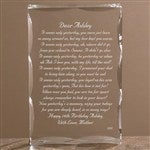 Very nice keepsake for grooms gift
By
Shopper

(Frisco, TX) - October 10, 2011
I completely customized this for my future husband as a wedding gift. It arrived extremely fast and was beautiful! I look very forward to giving it to him. I started with a different item but when I found out that I couldn't customize the message on that one I asked the customer service person in the chat if there was one I could completely customize and they referred me to this item. I'm glad I asked as it came out great!

Retirement memento...
By
Shopper

(Jonesville, MI) - September 6, 2011
We have ordered this memento several times over the years for our employees. Each time, it has met our expectations. We will continue to purchase this item if it is still available.