Thoughtful keepsake at a reasonable price
By
Amanda M.

(London, OH) - October 8, 2009 (
See all reviews by this customer
)
My sister and I bought this for our mom for her 60th birthday. We came up with a personalized poem instead of using one of the scripted ones, which made it that much more personal and special.
I was impressed with the quality of the etching and the nice weight of the item.
My mom has it proudly displayed in a lighted glass cabinet she reserves for only the most special treasures!

My mothers Birthday.
By
Rachelle Q.

(SAN FRANCISCO , CA) - October 8, 2009 (
See all reviews by this customer
)
My mothers Birthday was on Aug 6th and she loved her poem. She only read about the first 3 lines and started to cry. Now she has something from her little girl (I am 40 now) that she can keep forever.
It was great quality.

Thanks so much!

More than words
By
Amanda O.

(Elkridge, MD) - October 8, 2009 (
See all reviews by this customer
)
My husband and I wrote our own poem on these to present to our mothers at our wedding. They were perfect! Even better than I pictured and our moms loved them. I get to see them every time we go over to their house and we always get comments on them. They were far beyond what words could even describe! We were very pleased!

WOW!!!
By
Dianna D.

(Louisville, KY) - October 3, 2009 (
See all reviews by this customer
)
This made me cry. It was way beyond my expectations. I am getting married in 3 weeks and my parents are going through a divorce. So I wanted to get my mom something special. The verses are beautiful and so many to choose from. Although she hasn't recieved it yet, I know that she will cry and Love it. Thank you. It describe our relationship perfectly and she is my best frined. Thanks again.

Awesome!
By
Shopper

(Cheltenham, PA) - May 31, 2013
OMG, my mom is going to flip out and get all mushy when I give her this! I have to give an acceptance speech for an organization that I'm in. I had this engraved with the exact words that I wrote about her in my speech. The only reason I gave 4 instead of 5 stars is because I wish it were a little larger. But it is still so lovely, and I just love how it came out. The personalization was perfect!!

Font
By
Clarence S.

(Nashville, NC) - May 7, 2013 (
See all reviews by this customer
)
Product was received in a prompt and timely manner. However, the size of the font of the poem should have been larger and in bold-faced for easier reading.

I love my personalized poem for Mom
By
Shopper

(Pembroke Pines, FL) - February 18, 2013
I love my personalized poem for Mom, I only wish they could be offered in larger sizes. Thank you!

Beautiful!
By
Shopper

(Lester Prairie, MN) - November 26, 2012
Very beautiful and well made item! It was a bit smaller than i thought it would be.. but came beautifully packaged and looked great!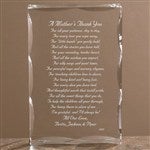 A Very Nice Gift!
By
Shopper

(Holt, MI) - August 24, 2012
This is a very nice gift!! You won't be disappointed!.......as long as you follow the instructions given before ordering!!

If you go over the amount of characters they allow, your keepsake may not turn out right or maybe too small to read.

Stick to thier guidelines and you will receive a beautiful, personalized gift for that special someone who will be more than touched from recieving this gift!

I also amazed how quickly my order arrived! Two days!

Also remember the size they state!! 4x6(inches.) If the size is fine for you to,.........BEAUTIFUL GIFT!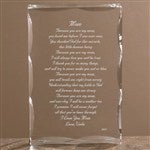 Very pretty.
By
randi B.

(mckenzie, TN) - December 19, 2011 (
See all reviews by this customer
)
I love it! Would recommend it to anyone. Great Christmas present.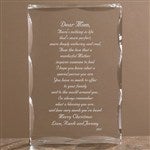 Mom Cried....
By
Shopper

(Milaca, MN) - May 15, 2011
Fantastic gift for reasonable price! Mom cried when reading the poem which was a perfect fit for who we are. The crystal design is beautiful. Only downfall is that the print is a little too small for those with poor eyesight.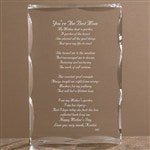 Wonderful Gift
By
Shopper

(Columbia, SC) - April 25, 2011
We got this for my fiance's parents as a Thank You gift. It was true to size (4x6), had good weight on it, came in a white box, and is very beautiful. The only suggestion I would make is that they offer more than one font.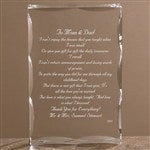 Not the Best, but Not the Worst
By
Shopper

(Snellville, GA) - April 24, 2011
It was a lot smaller and harder to read than I anticipated. So, make sure you note the size before ordering. Overall it looks great just harder to read than I thought it would be even noticing the size.

So pretty
By
Chelsey J.

(Canada) - February 14, 2011 (
See all reviews by this customer
)
I bought this to give as a Thank You to my mom, and I plan on giving it to her at my rehearsal dinner. The poem is beautiful (I chose the poem about the jewels), the engraving is perfect, there are no scratches...I just thought it was going to be a little bit bigger than it actually was. It is very pretty & I am very happy with it. Shipping to Canada was pretty quick, too.

Um.... WONDERFULL!
By
Keelon S.

(Olathe, KS) - January 2, 2011 (
See all reviews by this customer
)
It was wonderfull.... my mother cryed... so i really to love IT! it was kinda unexpeded when it was plastic i thought it was glass... and it is not as big as the picture they have.. but other than that... it was wonderfull!

Very nice mother of the groom gift
By
Kyle R.

(Apex, NC) - July 5, 2010 (
See all reviews by this customer
)
I gave this to my mom as a mother of the groom gift and she liked it very much. I would definitely recommend it.

Very Nice
By
Alice V.

(Edison, NJ) - June 29, 2010 (
See all reviews by this customer
)
I purchased this item as a birthday gift for my mom. It is smaller than I had imagined but the engraving of the poem was beautiful and well done. It is a nice gift, but a bit pricey for the size.

Moms Birthday Gift
By
Jennifer W.

(Rockford, IL) - June 21, 2010 (
See all reviews by this customer
)
I really have to say that the delivery of this item in 2 days was UNBELIEVEABLE. I did not pay anyhting extra for this service, and it truly means so much when you spend so much time creating such a perfect keepsake to get it that quick. The only issue I have with this that it seems much smaller than I had imagined, but overall I am happy with this product. It looks stunning, and it will look great on her desk or dresser for years to come. I also enjoyed the ease of creating this online...and was BLOWN away by the ability to see a proof of the actual product before purchase. Your services are perfect for a variety of occasions, and I have spread the word. Thank you!

Nice
By
Stacey D.

(Franklinville, NJ) - June 15, 2010 (
See all reviews by this customer
)
Very nice piece, flawless and sturdy, the print was a little smaller than I thought but over all with some additional stuff will make a beautiful present

Dear Mom poem on glass block
By
Megan C.

(Del Haven, NJ) - May 8, 2010 (
See all reviews by this customer
)
The poem is beautiful. I'm sure my mom will love it. I paid extra money to have it here within 2 days. It was a little late, but still in time for Mother's Day. I thought it would be a little bigger, but it's still big enough to read. They spelled my personalized information right which is a plus. I'm satisfied with the product & I think my mom will be too.

Very personal gift
By
Kerry C.

(Shirley, MA) - December 23, 2009 (
See all reviews by this customer
)
Should come with a wooden stand.

Mother poem plaque
By
Wendy L.

(Barrington, NH) - December 14, 2009 (
See all reviews by this customer
)
I love the selection of poems to choose from. But I really thought that the plaque would be bigger when I got it. I also thought it'd be a little fancier. Looking at the picture, it looks very fancy. But my Mom will still like it anyway--she'll love the poem & that's what counts.

Smaller than expected
By
Cortney O.

(Fraser, MI) - December 6, 2012 (
See all reviews by this customer
)
The glass is a lot smaller than I expected. It can fit inside my hand. I guess from the picture I expected it to be larger. Writing is hard to read unless it is up against a dark background. Otherwise the product is nice for the price. I just free texted my own message to my mom instead of using a poem. I plan on giving this as a thank you gift on my wedding day

Loving Daughter
By
Pamela N.

(grand island, NE) - July 27, 2010 (
See all reviews by this customer
)
I was very shocked on how "small" this item really was. Good work on the piece however beware it is small for all you future shoppers.

Plastic but still nice
By
shelley F.

(phoenix, AZ) - April 20, 2010 (
See all reviews by this customer
)
I have received this poem block in the past and the one I got was larger and glass. I didnt realize there was a choice nor does it describe it. I just thought it would be the same. It isnt! It came quit smaller and its plastic! It still looks beautiful I just wish I would have known. Still a nice gift.

Price
It is a pretty gift. Just a bit too much for a piece of plastic.