From Heaven Above
By
Shopper

(Mount Carmel, PA) - March 12, 2014
I gave this blanket as a birthday gift to my grandson. His mommy passed away recently and I wanted him to have this beautiful blanket so he knows she loves him and that she will always watch him, care for him, adore him, be close by, that he is her number 1, that it is him and her, XOXO. When this gift was opened it brought tears to many eyes. Thank you for making a gift like this available that can be cherished. Your site is THE BEST!!! Service is fast and perfect!!!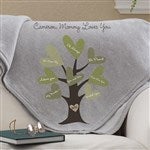 Cute anniversary gift
By
Shopper

(Somerset, NJ) - January 31, 2014
Purchased this as a gift for an anniversary & it was well received.

Homey and Pretty!
By
greta R.

(memphis, TN) - January 17, 2014 (
See all reviews by this customer
)
I adore my new throw! It's good quality and looks so much better in person!
I love personalized items! I changed it up some and added the word "Loves" between mine and my husbands name!
When my son and his wife gave us a precious Christmas gift from this website, I couldn't go to it quick enough to see what else I wanted!


Softest Blanket ever!
By
Shopper

(Charlotte, NC) - January 6, 2014
Great quality blanket very warm and soft! Feels just like a sweatshirt. Great gift for new families. Love the way the inside of the blanket feels.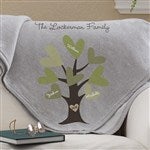 Cozy
By
Jennifer H.

(Leander, TX) - January 1, 2014 (
See all reviews by this customer
)
Purchased this cute throw for my Mother-in-law. She loved the personal touch and how cozy the throw is. Great company...will purchase items again.

The Starks Granschildren
By
Elaine R.

(Carolina, WV) - December 31, 2013 (
See all reviews by this customer
)
It turn out beautiful. My sister was so happy. I will be order from you again.
Happy New year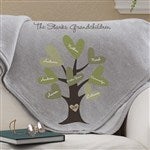 Really great work and super soft blanket
By
Garret M.

(Brookfield, CT) - December 29, 2013 (
See all reviews by this customer
)
Made my mom cry!

Grenna's Blanket
By
Shopper

(Ashburn, VA) - December 28, 2013
I had fun placing family names on the tree leaves and everyone loved it.

Great gift
By
Shopper

(sussex, NJ) - December 28, 2013
I ordered three of these for family Christmas presents. Very fast delivery and they were great! Remember that you position not only what word goes on each leaf, but you also choose which leaf to put it on. I didn't realize that at first so I had to change the placement of names several times. I used things to describe each family like "sports" "Notre Dame" "camping", individualized for each. Fantastic personalized present and at a great price. Nice quality. Not sure how they hold up over time with washing but I was very happy with the purchase.

Doreen
By
Doreen J.

(Medford, MA) - December 27, 2013 (
See all reviews by this customer
)
This was awesome, My sister cried when she opened it on christmas!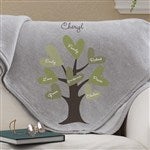 Exactly as pictured!
By
Shopper

(Saint louis, MO) - December 25, 2013
Large, soft throw! It turned out great and arrived quickly!

Very cozy blanket!
By
Shopper

(Levittown, NY) - December 22, 2013
Very happy with this purchase as a gift for a family friend. Definitely recommend.

Very Nice
By
Rick A.

(Jeffersonville, IN) - December 18, 2013 (
See all reviews by this customer
)
We just adopted 3 boys and wanted a tangible piece that would be a visual representation of our new family. This was it. Shipped very quickly and was packaged very nicely. All in all a great package. Of note, it's best if giving as a gift to let it air out for a day or two. There is a very strong odor, most likely from the silk screening process.

Very cozy, perfect for napping
By
Shopper

(Chicago, IL) - December 16, 2013
This blanket is very warm and cozy. It's made of the same material as sweatshirts and is very soft. It also is quite large and able to provide good coverage.

A treasured lifetime piece of artwork!
By
Shopper

(Franklin, OH) - December 15, 2013
The quality of this throw was exceptional. More than I could have ever dreamed. Our daughter just recently got married and we put her new family last name, with her, her husband's and their pets first names. It will be an awesome suprise present for Christmas. I can't wait to see their faces opening it, I know they will have tears in their eyes just like I did when I first saw it.
I kept switching the names around when placing the order to get them placed just the way I wanted it to read on the blanket throw. It turned out perfect. I can't wait to order another one with their babies names on it ( I will give them a little time alone, not rushing things).
I will definitely order from Personalization Mall again (hopefully sooner than later, Hee Hee).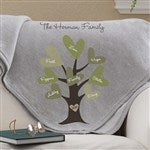 Wonderful!!!
By
Kimberly K.

(Kyle, TX) - December 8, 2013 (
See all reviews by this customer
)
I bought this as a birthday gift for my husband. He loved it..so soft and warm and simply beautiful!! Another great purchase =)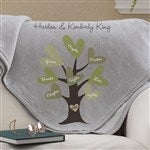 So pleased with the product
By
Shopper

(San Diego, CA) - November 26, 2013
I purchased two of these blankets as gifts and I definitely plan to buy more. Anyone would love this blanket and the quality was excellent. Beautiful product.

Love our Family Tree
By
Sayra M.

(Inez, TX) - November 3, 2013 (
See all reviews by this customer
)
Love how our family tree blanket came out. The design was bigger than I thought, which was Great. ...

Really Good Quality
By
Alejandra G.

(Winsted, CT) - July 27, 2013 (
See all reviews by this customer
)
I got this blanket as a gift for a friend and she loved it.. The fabric is nice and soft and the quality is great . The size is also a really good size.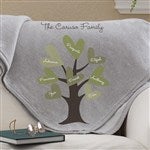 Mother's Day
By
Shopper

(Santa Maria, CA) - June 27, 2013
I gave my mother this personalized family tree on Mother's Day and she loved it! Really great quality and very soft!

Personalized sweatshirt blanket
By
Ambur B.

(Bennington , VT) - June 14, 2013 (
See all reviews by this customer
)
The quality of the blanket was excellent, it's a great size and super soft. The personalization is very durable

Leaves of Love
By
Mary D.

(Nashua, NH) - May 19, 2013 (
See all reviews by this customer
)
I got this for my Mom, for Mother's Day this year, because we lost one of my brother unexpectedly in January. She was THRILLED. She called me right away and told me how beautiful it was and what a touching memory it was for her.

Thanks so much :)

~Mary...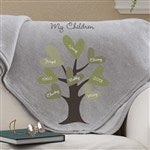 A Thoughtful GIft
By
Joan A.

(Skokie, IL) - May 7, 2013 (
See all reviews by this customer
)
This blanket was all that I expected! It was a decent size. And when she opened the gift, she absolutely loved it!

More Beautiful Than Imagined!
By
IRENE P.

(RIVERSIDE, CA) - March 15, 2013 (
See all reviews by this customer
)
I was looking for a unique gift for my neice's 20th wedding anniversary. This is more beautiful than I could imagine. The material is so soft and inviting. It seems perfect for any home.

Grandma Loved It
By
Shopper

(Indianapolis, IN) - December 27, 2013
I personalized this for my mom who happens to have eight grandkids (the same number of heart leaves on the family tree). She couldn't stop looking at it. She spread it across the couch, took a picture, and posted it on Facebook. The inside of the blanket is super soft. The outside is kind of scratchy but I think fabric softener will take care of it. Mom's picky about laundry so I thought I'd let her handle that. Also, it had an inky smell - again, laundry should take of that. This is a great gift for a grandma who has everything.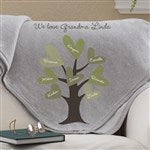 Family Blanket
By
Shopper

(Canada) - December 20, 2013
Great thank you!

Cute Blanket
By
Shopper

(Tigard, OR) - December 16, 2013
This blanket is super cute and very soft like a sweatshirt. I rated this a 4 only because I thought the price was just a bit high. Otherwise I'm giving this as a Christmas gift and I think they will love it.

Bigger than I thought
By
Jennie J.

(Bloomington, IN) - December 10, 2013 (
See all reviews by this customer
)
The item came extremely fast with no errors on the personization. The outside material reminds me of a sweatshirt material but the inside is extremely soft. The only drawback I found was that I could see where the tree could start to wear after the recipient washes it a few times. Overall though, very nice and very pleased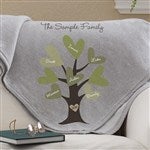 Sweatshirt blanket
By
Catherine V.

(Sanger , CA) - December 9, 2013 (
See all reviews by this customer
)
I like the blankets I bought, I think they are the perfect gift. As I was short of money this year I wanted something meaningful and reasonable. This blanket fit the bill.

Nice design style
By
Shopper

(Harbor Springs, MI) - April 1, 2013
I have bought this design style on a canvas, but this time I got the blanket. I like it except the writing is not as clear as on the canvas. Unsure how the writing will hold up to washings.