Portfolio
By
Judy Z.

(Oregon, OH) - August 1, 2014 (
See all reviews by this customer
)
Decent quality, however once I received it, I felt it was a bit pricey for the quality.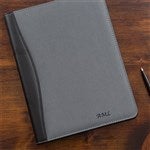 Professional
By
Patricia L.

(Lehigh Acres, FL) - May 25, 2014 (
See all reviews by this customer
)
This was a graduation (from college) gift for my niece, she loved it!! Already took it on a job interview, she felt so professional. My sister purchased a silver pen to go with it, they compliment each other nicely!!!

Personal Touch
By
Marcela O.

(Casa Grande, AZ) - February 10, 2014 (
See all reviews by this customer
)
Loved that I could put a name on this portfolio, very stylish and professional!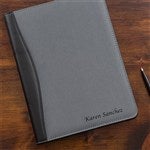 Dissapointed
By
Shopper

(Mamaroneck, NY) - December 18, 2013
I was dissapointed. Inside of it is poor quality. It is not leather.It has a plastic feel and look.
The outside of is feels like a fabric.


Glad I ordered it
By
Shopper

(College Station, TX) - September 22, 2014
I love my purchase. It arrived quickly and was exactly like described. It will take some time to break it in, but I love it. It already has me better organized at meeting.

Name not dark enough
By
Shopper

(Scottsville, VA) - December 16, 2013
Would not suggest this unless they gave you the option for another color. Black doesn't show up well on this color cover.


Love them!
By
Shopper

(Fort worth, TX) - May 5, 2013
Ordered two of these, and we love them. They look very professional; they are thick, not thin. Made out of good material, they seem like they will last a long time.

Great for graduation gift!
By
Shopper

(Westlake, OH) - May 17, 2013
Gave to a new grad along with the black stylus pen and personalized photo cube. Excellent products.. practical and functional. Highly recommend!

very professional
By
Giselle K.

(Madison, AL) - May 11, 2013 (
See all reviews by this customer
)
Very pleased with this business portfolio, the pen and business card holder. I bought it for a graduation gift for my son and I was late ordering it. I had it shipped 2nd day and it was here for his graduation. I have purchased many things from personalized mall and I have never been disappointed.
Keep up the great work personalized mall!

Beautiful!
By
Sharen W.

(Edinburgh, IN) - June 20, 2014 (
See all reviews by this customer
)
The portfolio is beautiful. I only gave it 4 stars because the price was a little steep.

Christmas gifts
By
Shopper

(New Orleans, LA) - November 18, 2013
I ordered the portfolio for my husband and son for Christmas. I was very happy with the product, but the name is printed so small that you have to look at the print on a slant to read it. I think the font and the size compete with the shine on the material that the portfolio is made of. The print appears a lot clearer when looking at it online. Other than that I am happy to give these as gifts.

Gift buyer
By
Shopper

(San Pedro, CA) - September 15, 2013
Item arrived in a timely manner within 7 days of ordering. However, the product is some type of material not for an Executive/business type. This product doesn't present well...thus only 3-Stars.
If purchasing for a student a great gift!!
The personalization of name is very nice!!

Engraving Quality
By
Rita W.

(Leavenworth, IN) - December 15, 2013 (
See all reviews by this customer
)
The portfolio itself was very nice but I thought the engraving would have been a little deeper into the leather & more polished looking.

Great job!
By
Shopper

(Geneva, IL) - August 5, 2013
Very nice personalized portfolio. Fast delivery. I am very happy about PersonalizationMallCom's job.This people take care a lot of their customers. They did a great job!

Not Professional Quality
By
Amanda W.

(Missouri City, TX) - December 31, 2013 (
See all reviews by this customer
)
I ordered this item for my husband for Christmas. The item arrived promptly and the personalization was correct, but the quality of the product was very poor. It does not appear near as professional as the picture on the web site. The synthetic material has almost a metallic sheen to it. On the web site it appears more matte. I was so displeased with the product that I didn't even give it to my husband (who I know would not have liked it). Now I am stuck with a poor quality item or I have to pay to ship it back, since personalized items cannot be returned. If you are buying this for any kind of professional business person (executive, management, lawyer, CPA, etc.) then please think twice about your purchase.

Professional Looking
By
Scott M.

(NORTHAMPTON, PA) - May 12, 2014 (
See all reviews by this customer
)
This was a Great buy! I bought this for my wife who just earned her M.B.A and works at a law firm. This is a great addition to her office and professional look. Take it to conferences, meetings etc. where ever you need to be seen. Would definitely recommend!

Well Worth The Money
By
iris F.

(lawrenceville, NJ) - March 24, 2014 (
See all reviews by this customer
)
Hello:

Purchased the Portfolio and was very pleased. The engraving lettering was flawless and the gray cover had a shimmer which added a really nice look. Conservative but with a PoP factor.


Great Portfolio
By
Shopper

(Tenafly, NJ) - December 30, 2013
Just in time for our graduate's med school interviews - very professional presentation! He loved it!

Personalized Padfolio
By
Shopper

(spring, TX) - September 16, 2014
Great condition and the personalization comes out very clear.

Practical Gift
By
Lizette L.

(Baton Rouge, LA) - July 20, 2014 (
See all reviews by this customer
)
Very happy with this purchase! I think it is a practical gift that gives a great appearance! Loved the look! Very pleased!

Sleek
By
Shopper

(Whittier, CA) - June 16, 2014
Got this for my boyfriend as a graduation gift. He loved it since he's a business grad. and will be needing a portfolio for work! The look is sleek and very well made!

VERY nice product!
By
Shopper

(Kansas City, MO) - December 25, 2013
This is a very large & very nice quality product! I bought this for my father for Christmas and he loves it!

A perfect gift for a hard-working dad
By
Stephanie B.

(Gray, TN) - June 17, 2013 (
See all reviews by this customer
)
Dad works 7 days a week and recently got moved to a different location. For Father's Day, I wanted to get him something that he would use every day and that would remind how much his family loves him. This was perfect. I may have to get him a matching pen or some business cards for Christmas!

Very professional
By
Shopper

(Elwood, IL) - May 26, 2013
This is a gift for my nephew who is graduating HS, so for college I thought this would really be nice, made excellent, I know he'll love it with the personalization with it.

Perfect College Graduation Gift
By
Jeannine R.

(Jennings, LA) - May 20, 2013 (
See all reviews by this customer
)
I gave this to my godson as a college graduation present and he loved it. He's entering the business world so this will be useful and professional looking.

Great gift
By
Shopper

(Elk Grove, CA) - December 17, 2013
I bought this as a last minute gift for my boss. He loved it. Very nicely done, excellent quality and speedy shipment.

Great Father's Day gift
By
Danielle R.

(Oaklyn, NJ) - November 18, 2013 (
See all reviews by this customer
)
I bought this along with the pen and business card holder for my husband for father's day. He loves it. I was also very happy with it. Very professional looking. He called me from work to ask where I oredered it from because his coworkers wanted one.

Big & Professional
By
Tianna S.

(District Heights, DC) - October 25, 2013 (
See all reviews by this customer
)
This is a very big professional looking portfolio! I would highly recommend this and the pen to match!