Pearl Rosary
By
Shopper

(Branford, CT) - April 19, 2014
It's so pretty! For my daughter's 1st Communion. Engraved with God Bless Nora - She will love it!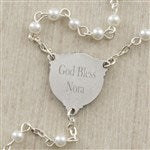 Impressed at quality
By
Denise D.

(Freeport, NY) - April 19, 2014 (
See all reviews by this customer
)
Was looking for a rosary for 2 communions this month
Saw this item and it looked so much like the one I had for my communion over 50 yrs ago . Once I received them I saw that they were so exact and the name engraving made it even more special for my granddaughters . Thank you for keeping up the quality of your products

delicate
By
maureen W.

(miller place, NY) - January 19, 2014 (
See all reviews by this customer
)
delicate and dainty ... of good quality ...personalization fits nicely on back.my goddaughter will treasure these.

Gorgeous white Rosary
By
Shopper

(Farmingdale, NY) - May 25, 2013
Love this rosary, beautiful. Bought this for my daughter's communion. Had it engraved "God Bless with her name, she absolutely loved it! Price was usual pricey for an item like this
Would reccommend. I love personalization mall!!!

Beautiful!
By
Shopper

(Westchester, CA) - April 30, 2013
We ordered this for my daughter that celebrated her First Holy Communion and when it arrived we were so happy with it. It's much nicer than I anticipated, the quality is above expected and the engraving was done perfect!. I know she will treasure it for years to come. We paired this item with rosary box, equally impressed and happy with the quality, decoration and the packaging!
Definitely will buy again from this company and I do recommend this product.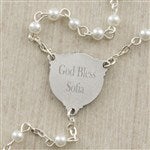 Unique
By
Mariangeles C.

(Millbrae, CA) - April 30, 2013 (
See all reviews by this customer
)
My Grand daughter was overwhelmed when she saw that she had her special rosary with her name engraved on it.

I love the size just right for small hands.

Thank you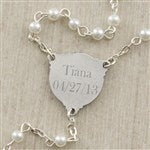 Simply remarkable gift
By
Claudia S.

(San Diego, CA) - April 19, 2013 (
See all reviews by this customer
)
I was really surprised by the presentation of the gift when it arrived evolved in a velvet sack. I have no doubt that a personalized gift shows much more thoughtfulness than a plain one, but quality is important and the product had it.
Shipping also arrived as planned. I have only good thinks to say about the product and the company behind it Thank you!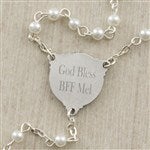 Beautiful Rosary
By
Shopper

(gilman, IL) - April 13, 2013
This is a beautiful rosary. This the second one I have purchased. Would purchase it again.

1st communion girl's personalized pearl rosary
By
Doris H.

(Port St. Lucie, FL) - April 7, 2013 (
See all reviews by this customer
)
The pearl rosary is very feminine & perfect for our grand-daughters 1st Communion.The engraving was done beautifully and was shipped well before the given date.I will order from Personalization again.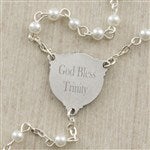 Great Rosery
By
Shopper

(gilman, IL) - May 4, 2012
This rosery is not only beautiful, but is perfect for a second grader. The pearls are petite so they will fit smaller hands better. I would by this rosery again.

Perfect for an 8 year old
By
Shopper

(Reading, PA) - April 9, 2012
The size of this rosary is perfect for an 8 year old girl. It was purchased for a first communion gift and is even lovlier in person. Also, very nice quality.

exquisite
By
Shopper

(Allendale, NJ) - February 16, 2012
My mom purchased this for her granddaughter for First Holy Communion. It is beautiful and will be a wonderful remembrance for my daughter. I also purchased the wooden Communion keepsake box where this will be kept and used forever.

Beautiful
By
Marie D.

(Massapequa, NY) - January 23, 2012 (
See all reviews by this customer
)
As amazingly beautiful set of rosary beads. Very elegant!! More beautiful in person. Cant wait to give to my daughter for her Communion

Perfect Rosary
By
Patricia A.

(United Kingdom) - May 29, 2011 (
See all reviews by this customer
)
I got the rosary and the rosary engraved case for my daughter, and the set turned out to be a very classy gift!
This rosary is very delicate, and it fits perfectly to her First Communion gift.
As always, the delivery was fast. Thank you so much!

Wonderful gift
By
Renee F.

(Cheshire, CT) - May 14, 2011 (
See all reviews by this customer
)
I bought the rosary along with the rosary engraved case for my 9 yr old neice's holy communion. They were perfect, wonderful color, perfect gift.

Simply a treasure of BEAUTY
By
Deborah A C.

(N Huntingdon , PA) - May 1, 2011 (
See all reviews by this customer
)
This Prayer of Love Girl's Pearl Rosary is a real treasure to receive. A real "BEAUTY" simply a beauty to own. Your Prayer of Love Girl's Rosary comes with a carring case also, to place it in while not in use. All is enclosed within a handsome velvet draw bag (to hold your prescious Prayer of Love Girl's Pearl Rosary) for the GIRL in your life.

Quality..
By
Rhonda C.

(Kansas City, KS) - April 11, 2011 (
See all reviews by this customer
)
The quality was great I kind of expected a cheaper style coming from somewhere else other than a church but I have to say it's a very nice rosary almost wanted to keep it myself :)

Precious
By
Shopper

(Summerville, SC) - January 22, 2011
The rosary was delicate and beautiful and just right for a child that can cherish it years to come at her communion day and wedding day. Nicely gift wrapped also.

pleased
By
Jeffrey S.

(Mc Donald, OH) - May 27, 2010 (
See all reviews by this customer
)
I am very pleased with the product and the timely delivery.

delicate
By
Viviana L.

(Miami, FL) - March 29, 2010 (
See all reviews by this customer
)
this item is delicate and beutiful. The delivery fast

Rosary
By
Barbara H.

(Crofton, MD) - April 22, 2014 (
See all reviews by this customer
)
Very nice with the special touch of my neice's first name and the year engraved. This is part of a First Holy Communion gift that I know she will
love.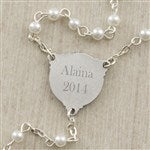 Was very dainty and simple
By
Dawn S.

(Ridgewood, NY) - March 20, 2012 (
See all reviews by this customer
)
This rosary is a beautiful,delicate item to give to someone on their special day. I am sure my daughter will love it when she opens it up!

PERFECT FIRST COMMUNION GIFT
By
Shopper

(West Winfield, NY) - May 10, 2011
VERY PLEASED WITH ROSARY. DELICATE WITH SMALL PEARLS WAS APPROPRIATE FOR A YOUNG GIRL. ATTRACTIVE IN OWN GIFT BOX. PAID EXTRA TO GET IT HERE FAST FOR THE "BIG DAY", HOWEVER, SAVED TIME AND GAS IT WOULD TAKE LOOKING FOR A GIFT.

Rosary necklace
By
Shopper

(Rosedale, MD) - April 15, 2011
Beautiful necklace. Purchased as a baptism gift for a 9 month old. It is a bit long for a baby, but it is beautiful and something she can keep into adulthood.

Ok product.
By
Julianne M.

(Santa Monica, CA) - April 10, 2012 (
See all reviews by this customer
)
Came in really quick time and in nice protective packaging but the beads seem a little bit poor quality. I am worried they will break easily but they were really cheap so what should I expect?

Never received it
By
Bridgette H.

(Scottsdale , AZ) - February 4, 2014 (
See all reviews by this customer
)
I never received this product.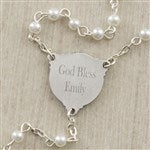 cheap quality product for the amount you pay
By
Shopper

(Roberts, WI) - April 26, 2012
I purchased this item for my goddaughter. I read all the great reviews and the one bad review.. after much thought and time I decided to listen to the good reviews. Unfortunately the people that had the good reviews lacked similar ideals on what quality it. I personally thought it was similar to gumball machine quality. I tend to shop based with research and reviews. I returned it but spent over $10 on shipping to me and back. So needless to say a $10 mistake. If you are looking for a beautiful quality rosary.. sadly.. this product is not it.

Cheap rosary
By
Shopper

(deer park, TX) - June 18, 2011
I was so upset when i receieved this roasry. Not only did i buy it a week in advance for my best friends confirmation, it arrived late so i didnt even get to give it to her on time. Than when I recieved it it looked so cheap and like plastic. The pearls were chipped as well. I deff. would never buy from this site again.