Quality..
By
Rhonda C.

(Kansas City, KS) - April 11, 2011 (
See all reviews by this customer
)
The quality was great I kind of expected a cheaper style coming from somewhere else other than a church but I have to say it's a very nice rosary almost wanted to keep it myself :)

Precious
By
Shopper

(Summerville, SC) - January 22, 2011
The rosary was delicate and beautiful and just right for a child that can cherish it years to come at her communion day and wedding day. Nicely gift wrapped also.

pleased
By
Jeffrey S.

(Mc Donald, OH) - May 27, 2010 (
See all reviews by this customer
)
I am very pleased with the product and the timely delivery.

delicate
By
Viviana L.

(Miami, FL) - March 29, 2010 (
See all reviews by this customer
)
this item is delicate and beutiful. The delivery fast

Rosary
By
Barbara H.

(Crofton, MD) - April 22, 2014 (
See all reviews by this customer
)
Very nice with the special touch of my neice's first name and the year engraved. This is part of a First Holy Communion gift that I know she will
love.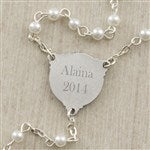 Was very dainty and simple
By
Dawn S.

(Ridgewood, NY) - March 20, 2012 (
See all reviews by this customer
)
This rosary is a beautiful,delicate item to give to someone on their special day. I am sure my daughter will love it when she opens it up!

PERFECT FIRST COMMUNION GIFT
By
Shopper

(West Winfield, NY) - May 10, 2011
VERY PLEASED WITH ROSARY. DELICATE WITH SMALL PEARLS WAS APPROPRIATE FOR A YOUNG GIRL. ATTRACTIVE IN OWN GIFT BOX. PAID EXTRA TO GET IT HERE FAST FOR THE "BIG DAY", HOWEVER, SAVED TIME AND GAS IT WOULD TAKE LOOKING FOR A GIFT.

Rosary necklace
By
Shopper

(Rosedale, MD) - April 15, 2011
Beautiful necklace. Purchased as a baptism gift for a 9 month old. It is a bit long for a baby, but it is beautiful and something she can keep into adulthood.

Ok product.
By
Julianne M.

(Santa Monica, CA) - April 10, 2012 (
See all reviews by this customer
)
Came in really quick time and in nice protective packaging but the beads seem a little bit poor quality. I am worried they will break easily but they were really cheap so what should I expect?

Never received it
By
Bridgette H.

(Scottsdale , AZ) - February 4, 2014 (
See all reviews by this customer
)
I never received this product.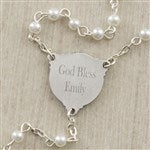 cheap quality product for the amount you pay
By
Shopper

(Roberts, WI) - April 26, 2012
I purchased this item for my goddaughter. I read all the great reviews and the one bad review.. after much thought and time I decided to listen to the good reviews. Unfortunately the people that had the good reviews lacked similar ideals on what quality it. I personally thought it was similar to gumball machine quality. I tend to shop based with research and reviews. I returned it but spent over $10 on shipping to me and back. So needless to say a $10 mistake. If you are looking for a beautiful quality rosary.. sadly.. this product is not it.

Cheap rosary
By
Shopper

(deer park, TX) - June 18, 2011
I was so upset when i receieved this roasry. Not only did i buy it a week in advance for my best friends confirmation, it arrived late so i didnt even get to give it to her on time. Than when I recieved it it looked so cheap and like plastic. The pearls were chipped as well. I deff. would never buy from this site again.